SCORING A DOUBLE WITH DUPLEX HOUSE PLANS
Duplexes have been a much-loved housing option for investors and home owners for decades.
Over the years Integrity New homes has created a large number of duplex design floor plans on numerous land estates each with slightly different covenant and town planning requirements – not to mention block configurations.
The design team has started the process of creating and refining the portfolio of dual occupancy houses plans to create a range of new improved duplexes.
This process is detailed and considered, involving many hours of evaluating the existing duplex house plans and then determining which ones offer the best problem-solving capacity, liveability and appeal to home owners and investors.
Unlike a free-standing home, there are a number of additional considerations when creating duplex floor plans.
Some duplex designs look from the street as if two houses have just been "plonked" or "glued" together with no consideration for how the façade will look from the road and with little consideration for visual appeal.
However, a clever duplex house plan can make it appear that unit one and unit two of a duplex could actually be appear to be separate houses with no common wall – this effect can be accentuated with good landscaping.
The illusion that a duplex is two separate dwellings can also assist with resale.
Further, some developers prefer to offer duplex blocks on street corners which allows greater opportunities for Integrity New Home designers to create dual occupancy homes which look like individual free-standing homes.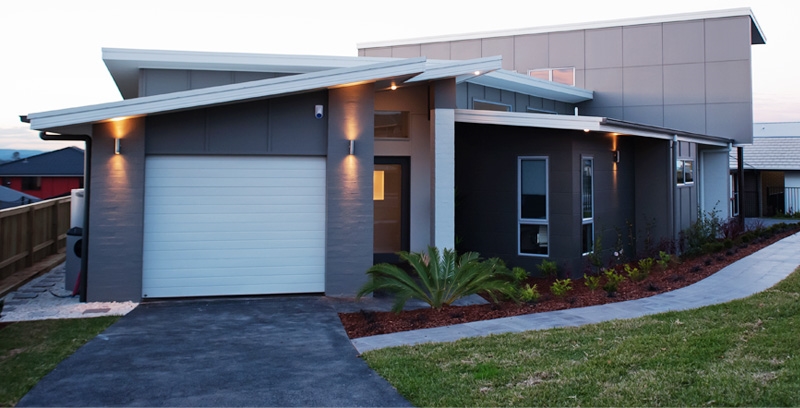 Achieving this is not only about street appeal but also considering how people living in a duplex can get and out of their homes and garages without disrupting their immediate neighbour.
As is the case with dual occupancy floor plans consideration should always be given to ensure noise levels are dampened between the two units.
Integrity New Homes has also been the forefront of dual occupancy floor plans designing and building a duplex which contained a two storey and single level dwelling. Not only was the design visual interesting it was very functional and liveable.
This stunning duplex design with an attached single and double storey duplex (Casilda 400) was announced as a finalist in Housing Industry Association's 2017 Display Home of the Year awards.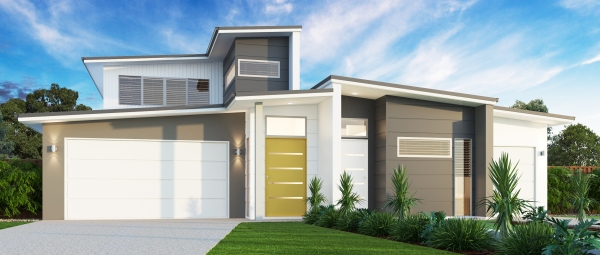 You can view the single and double storey duplex "Casilda 400" via a 3D walk through here: Duplex Plan 3D Walkthrough

Duplex design floor plans have been very popular at holiday locations for a number of reasons.
Firstly, the owner can rent both of the duplex designs and achieve higher rental returns and great occupancy rates than if just one home free standing was offered for letting.
Secondly, one unit can be rented out, while the owner can use the other unit for personal holiday accommodation.
There can be a perception that duplex floor designs are cramped but this does not need to be the case.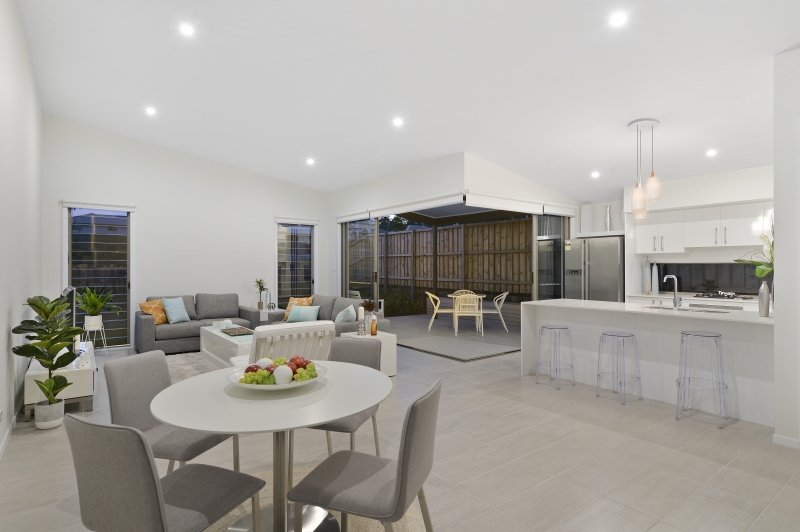 As always, quality design makes good use of floor areas to create a sense of space, air and light in any duplex new house design from Integrity New Homes.
A comprehensive electronic design library allows members of the Integrity New Homes team to carry out searches using a range of criteria to select existing duplex design floor plans to suit an individual's requirements.
A design service is also available to allow a custom plan to be created.
For more information on duplex plans call Integrity New Homes today on ph: 1300 886 793 or complete our contact form.