We all have dreams to own our own customised home tailored to our needs and values. Now many are transforming that dream from planning to reality as working from home instead of the office becomes more culturally and social accepted due the pandemic.

The shift to working from home has also increased the focus on increasing the functionality of the home to cater for both work and play. This has been seen due to the rise of new homes built in Australia over the last two years and an increase of renovations focused on home offices and maximising space.

The changing trend towards working from home has led many folks to add a home office to their residence. We continue to receive requests from clients to customise standard designs to include functional office spaces or rearranging layouts to create "home zones", helping create environments separate for work and play.

Having a specific and unique office space at home helps people keep their work confined to the workplace and separate from their family life. This helps to create a healthy work-life-balance whilst working from home.





One of the most prominent home designs that has been designed specifically for a positive work-life-balance is a steep site home, a two-storey coastal dream home called the Banksia.

The design is perfect for a sloping site and is a popular option in coastal and metro areas. The Banksia design consists of a large study space towards the front of the home, separate from living areas and located away from bedrooms 2 and 3. The Banksia also features a powder room located next to the study, fantastic for guests of work appointments to utilise without disturbing the main bathroom or the en-suite.

The Banksia also features separate living areas on both upper and lower storeys. The Rumpus is a fantastic feature for raising families, being close to both bedrooms 2 and 3. This design also features a large media room, and large open plan living area that flows to the alfresco area.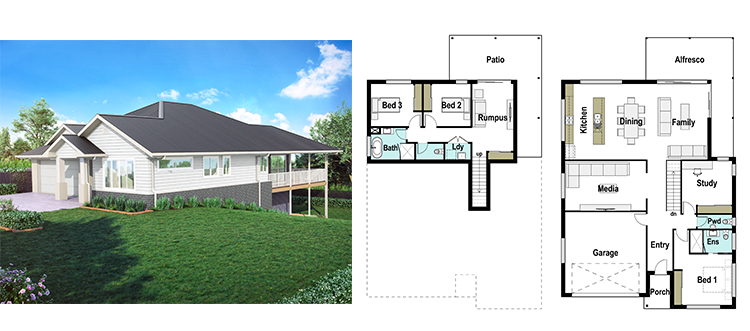 Check out more of the Banksia 275 by clicking here.


Another popular design which is perfect for steep slopes is the Lennox design.

This two-storey home design ensures that work is confined to the ground floor while family life goes on joyfully upstairs. Utilising the guest bedroom as a home office or workspace would be particularly suitable for home businesses that interact with clients at their location. Not only does this room come with large sliding doors but also features an en-suite, furthering the functionality of the space as a viable work area.

The Lennox is a fantastic home design from creating "home zones" and assisting in creating distinct areas for work and play.

The Upper living area features large bedrooms, a brilliant open plan living-dining area that flows onto the alfresco and balcony areas. It also features a media room that could be utilised as a children's play area, secondary office or workspace or intimate family area.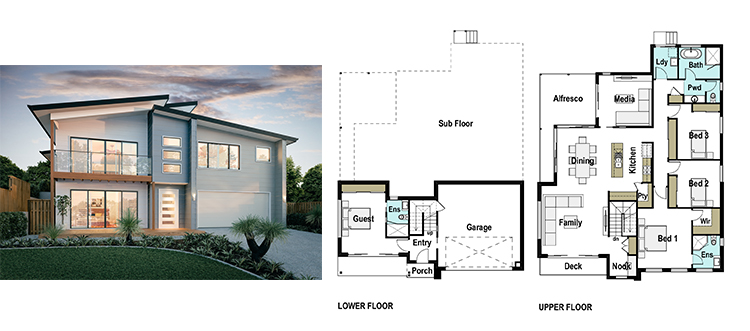 Check out more of the Lennox 260 by clicking here.



Lastly, a single storey dream home that aims to be cost effective whilst maximising space and values work-life-balance.

The Bowen 200 comes jam packed with features fantastic for a family looking to maximise space and also create functional "home zones".

Like the Lennox, the Bowen 200 features a study / office space at the front of the home, creating opportunity for great work-life balance and helps minimise unnecessary foot traffic through the home for those interacting with clients at home.

Not only is the space functional, but it can also potentially be customised to be larger if needs suit by reducing the Lounge room to be more accommodating to work needs.

The Bowen 200 features a fantastic open plan living area and is designed to create some separation between the bedrooms and family areas. The lounge room also is a distinct feature of the Bowen 200, creating even more space for the family.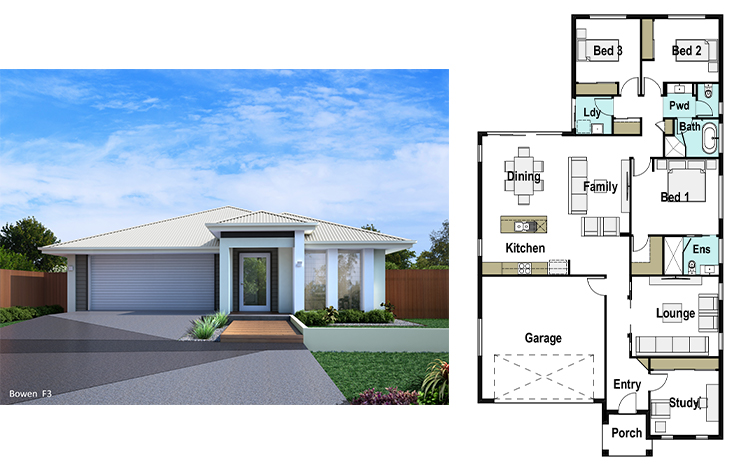 Check out more of the Bowen 200 by clicking here.
So, if you are looking for a new and improved home with a home office that suits the changing times, don't wait another moment to get in touch with us.

The Integrity New Homes franchisee owners are local builders located across Australia, giving new homeowners the best of local knowledge, local customer experience but the perks of a national building business. So, call our award-winning customer service today at 1300 886 793.