Purchasing a block of sloping land is definitely not a lot of first time homeowners' first choice. 😏
How can it be? The building process is so tedious and tricky that with one careless decision could lead to a waste of resources, time, and effort. Yikes!

Settling for a nice, comfortable, and familiar level-lot is the go-to for most people, but sloping blocks shouldn't be overlooked too quickly. True, this choice may come with its own fair share of disadvantages but like most things, it also has its share of benefits that might just offer more than that level land you've been looking at.

Money saver - Typically, the land itself would be cheaper compared to lots that are easier to build on because sloping land comes with a level of preparation that flat allotments don't require but be reminded that the actual building process might come at a higher cost. Overall, building on a sloping block comes with more planning, more labour and more supplies, that is why we highly suggest you carefully weigh your options so that you may be able to show off your creativity while at the same time managing your build more effectively.

Breathtaking views - Sloping allotments come with a host of unique features. One such benefit is an array of staggering views. Sloping lots are generally positioned to capture the stunning beauty of the surrounding area in a way that other lots can't match. In fact, it's one of the main reasons that many buyers ultimately decide to purchase sloping blocks. The right position coupled with the right home design will leave you staring down a slice of stunning views that can liven up your lifestyle and add value to your property.

Natural heating and cooling - Building your home on sloping sites will gain you natural benefits such as natural sunlight and ventilation. As long as the construction of your home is coupled with a smart design that is very well fitting for a steep site, you will be guaranteed to receive cooling cross breezes and make the most of natural light that will heat and cool your home appropriately throughout the day. In this way, your home will be more energy-efficient, which in turn helps you save money.

Natural drainage - Because of its natural inclination, sloped blocks tend to channel water away naturally. You are assured that flooding will almost certainly not be an issue as long as the drainage plans are thoroughly understood and executed on and around your block. If you fail to manage your drainage plans properly, your home could be at risk due to various issues such as erosion.

Creative freedom - Due to the challenges posed by sloping sites, it may seem very difficult to come up with the proper house design for your dream home. Of course as much as you want the house to be practical and fully functional, you also want it to0 be unique that stands out. Luckily, there are a lot of houses especially designed to be constructed on steep sites. So now your question might shift to something like, where to begin? Glad you asked, allow us to guide you towards the starting line

When the Integrity New Homes designers were working on the Lakeview designs, they wanted a contemporary series of homes which reduced the amount of dead space in hallways and difficult to furnish areas, while maximising views to the rear and also capturing scenery to the front. A considered design approach means the home works well on steep as well as flat blocks.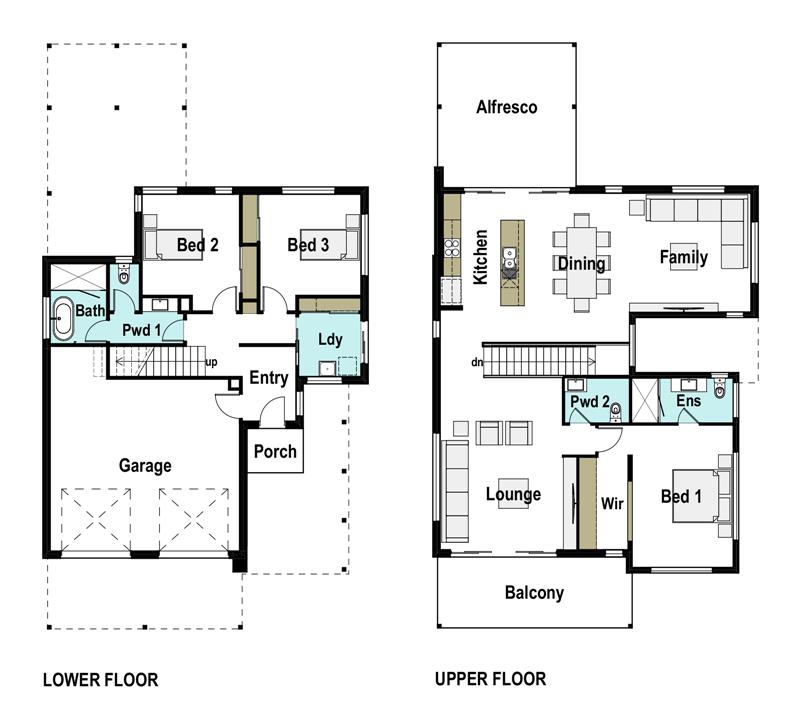 By adopting the principle that less is more, the design team has created airy open spaces with few separating walls and almost totally removing any "dead" space. There is an easy flow from the Dining, Kitchen and Lounge and outdoors to the Alfresco and Balcony.

Downstairs there are three-Bedrooms along with a Bathroom, WC and Laundry. This home offers very strong street appeal and combines architectural flair with project home practicalities. A version of the Lakeview was a largely frequented display home in Brisbane for many years and continues to be a popular choice for flat or steep and challenging sites.




The Charlton 350 is a reinterpretation of the classic rural homestead but designed to be suitable for either flat or steep and challenging sites.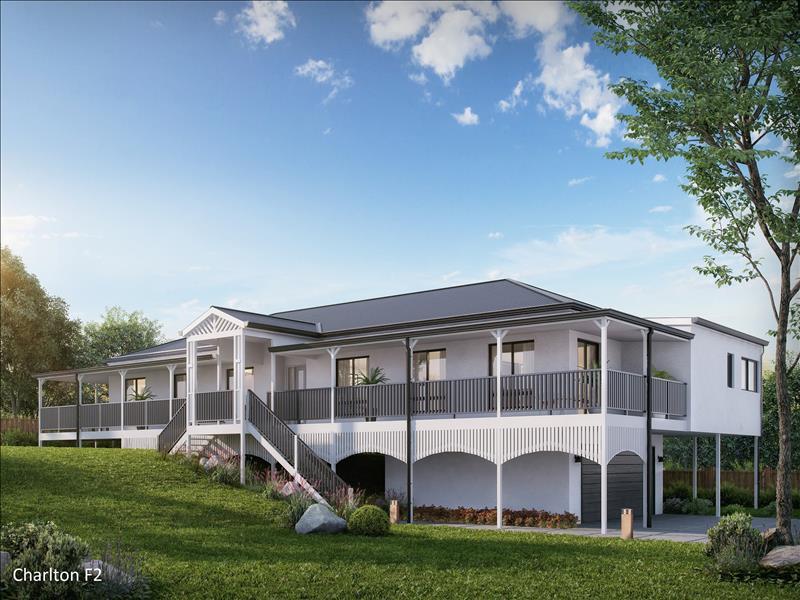 When building on steep and challenging blocks, the double Garage is placed underneath the upper floor and is intended to be side loading, and when building on flat blocks, the double Garage can be detached from the home and made freestanding or removed and replaced with a separate shed elsewhere on the block.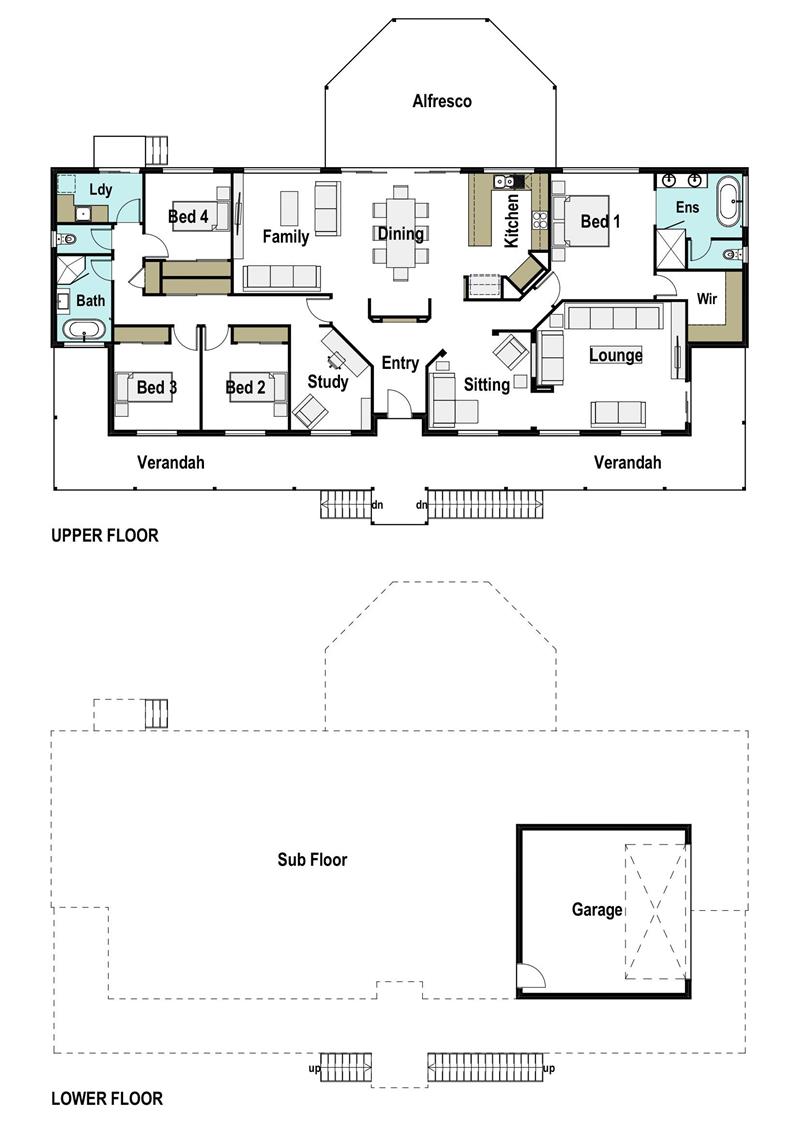 An enormous Verandah sits across the entire frontage of the home and partly returns down both sides, while at the back a unique hexagonal Alfresco provides outdoor living off the Dining, Family and Kitchen. The Sitting and Lounge lead off the Entry and adjoin Bed 1, which includes an Ensuite and Walk-In-Robe (WIR).

The other three-Bedrooms, Study, Laundry, Bathroom and WC are part of a separate module accessed through a closeable door.

The use of multiple roof lines and timber trims to the SubFloor, and Porch gives the home a very polished acreage style appearance.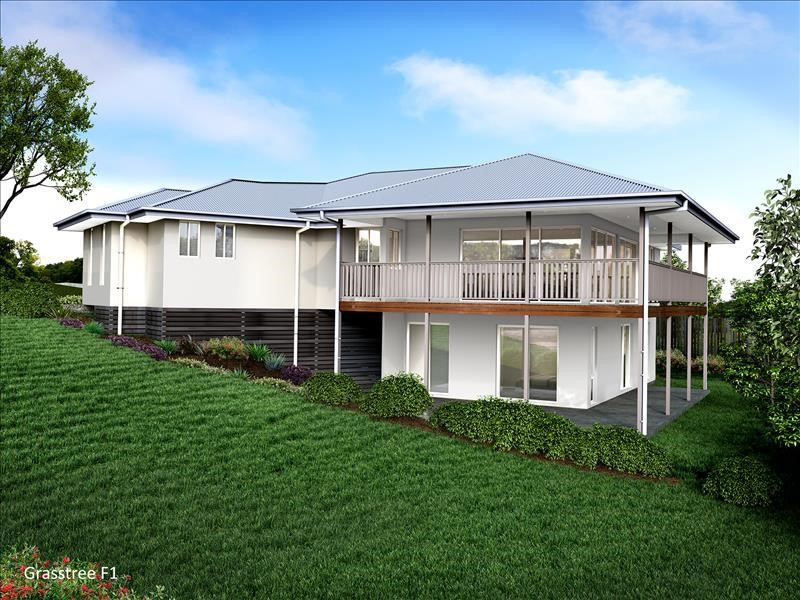 Integrity New Homes has forged a reputation for creative design solutions on steep and challenging blocks – designs which are liveable yet stylish and maximising natural topography.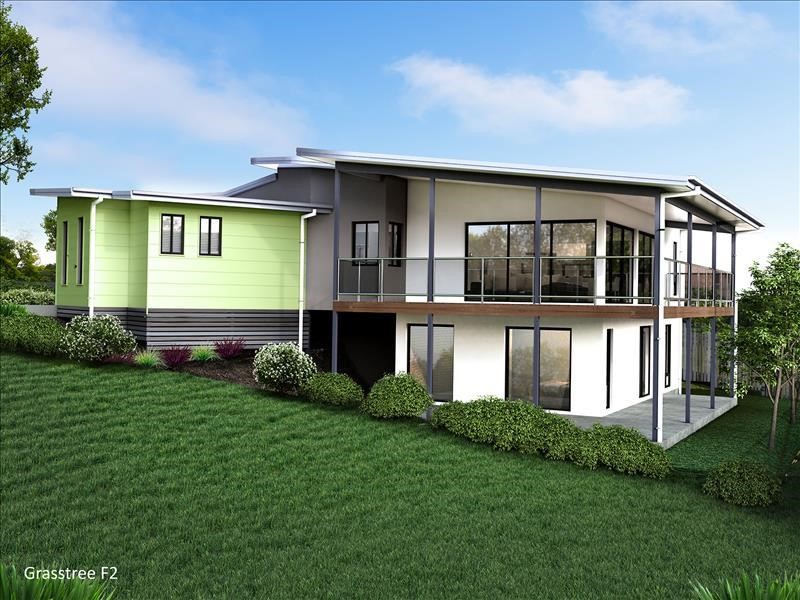 This innovative style is very much evident in the Grasstree 265 and Grasstree 290. The lower floor of the Grasstree 265 includes two-Bedrooms with Bathroom, separate WC, Laundry, Rumpus and large wrap-around Patio. The Grasstree 290 has a slightly different configuration with three-Bedrooms, but excludes the Rumpus. An internal staircase provides access from the lower floor to the upper floor, which is similar for both homes.

The upper floor has the Bed 1 and Study wing offset and angled from the rest of the upper floor rooms and includes an Ensuite and Walk-In-Robe (WIR).

The Dining, Lounge and Kitchen are placed at the back and open onto the side and rear Alfresco. The Powder and double Garage complete the upper floor areas while the Grasstree 290 also includes an impressive Media with double cavity sliding doors.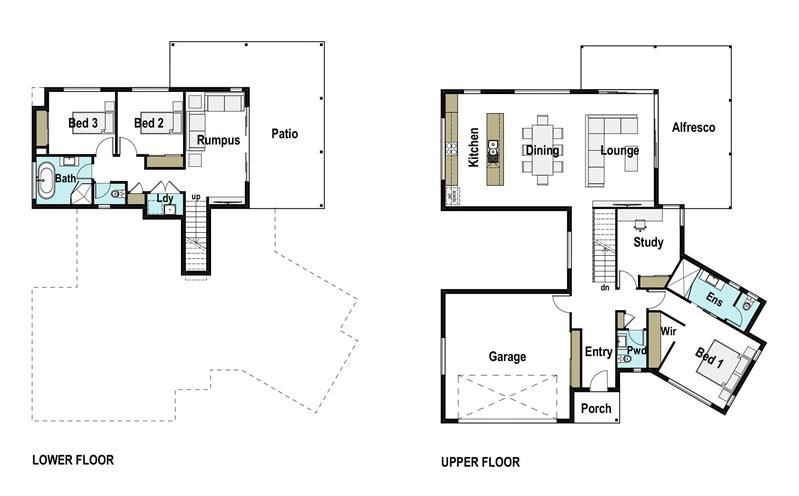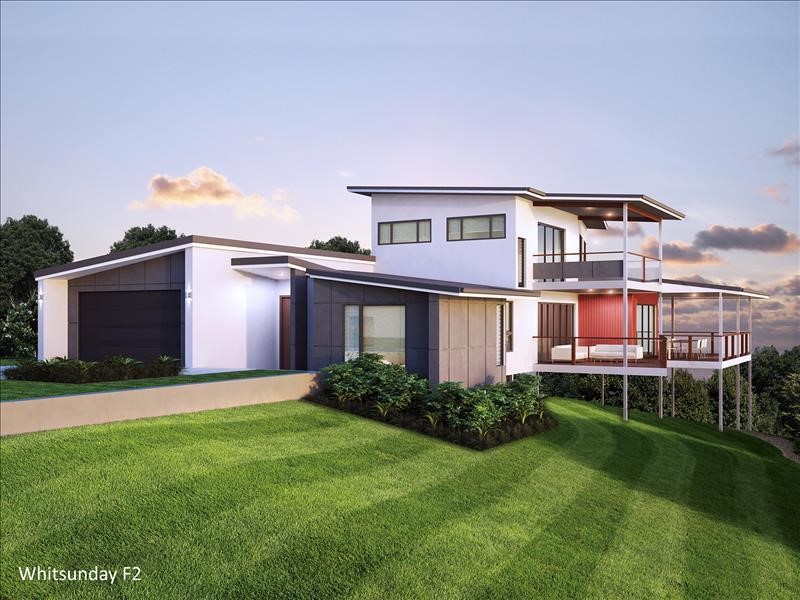 The Whitsunday 330 is a very appealing home which is functional with a combination single-storey and double-storey footprint, offering the potential to maximise breathtaking views at the side and rear.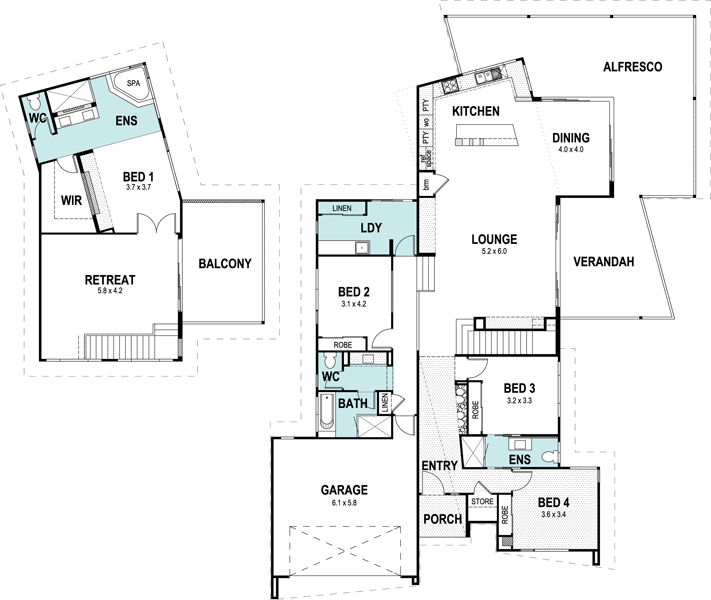 In bald terms, it is a two-storey four-Bedroom home with the lower floor Lounge, Dining and Kitchen opening onto a massive wraparound Alfresco and Verandah.

The lower floor areas also contain Kitchen, Walk-InPantry (WIP), Dining, Lounge, Bed 2, Bed 3, Bed 4, Laundry, Bathroom, Powder and a second Ensuite servicing Bed 3 and Bed 4 which is ideal for teenagers or guests.

The upper floor is the ultimate parent's space with a Retreat with Study Nook, Bed 1 with feature double doors, Walk-In-Robe (WIR), spacious Ensuite with large double bowl vanity, freestanding bath (yes, a second bath in the Ensuite!), enclosed WC and covered Balcony.


Since the building process for steep sites can be quite a challenge, it is highly recommended to work with the right builder to ensure a smooth and enjoyable construction process. You will need a builder that is not only efficient and trusted but the one who can rise to the challenge.

There are a lot of builders scattered all around the country that offer quality houses but it is important to work with the ones like Integrity New Homes, who fluently speak the language of sloping blocks. In this way, you will ensure that the advantages mentioned above will be incorporated in your new home because they have the right contacts and knowledge when it comes to labour and supplies, saving you time, effort, and money.

Integrity New Homes is a steep site specialist and provides the design flair of an architect but with the systems, service and price benefits of a volume builder, providing cost effective solutions for all home buyers. It is our mission to provide you with premium quality houses that will not only withstand the challenges posed by your inclined sites but will also allow you to enjoy the benefits that come with building in such a unique block.
Flat or sloped, Integrity New Homes can deliver a home building experience like no other.
Contact us today to start designing your new home for that sloping block!