Home Design Facade Options
Different facade options will drastically change the look and streat appeal of your home.
For designs with more than one floor plan/design, the artist's impression facades shown are generally of the floor plan/design with the largest floor area size. Therefore the artist's impression facades may not be an accurate representation of all floor plans offered and are indicative only. Please refer to the specific details stated in your building contract.
Home Designs In This Range
Floor Plan Details
We pride ourselves on affordable custom design. Talk to us about modifying the floor plan of the Saltwater 200 to suit your lifestyle and unique circumstances.
Living 151.68 m²
Garage 36.22 m²
Porch 2.36 m²
Alfresco 11.73 m²
&nbsp &nbsp
Width 11.20 m
Length 20.00 m
Enquire Now
Home design flyer
Download the Saltwater 200 home design flyer
Save a printable PDF version of the Saltwater 200 showing floor plan and facade options.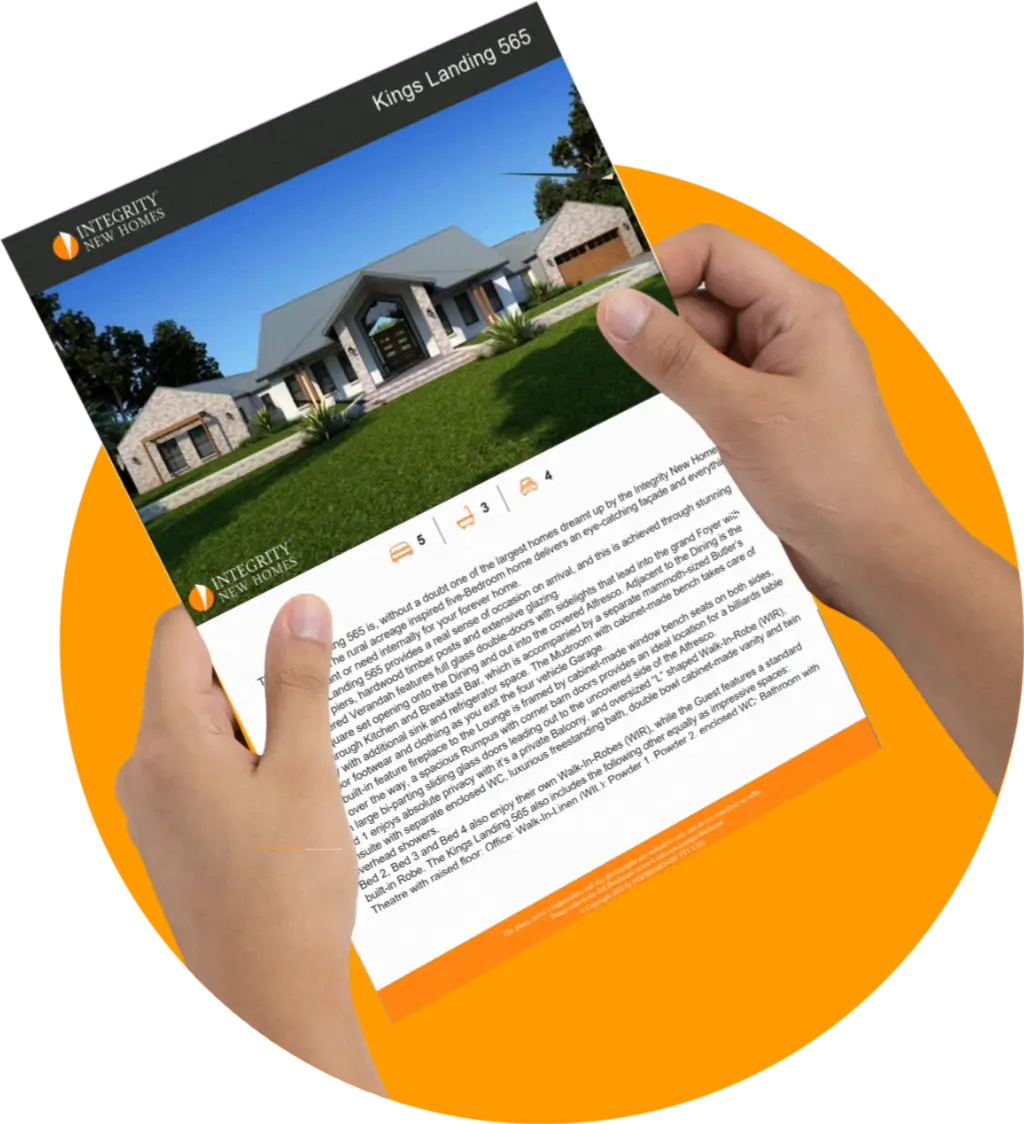 Saltwater 200

home design
Designer Inclusions
Description
Any of the Saltwater designs look particularly cutting edge in the optional skillion facade finish, but as with any Integrity design, it is possible to customise this home to suit personal taste, lifestyle and circumstances. This flexible approach is one of the reasons Integrity New Homes continues to be successful.
Whether building on a flat block or a challenging site, the sales and design teams genuinely try to put forward design solutions which overcome problems, are functional and in tune with client requirements.
The Saltwater series delivers a four-Bedroom home (or three-Bedrooms plus Study) with open plan Kitchen, Dining and Lounge with Walk-In-Pantry (WIP), separate WC and Bathroom, as well as an Ensuite and Walk-In-Robe (WIR) to Bed 1. The Saltwater 200, Saltwater 235 and Saltwater 265 all have a Rumpus and very similar layouts but providing greater floor space as you move up the series – all designed to suit the needs of new home-owners and people with differing lifestyles.
The Laundry is located within the double Garage of the Saltwater 190 but has a dedicated space within the home in the rest of the Saltwater designs. All the series feature an Alfresco (of varying sizes) covered by the main roofline which creates a wonderful relaxing outdoor area to the rear/side of the home. It is a perfect shaded location for summer barbeques or enjoying a spring meal outdoors.
LIVING AREAS
LOUNGE
3.9 x 4.7
DINING
3.1 x 2.6
RUMPUS
3.1 x 3.3
BEDROOMS
BED 1
3.8 x 3.4
BED 2
3.0 x 3.0
BED 3
3.1 x 3.0
STUDY
3.0 x 3.1
OUTDOOR
ALFRESCO
3.9 x 3.0
All floor plans areas and dimensions shown on this web page are indicative only and may vary according to the materials used.