Home Design Facade Options
Different facade options will drastically change the look and streat appeal of your home.
For designs with more than one floor plan/design, the artist's impression facades shown are generally of the floor plan/design with the largest floor area size. Therefore the artist's impression facades may not be an accurate representation of all floor plans offered and are indicative only. Please refer to the specific details stated in your building contract.
Home Designs In This Range
Floor Plan Details
We pride ourselves on affordable custom design. Talk to us about modifying the floor plan of the Mackay 180 to suit your lifestyle and unique circumstances.
Living 143.77 m²
Garage 36.79 m²
Porch 2.01 m²
&nbsp &nbsp
Width 11.18 m
Length 20.57 m
Enquire Now
Home design flyer
Download the Mackay 180 home design flyer
Save a printable PDF version of the Mackay 180 showing floor plan and facade options.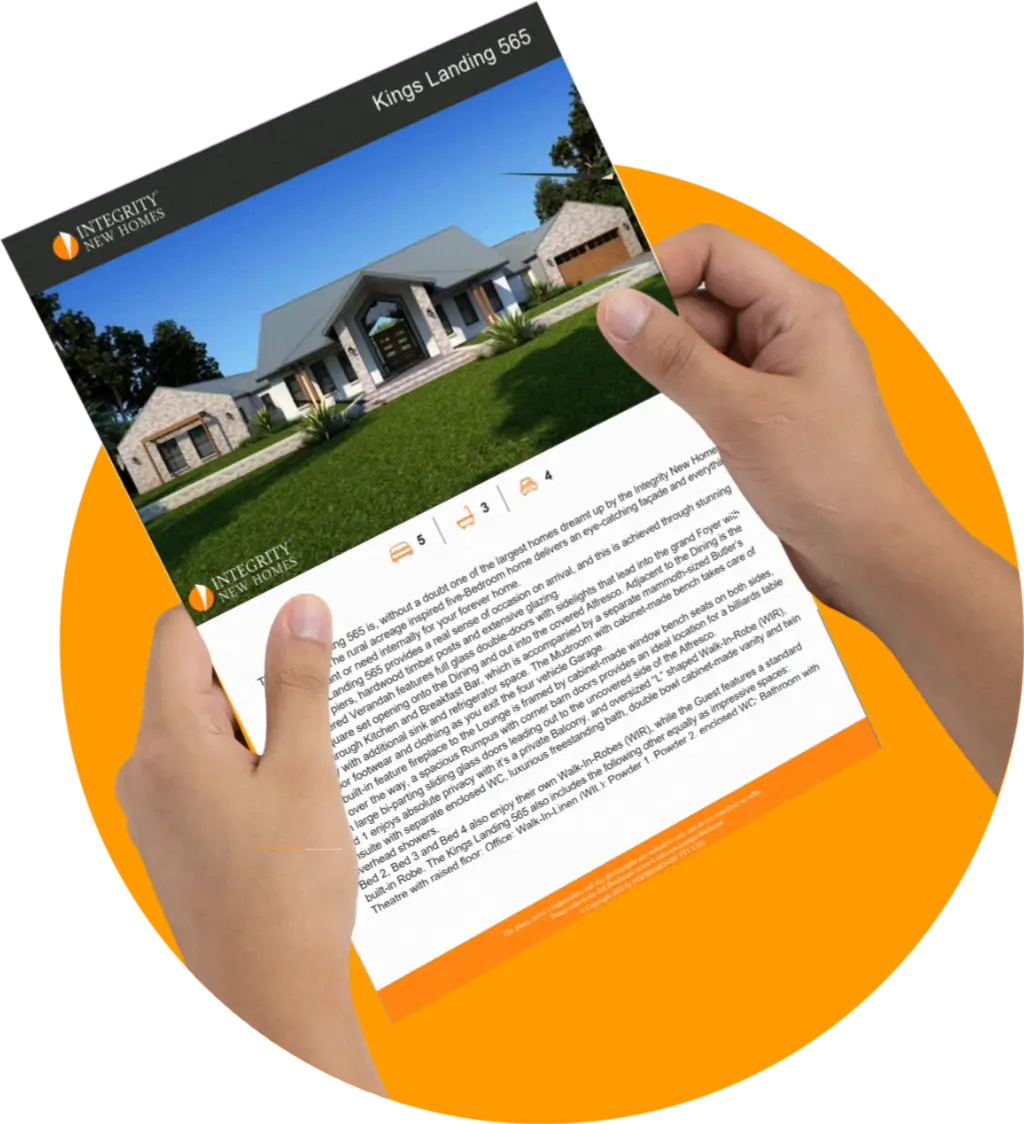 Designer Inclusions
Description
The Mackay series has for more than a decade been the singular most popular series of homes offered by Integrity New Homes.
Part of the success is the way these homes deliver fantastic functional everyday living experiences, in a value for money four-Bedroom series which adds "design elements" as the homes in the series increase in size.
The entry-level Mackay 180 includes four-Bedrooms and two separate living areas. The Kitchen is open to the Family and Dining which forms the centre of daily life. The double Garage is within very close proximity to the Kitchen making it easy to transfer household groceries from the car into the house. While the open Lounge space is accessed off the Entry. Bed 1 includes a Walk-In-Robe (WIR) and is separated from the secondary bedrooms by a generous Laundry.
The Mackay 205 has a similar footprint as the Mackay 180 but has more space in the Family, Dining, Kitchen and Lounge areas. The secondary Bedrooms are located to the rear of the home and access the Family and Dining while Bed 1 is far enough away to offer parents a retreat, yet close enough to service the needs of younger children. The optional outdoor undercover area is designed to be added to the Eastern side of the home with direct access from the Dining and Kitchen.
The series-topping Mackay 230 has all the features and benefits of the Mackay 180 and Mackay 205 but adds a Rumpus adjoining the secondary Bedrooms and a Study (or fifth-Bedroom) to the front.
LIVING AREAS
FAMILY
2.6 x 3.8
DINING
2.8 x 3.1
LOUNGE
3.2 x 3.8
BEDROOMS
BED 1
3.7 x 3.8
BED 2
3.1 x 3.2
BED 3
3.0 x 3.0
BED 4
3.0 x 3.0
All floor plans areas and dimensions shown on this web page are indicative only and may vary according to the materials used.