Home Design Facade Options
Different facade options will drastically change the look and streat appeal of your home.
For designs with more than one floor plan/design, the artist's impression facades shown are generally of the floor plan/design with the largest floor area size. Therefore the artist's impression facades may not be an accurate representation of all floor plans offered and are indicative only. Please refer to the specific details stated in your building contract.
Home Designs In This Range
Floor Plan Details
We pride ourselves on affordable custom design. Talk to us about modifying the floor plan of the Livingston 285 to suit your lifestyle and unique circumstances.
Living 225.37 m²
Garage 36.97 m²
Patio 2.18 m²
Porch 5.66 m²
Alfresco 16.21 m²
&nbsp &nbsp
Width 13.40 m
Length 23.30 m
Enquire Now
Home design flyer
Download the Livingston 285 home design flyer
Save a printable PDF version of the Livingston 285 showing floor plan and facade options.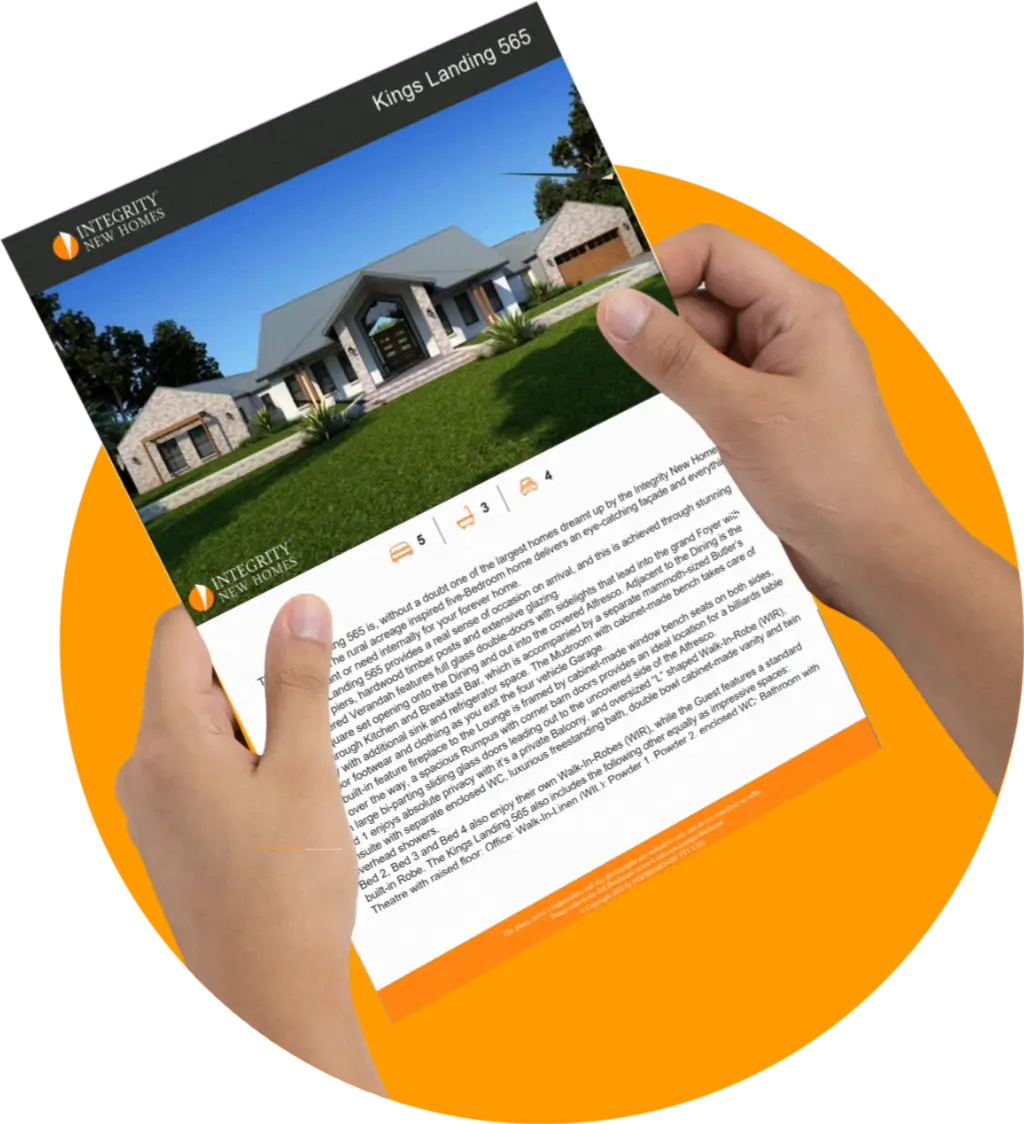 Livingston 285

home design
Designer Inclusions
Description
The Livingston series featuring the Livingston 270 (three-Bedroom) and Livingston 285 (four-Bedroom) and attached two-Bedroom Granny Flat is the ideal home for so many reasons: Do you have an elderly parent or parents whom you'd rather care for locally than in a nursing home? Tick. Do you want to give a leg up to your child starting their own family? Tick. And do you want to invest in bricks and mortar for your future and bring in some rental income? Tick. The Livingston series truly ticks all the boxes.
The Livingston series includes all of the features you've come to expect in a modern free-standing home from the multiple award-winning Integrity New Homes design team. Features include two living spaces; large covered outdoor entertaining spaces; open-plan, well-thought-out spaces; ample storage; large Kitchen with Breakfast Bar; dedicated stand-alone Laundry and then they've almost seamlessly attached a two-Bedroom Granny Flat to the side!
Towards the front of the Residence, you'll find the double car Garage, covered Porch, Entry, separate well placed Media, Bed 3 (Livingston 270) or Bed 4 (Livingston 285) and multiple enclosed storage spaces. A short stroll down the Hall and you'll be presented with the large and spacious open plan Kitchen, Dining and Family opening onto the covered Alfresco outdoor space through a mostly full-width bi-parting sliding door. To the right of the Kitchen is Bed 3 (Livingston 285), Bathroom, Powder, enclosed separate WC and Bed 2 with its own private Hall to reduce sound transfer and truly define the spaces. To the right of the Family living space, there is a dedicated Walk-in-Linen (WIL) (Livingston 285), Bed 1 with an expansive walkthrough Walk-In-Robe (WIR) into the Ensuite.
The Laundry is tucked behind the Garage in the Livingston 285 and can act as a "mudroom" of sorts while the Laundry is nestled between Bed 3 and the Bathroom with side access in the Livingston 270.
The attached Granny Flat positioned to the left of the Residence features its' own covered Porch, Bed 2, open plan Kitchen, Meals and Lounge, separate Bathroom with Laundry facilities within and Bed 1 with private covered Patio.
Many local authorities have developed fast-tracked and streamlined options for approval and some are waiving the rather expensive developer contributions, so it makes sense that attached and detached Granny Flats are popping up all over Australia.
The Residence and attached Granny Flat are separated by an NCC required separation (dividing) wall.
MAIN RESIDENCE
LIVING AREAS
FAMILY
4.6 x 4.2
DINING
4.6 x 3.3
MEDIA
3.6 x 3.6
BEDROOMS
BED 1
4.3 x 3.4
BED 2
3.0 x 3.0
BED 3
3.0 x 3.0
BED 4
3.0 x 3.0
OUTDOOR
ALFRESCO
4.4 x 3.5
GRANNY FLAT
LIVING AREAS
LOUNGE
4.3 x 3.0
MEALS
2.6 x 1.5
BEDROOMS
BED 1
3.2 x 3.0
BED 2
3.0 x 2.7
All floor plans areas and dimensions shown on this web page are indicative only and may vary according to the materials used.