Home Design Facade Options
Different facade options will drastically change the look and streat appeal of your home.
For designs with more than one floor plan/design, the artist's impression facades shown are generally of the floor plan/design with the largest floor area size. Therefore the artist's impression facades may not be an accurate representation of all floor plans offered and are indicative only. Please refer to the specific details stated in your building contract.
Home Designs In This Range
Floor Plan Details
We pride ourselves on affordable custom design. Talk to us about modifying the floor plan of the Genesis 245 to suit your lifestyle and unique circumstances.
Living 175.20 m²
Garage 37.54 m²
Porch 6.46 m²
Alfresco 28.91 m²
&nbsp &nbsp
Width 27.40 m
Length 12.30 m
Enquire Now
Home design flyer
Download the Genesis 245 home design flyer
Save a printable PDF version of the Genesis 245 showing floor plan and facade options.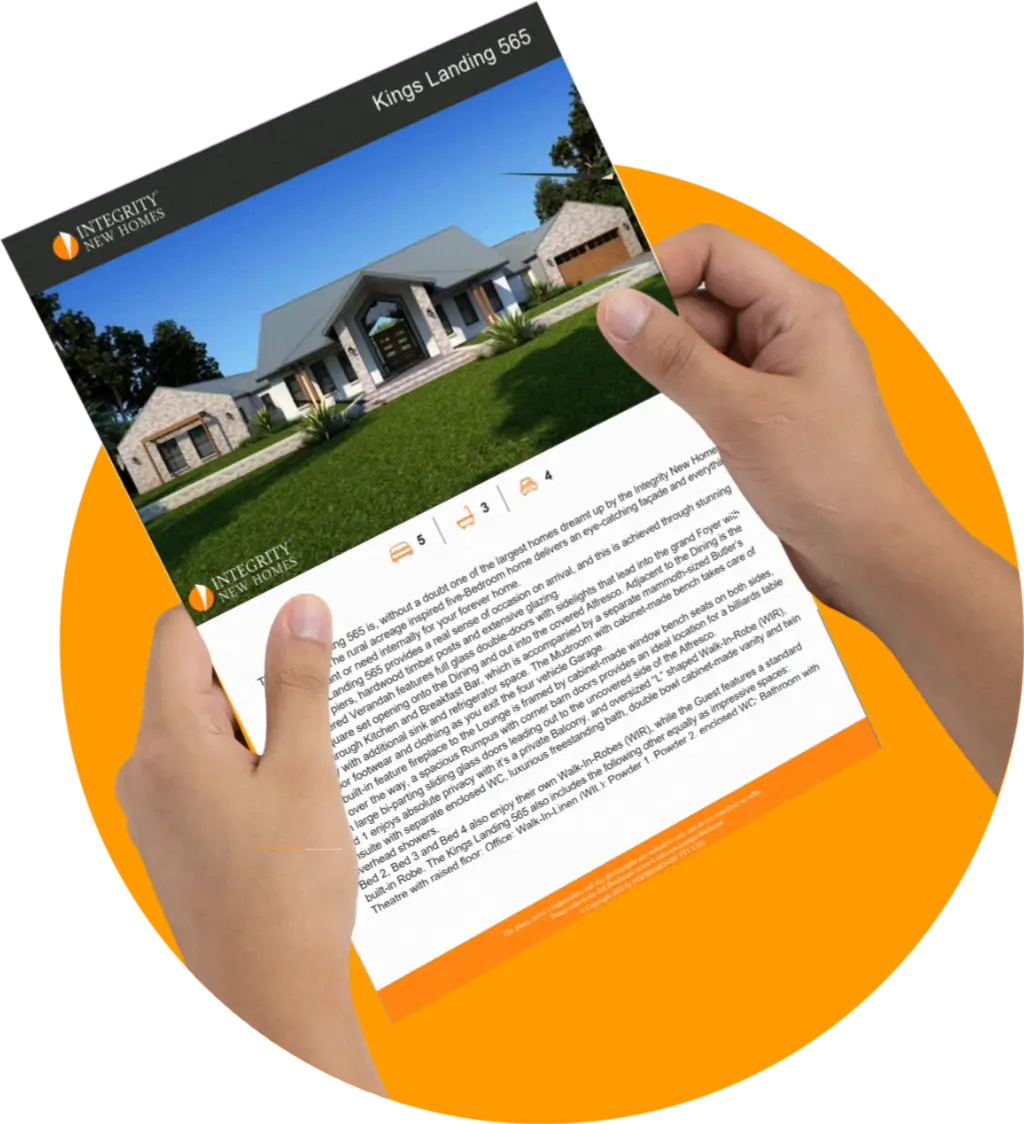 Designer Inclusions
Description
A hugely popular home while on display in Tamworth, the original Genesis, has been transformed and improved with the release of the new Genesis series of homes. These designs have taken the traditional rural acreage "long home" and dragged it into the 21st century with a raft of appealing design features.
The Integrity New Homes designers have achieved a robust zonal design approach while keeping Hall space to a minimum. This enables Bed 1 to be "removed" from the rest of the home and provide a sanctuary from the day-to-day goings-on while being directly adjacent to the Kitchen, Lounge and Dining.
All of the Genesis homes have four-Bedrooms, Bathroom and Laundry with Bed 1 featuring an Ensuite, Walk-In-Robe (WIR). The Genesis 265 adds a Media with double cavity sliding doors and a more generous covered Porch to the Entry. Moving further up the series to the Genesis 310, there are some additional floor plan features including a Store space (without shelving) to the double Garage, Patio to Bed 1, even larger covered Porch to the Entry and a Nook for studying beside the Kitchen. The massive Genesis 355 excludes the Store to the Garage (included in the Genesis 310) but adds a Rumpus along with a larger Alfresco to the rear of the home.
All of the Genesis series of homestead homes enjoy sensational views across the back of the house and have a natural flow from the indoors out through to the Alfresco.
LIVING AREAS
LOUNGE
4.7 x 4.6
DINING
4.1 x 3.2
BEDROOMS
BED 1
3.8 x 4.2
BED 2
3.1 x 3.0
BED 3
3.1 x 3.0
BED 4/STUDY
2.9 x 3.1
OUTDOOR
ALFRESCO
7.2 x 5.2
All floor plans areas and dimensions shown on this web page are indicative only and may vary according to the materials used.