Home Design Facade Options
Different facade options will drastically change the look and streat appeal of your home.
For designs with more than one floor plan/design, the artist's impression facades shown are generally of the floor plan/design with the largest floor area size. Therefore the artist's impression facades may not be an accurate representation of all floor plans offered and are indicative only. Please refer to the specific details stated in your building contract.
Home Designs In This Range
Floor Plan Details
We pride ourselves on affordable custom design. Talk to us about modifying the floor plan of the Cascade 385 to suit your lifestyle and unique circumstances.
Living 271.04 m²
Garage 52.07 m²
Porch 2.50 m²
Alfresco 45.13 m²
Verandah 12.30 m²
&nbsp &nbsp
Width 26.21 m
Length 16.86 m
Enquire Now
Home design flyer
Download the Cascade 385 home design flyer
Save a printable PDF version of the Cascade 385 showing floor plan and facade options.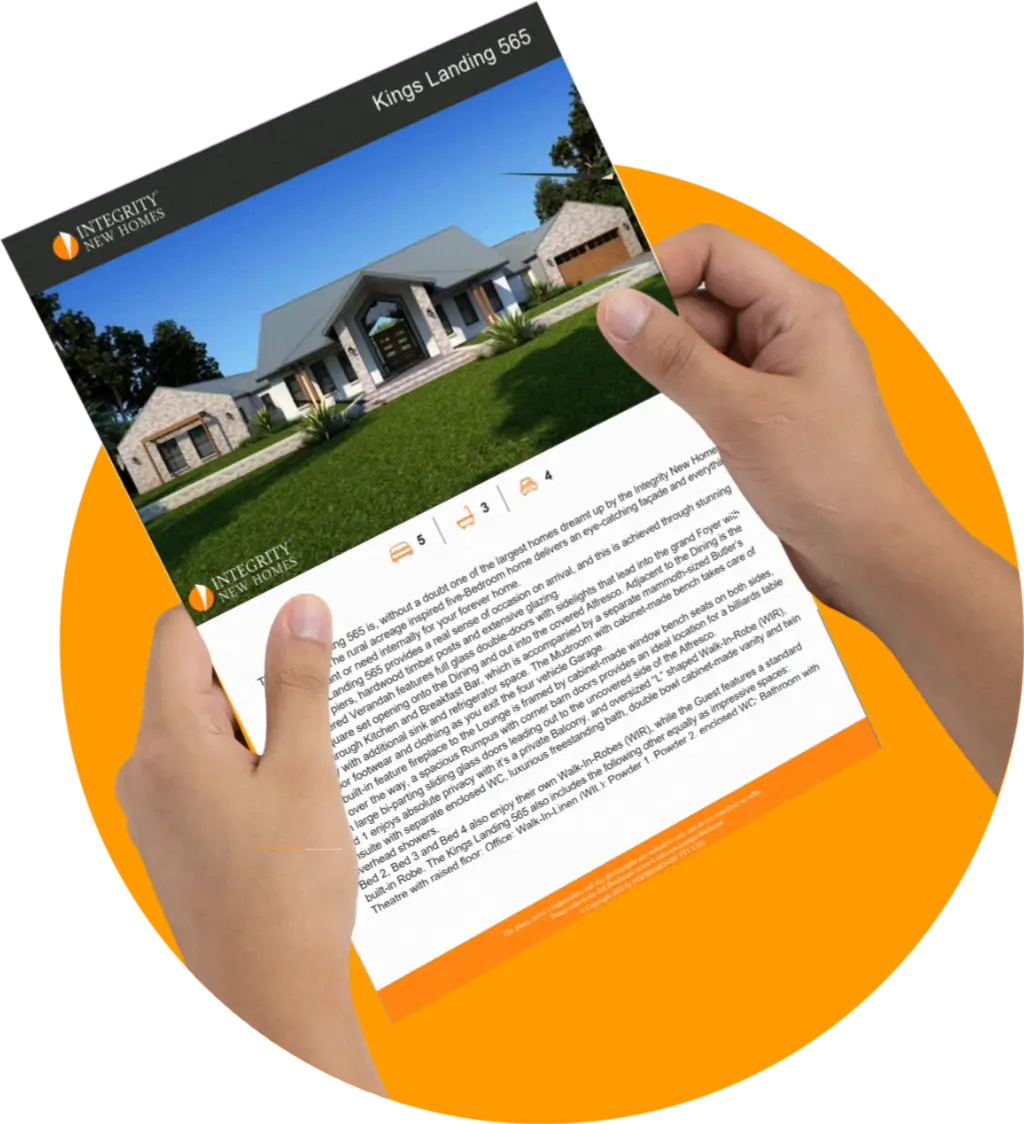 Designer Inclusions
Description
Introducing the Cascade Series: A Perfect Blend of Comfort and Elegance for Rural Living
Discover the epitome of luxury and tranquility with our exquisite Acreage Home, specially designed for those seeking a touch of sophistication in the heart of rural and regional Australia. This immaculate house design offers a seamless fusion of contemporary architecture and the serenity of nature, making it an idyllic haven for you and your family.
With 4 spacious bedrooms and an additional thoughtfully designed office, the Cascade 385 ensures ample space to accommodate your family's needs while providing room for productivity and focus. Two well-appointed bathrooms guarantee convenience and privacy, catering to the busy lifestyle of a modern household.
Step inside, and you'll be captivated by the expansive primary living area, showcasing an inviting ambiance that embraces both functionality and comfort. But that's not all! For a delightful cinematic experience, indulge yourself in the added media room, where you can create lasting memories with friends and family.
Prepare to be amazed by the master bedroom's grandeur. Bedroom one offers generous space, complemented by a large walk-in wardrobe, ensuring your belongings are stored with style and accessibility. The indulgent master ensuite provides a personal oasis, complete with luxurious fixtures and ample room to relax and rejuvenate after a long day.
If you love cooking or entertaining, the heart of this home, the kitchen, will leave you in awe. The spacious kitchen is a culinary enthusiast's dream, equipped with modern appliances and ample countertop space. To top it off, a large walk-in pantry stands ready to accommodate all your storage needs, ensuring that your kitchen remains clutter-free and organized.
The Cascade 385 boasts a harmonious connection to the outdoors, featuring a large alfresco area that seamlessly blends with the open-plan living area. Embrace the beauty of nature while enjoying gatherings with friends and family, making memories that will last a lifetime.
With a striking and contemporary acreage-style design, this home will undoubtedly become a standout feature of its surroundings. Its allure lies in the perfect balance of luxury and warmth, offering a haven that complements the natural beauty of rural and regional Australia.
Unveil the hidden gem of modern living nestled within nature's embrace. Experience the charm and elegance of the Cascade 385, where every detail has been meticulously crafted to cater to your needs and desires. Welcome to a lifestyle of serenity and style – welcome home.
LIVING AREA
DINING 5600 x 5400

FAMILY 5000 x 5400
OFFICE 2800 x 3000
MEDIA 5000 x 5300
BEDROOMS
BED-1 4000 x 5600

BED-2 3500 x 3000

BED-3 3500 x 3000
BED-4 3300 x 3600

OUTDOOR AREA
ALFRESCO 3500 x1200

PORCH 1400 x 1500
VERANDAH 2200 x5400

All floor plans areas and dimensions shown on this web page are indicative only and may vary according to the materials used.