Do Quality Inclusions Help Your Resale Value?
Depending on the style of construction, there are lots of ways to make the home's resale value higher than the average. Quality inclusions throughout your project really add a sparkle to your investment, and help to make the property feel more classy and of a higher value.
It is not necessarily the type or price of the inclusions that makes it quality. For example, if you use larger tiles, that are modern and look good with the rest of your decor and finishings, your space is going to have an immediate appeal to any buyer. These don't have to be high priced terrazzo or natural stone either! There are so many affordable, cost effective choices available now, so check out your options before you commit. Integrity New Homes are proud to be associated with Beaumont Tiles, who have beautiful quality tiles available at a great price. The photo below shows the Warehouse Mid Grey floor tile which is in the INH Designer Range.
So What Adds Value to Your Home?
When thinking about ways to make your home worth more, and for your own peace of mind, below are some things to include in your new home to add value, whether it is an investment property, whether you are going to live there for 5-10 years, or that it is actually your forever home. 🏘

Integrity New Homes provide a high quality level of standard range inclusions that have gained the approval of many astute home builders over the years. Ask your local sales person for the Designer Range of Standard Inclusions brochure as you are working through the house plans, as it is good to be able to visualize the whole home and see what is going to be within the spaces. This is updated regularly, so we don't put it on our website.

But before we even get to the finer details of the fixtures and fittings, we have listed 5 points in the following paragraph that are guaranteed to improve the feel of the home, and that add absolutely add value.
5 Things that are guaranteed to add a sparkle
1. A well considered general floor plan that works well for the whole family, including thoughtfully designed bathrooms and plenty of storage

2. Good paintwork and neutral colours, preferably Whites 😘

3. Consider adding a granny flat - it's an extremely popular addition because of the versatility and potential income of the space - depending on your block of land and the outdoor living space or yard you have, this can designed to be privately accessed with minimal interaction between the dwellings, or can be a part of the main building, joined by the roof or a cover.

4. Windows and well placed Walls and ceilings that bring natural light into the spaces. There is nothing that makes potential buyers more excited than an open happy sunshiney space for their family home. Atmosphere and light can make a huge difference to the health of your family members and how they interact within the home.

5. Open plan kitchen and living area is usually extremely high on the list of wants when it comes to building or designing a new home. A Butlers pantry, even a small one, can be a visual winner and game changer! Adding a few centremeters to the ceiling height can make a difference to this, or putting a raked ceiling in and adding the skylight windows - we use Velux Skylights in our homes and these are incredible how they bring light into the spaces. They can be vented or fixed.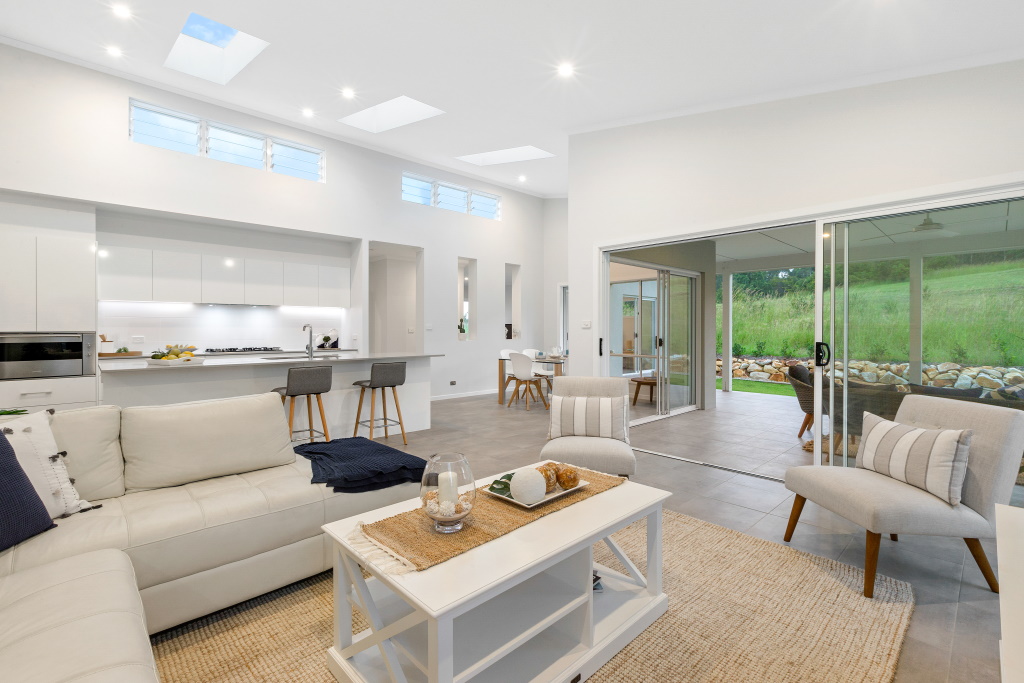 Adding Value Through Fixtures and Fittings
Now onto the fixtures and fittings that add value and make a home more appealing to the prospective buyer, but that don't actually add a huge amount to the overall costs.

1. Consider timber plank flooring instead of ceramic tiles on the main floors - if chosen carefully, this is a timeless look and has a warmth to it that no ceramic tile can.

2. Stone Benchtops in the kitchen, however if this is absolutely out of the budget, upgrading to one of the Laminex or other finishes that shows texture can be all it takes to bring some style in here.

3. Make sure the tapware and hardware is something you love. Upgrading this may only cost you an extra $500 for the whole house lot and is definitely worth consideration.

4. Fans! Most of Australia has dramatic temperature changes, and if you can't afford a ducted air conditioning system, putting fans in all the rooms is a must. Not expensive if you do it when you are building.

5. Consider energy efficient quality appliances that have a longer than usual warranty period. Remember that your return on investment needs to be not just a wage, you want to make it worthwhile. So consider the property values and what the cost of premium inclusions throughout the home versus just adding a few luxury items that make a statement do for the home.

6. By engaging Integrity New Homes to build your new home, you are able to get a fixed price contract at the beginning. You can then see exactly what financial situation you are in, and how far you can push the budget to get the items included that you want.

7. An outdoor alfresco or verandah is generally high on a potential buyer's wish list. Australians love their afternoon weekend bbqs with friends over. It doesn't have to be a huge expensively fitted out area. But adding a roof over enough of the deck to get out of the rain or heat is a definite winner.