If you are building your dream home, you've probably noticed the many flooring options available. But which one is right for you?
Every type of floor has its own benefits, but understanding them can make the difference between ending up with your dream floor or a costly mistake that you'll have to live with for many years.
When choosing flooring for your home, you'll first need to identify your needs. Do you want something that's easy to maintain? More durable? Water-resistant? Do you have pets? Do you or members of your family have allergies? Your answers will inform which materials and features are best suited to your space.
To help you choose the best option for your home and lifestyle, we've put together preferences for specific types of materials to consider when choosing flooring.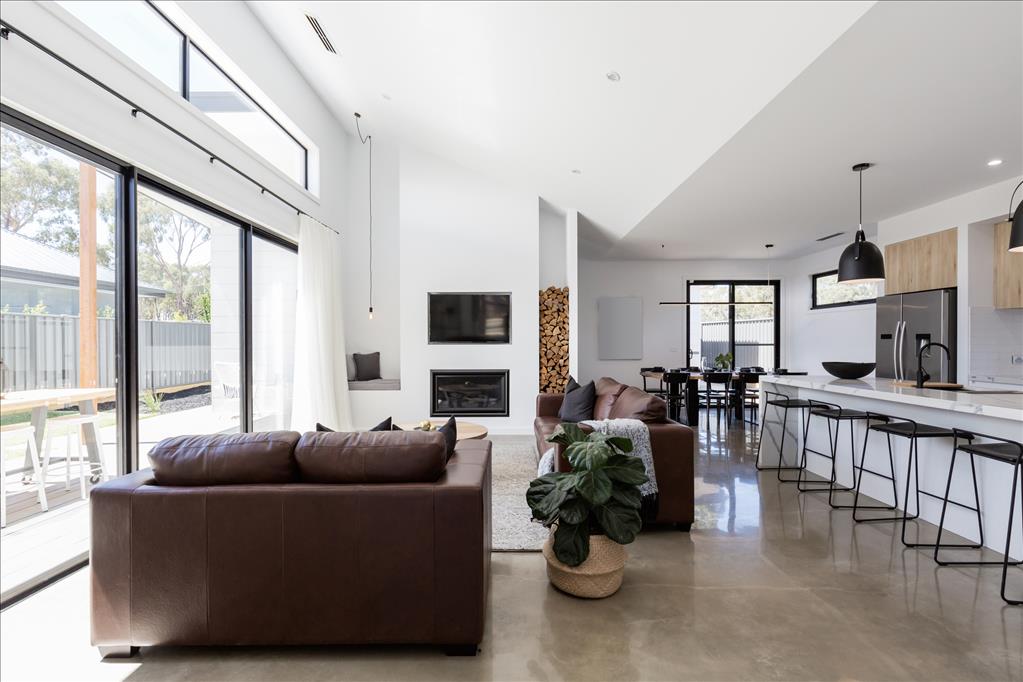 POLISHED CONCRETE
Polished concrete flooring is sleek and elegant, but also extremely durable and easy to clean. It's no wonder it's become such a popular flooring option, both in industrial and residential applications.
Pros: Concrete floors are extremely durable and easy to clean, and they resist water when properly sealed. Concrete works well with radiant heating, and the surface absorbs heat to cut energy bills.
Cons: They can feel cold on the feet and lack the sound absorption of carpeted floors. The surface may be slippery when wet and stains easily (when not properly sealed). Cracks are common.
TILES

In addition to looking attractive, tiled floors are highly practical and can be a low-maintenance, durable answer to your flooring needs.

Pros: Can be very affordable, great to look at, and offers years of durability. Can be easy to clean (depending on the finish of the tile and whether your tile and grout is sealed).

Cons: Can be cold underfoot (rugs or underfloor heating is needed if you want to take the edge off). Can be slippery when wet, and unforgiving if fallen on. Not as resilient as concrete; can crack if something heavy is dropped. Can be difficult to clean if not sealed or the tile surface if overly textured.
TIMBER
Solid hardwood flooring adds style and beauty to your home. It creates an ambience that cannot easily be matched.
Pros: Adds warmth and character to a space. Feels good underfoot. Easy to clean. Can be refinished and brought "back to life" numerous times.
Cons: Can scratch easily, especially in areas of the home that get heavy foot traffic. Requires maintenance and refinishing. Can be tricky to colour match if areas need replacing down the track. Not waterproof.
VINYL

Vinyl Plank Flooring is a rigid, multi-layer PVC floor with an authentically reproduced hardwood or tile look.

Pros: Waterproof. Easy to install. Durable and affordable.

Cons: Can scratch and dent easily (depending on the quality and grade). Can quickly discolour in areas that are exposed to direct sunlight often, and will often fade over time.

LAMINATE

Laminate flooring is a multi-layer synthetic flooring product fused together with a lamination process. Laminate flooring simulates wood with a photographic applique layer under a clear protective layer.

Pros: Affordable, durable, easy to maintain, stain resistant, looks like wood.

Cons: Cannot be refinished if scratched or damaged. Not as resistant to moisture as other options.
HYBRID
Hybrid flooring combines the benefits and elements of both laminate and vinyl.
Pros: The best of laminate and vinyl - tough and waterproof. Scratch and dent resistant. Comfortable underfoot. Easy to install. Hypoallergenic.
Cons: Can't be refinished. Can get damaged if heavy items are dropped on it. Has the potential to fade in areas exposed to direct sunlight often.
ENGINEERED TIMBER
An engineered timber floor is a multi-layered floor composed of a timber veneer or lamination surface layer sitting on a cheaper substrate of ply, pine or rubber wood.
Pros: Hard-wearing. Moisture resistant. Easy maintenance. More affordable than solid timber. Easy to replace planks if needed. Won't expand and contract like timber. Can be sanded/resurfaced a few times before needing to be replaced.
Cons: Requires maintenance. Limit to the amount of times it can be refinished. Can scratch and dent just like solid timber. Can be susceptible to water damage.
CORK

Cork has come along way (in both appearance and manufacture) over the last decade, and is becoming very popular in new Australian homes.

Pros: Very comfortable underfoot. Eco-friendly. Easy to maintain. Water and fire resistant. Hypoallergenic. Natural insulator.

Cons: Can scratch and dent (even just from heavy or sharp furniture). Can warp if exposed to extreme moisture conditions. Can be expensive to repair/replace.
CARPET
Carpet is a textile floor covering typically consisting of an upper layer of pile attached to a backing. IT comes in both wool and synthetic options, and some carpets have been specially produced to work well in allergy prone households.
Pros: Warm and soft underfoot. Excellent insulator and sound-dampener. Available in a variety of styles, materials, and colours. Can be very affordable.
Cons: Poor ventilation can make it a breeding ground for mold and mildew. Absorbs dirt, dust and odours. Can be difficult to clean and maintain. Wears down in high-traffic areas.
__
While we've only given nine types of flooring options here, there will always be variations (with appearance, features, and quality) within these flooring categories. So be sure to do research on the specific brand of product you're considering be fore committing.