The term 'energy-efficient' is something we often attach to houses that are completely unique, custom-designed, and only accessible to the exceedingly rich. However, a house that maintains good thermal qualities can be produced simply by using the right techniques and methods in any home build. This type of quality building is a concept that is often overlooked in Australia.
Per capita, we are one of the wealthiest nations on earth, yet our houses are some of the least thermally efficient. The current minimum energy rating across most of Australia is six stars - set by the Nationwide House Energy Rating Scheme (NatHERS). This six-star minimum falls short of what is optimal in terms of environmental, economic and social outcomes. It's also below the minimum set by many other countries.
It's fair to say that Australia's climate is possibly not as undulating as some other countries within Europe, America, and parts of Asia, however, there are still extremes found in Australia. In Walcha NSW, for example, winter snow and frost are not unusual. The towns highest and lowest recorded temperatures are 35.6°C and -12.8°C, respectfully. This is a staggering 48.4°C variance, and Walcha is only 181km from the coast. Even on the Mid North Coast of NSW (an area considered to have the most livable climate in Australia), there is cause for inquiry regarding why our houses are not built with thermal efficiency in mind.
We see no reason that, with the current technology and knowledge available, a house built in Australia cannot meet a much higher standard than is currently being achieved.
What is an energy-efficient home?
An energy-efficient home reduces wasted energy usage, greenhouse gas emissions, and its demand for non-renewable energy resources. They also provide healthier living conditions and offer homeowners significant money savings over conventional homes.
What are the benefits of an energy-efficient house?
1. Comfort
If a house is always cold or hot inside it can lead to occupants feeling frustrated and uncomfortable, and after spending hundreds of thousands of dollars, new homeowners should expect to feel contented in their new home. The ideal the temperature, where most people feel comfortable, is around 21°C and this is about the temperature that we would cool our home to in summer and heat our home to in winter. Building a home and implementing build techniques that minimize the need to cool or heat your home means you're kept at an ideal and the comfortable temperature all year round.
2. Energy Consumption
A low performing house will lose warmth and leak cool air, constantly creating a need for excessive cooling and heating in the extreme parts of the year, which can lead to considerable energy costs. The conventional wisdom for the past 15 years has been that households consume about 40% of their residential energy simply from heating and cooling their home. This energy used for heating and cooling households is unnecessary and costly and could be avoided if all houses were built with thermal efficiency in mind.
3. Economical
An economical home is a high-performing house that is able to repel the heat in summer and retain the warmth in winter. As a result, additional heating and cooling are kept to a minimum, thus reducing energy consumption - which can be a considerable saving over the life of the house or even just over the course of a calendar year. So if 40% of all your energy consumption is used to keep your house at a comfortable temperature, then this can run into hundreds (if not thousands) of dollars annually. You might be wondering, "Wouldn't solar panels offset the cost of our heating and cooling?" The short answer is 'yes, they can', however, solar panels are expensive to install, cost money to maintain, are sometimes unsightly due to the need of orientation, and have a set lifespan. We believe that an energy-efficient house is more comfortable, practical and economical than solar as a first choice. Solar is a great way to compliment an already energy-efficient house, but won't permanently solve your home's thermal effectiveness in the long run.
4. Environmental
For those looking to reduce their own personal carbon footprint, as a rough guide - coal has a carbon intensity of about 1,000g CO2/kWh, oil is 800g CO2/kWh, natural gas is around 500g CO2/kWh. Using the numbers above (assuming that most power in Australia is generated using coal power plants) we can calculate that the average household is responsible for 6 tonnes of CO2! Solar can reduce this number but there are unfortunately some negative environmental ramifications to solar as well (see more information HERE). So we believe that starting your home build on the right foot with energy efficiency can not only save you money but also help reduce your home's impact on the planet.
5. Heath
Energy-efficient homes have also shown to assist in occupant health due to improved indoor air quality, safety, and comfort. Twelve studies of residential energy efficiency and two studies of related ventilation strategies all document some improvement in occupant health or indoor environmental conditions. Some studies also observed reductions in asthma or respiratory-related emergency department (ED) or hospital visits. Results of the energy efficiency studies are summarized in the diagram below.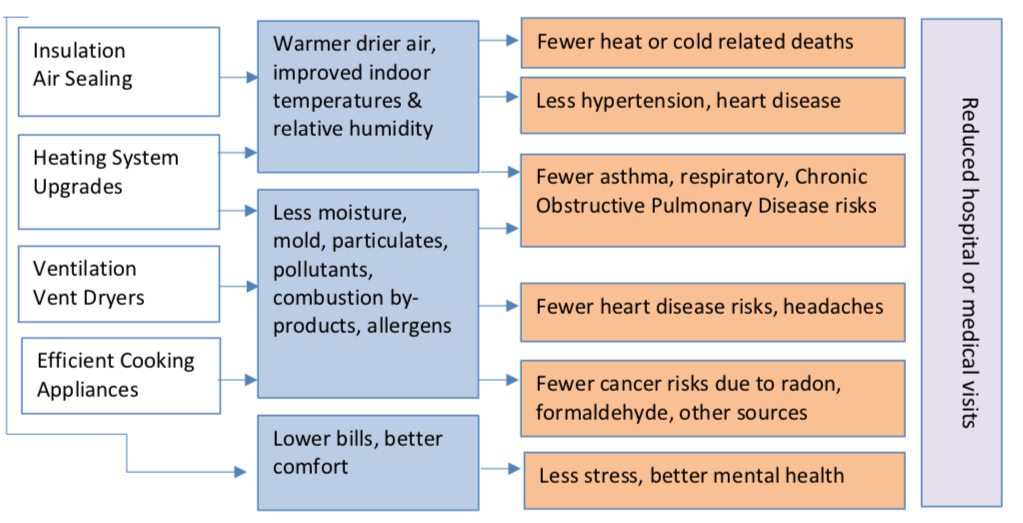 Construction of an energy-efficient house can be taken to the extreme where every factor is considered to produce a zero net energy house, or on the other end of the scale, it can simply be mindfulness of the builder to use proper techniques in a conventional build to maximise the efficiency of any new home.
With access to limitless information and tried-and-tested building techniques, the goal of creating an energy-efficient home is more achievable than ever for the average homeowner. However, it requires a builder to have an understanding and the desire to produce such an outcome. These houses require a little more thought and effort to construct, but the net benefits far exceed any extra cost.
Where most building companies focus on producing near-identical houses at lightning speed, with no regard for long term effectiveness, at INH Port Macquarie we are passionate about creating energy-efficient homes that not only look beautiful but actually function well throughout all seasons, year-in and year-out.
-
In our next post, we will discuss how an energy-efficient house works, and what is required to maximise to potential energy efficiency goals. Some of the topics we will cover will include house orientation, building designs, building techniques, construction materials, associated costs and potential value-adding.