These days, planners and developers attempt to build enough housing to accommodate the growing population, the average land size is getting smaller right across Melbourne. Narrow blocks are becoming more common. While a narrow block does present some challenges, we can still build a new home you love with the right design without compromise.
Here are some tips on how to design and build a home on a small lot.
Open plan living and Clever Use of Space
If the block is small, it is even more critical to create the illusion of space by having an open plan layout. Taking the space that is made available can maximising the flow between living areas, including the entertaining outdoor space. Reducing additional walls and hallways will add a sense of space.
It is also essential to make the most of the available space. The Integrity New Homes has many designs for narrow blocks that illustrates this perfectly, as it includes space savers like a European laundry and a single-wall kitchen, which opens up the living space.
Another tip to maximise the living space on a small block is to create multi-functional areas that allow one room to have multiple uses. For example, instead of having both a living area and a rumpus room, you can combine one space to fulfil this purpose. We can easily convert the space under the staircase into either a storage room or a study nook.
You can see an example of a small lot home in the Seaside 160 design. It has a contemporary ground floor single level floor plan with four bedrooms and an ample open space living area, which opens to a big outdoor alfresco area.
Some of our other narrow block designs are the two-storey Caxton 270, which has living downstairs, and all bedroom upstairs (Suitable for a very narrow site with its width at 8.70m and depth at 21.90m) ;
High Ceilings and additional floor
If you choose to build on a narrow lot, features such as high ceilings can add a sense of space and light. Making your home appear visually larger. The usual standard height for ceilings is 2.4 meters. Ask the builder if they can raise the ceiling height to 2. 7m to 3m to create the illusion of more space. If you need more rooms or space to house your adequately family, consider building up with the addition of a second story.
The two-storey Paddington 235 and Paddington 250 are popular, and we can alter them to suit specific small and narrow blocks.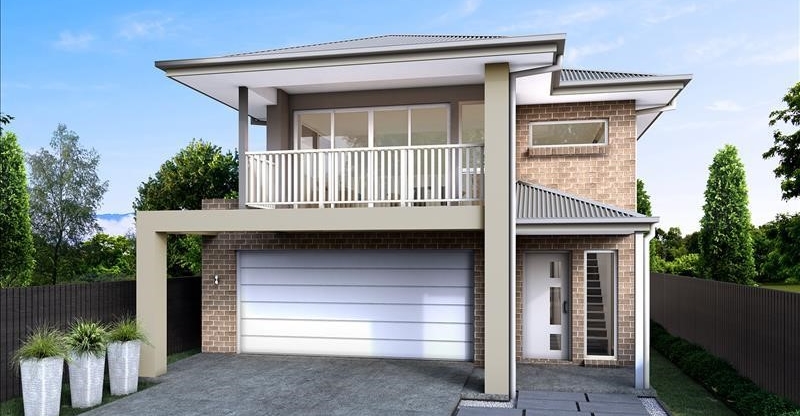 Lots of Natural Light
Natural light is more likely to add a sense of space and comfort, and it can make all the difference to a narrow design. Living zones that incorporate large windows and skylights can work well to achieve this effect. You can enhance the space of your narrow lot design by painting the walls of your house with neutral colours, as the light will quickly reflect and open the area. Interior colour schemes that are bright, airy and add to a sense of volume; Conversely, chaotic colours will further narrow your living areas, and conflicting colours will clutter and confuse.
Benefits of Small Lot Design

Besides being cheaper to build, you can also expect a small home to cost you less time and money to keep clean and maintain. This leaves narrow lot homeowners with more time for leisure.
The Seaside 130 and Seaside 160 are two plans Integrity New Homes created to demand from people who want small home builder designs. Although people initially used these designs in holiday locations, we can easily alter them to suit other applications and areas.

Integrity New Homes has spent many years creating and refining a raft of narrow lot home designs to suit smaller and narrow blocks all over Australia. To get more information on building homes on a narrow block, please contact me.
如今,由于规划师和开发商试图建造足够的住房以适应不断增长的人口,新开发项目的平均土地面积越来越小,整个墨尔本的街区面积正在缩小,小型地块变得越来越普遍。虽然小地块确实带来了一些空间和设计上的挑战,但只要设计得当,我们还是能建造出让您喜欢的新房。
下面我就给大家一些如何在小地块上设计和建房的建议:
开放式布局,巧妙利用空间
如果地块狭小,就更需要通过开放式的布局,创造空间的错觉。可以充分利用现有的空间并减少额外的墙壁和走廊,尽量联通每一块生活空间,包括户外娱乐空间,会带来额外的空间感。
除了开放式布局,同样重要的是充分利用可用空间。协诚新家有很多针对狭窄地块的设计,完美诠释了这一点。这些设计包括欧式洗衣房和一字厨房等节省空间的设计,真正打开了生活空间。
另一个让生活空间最大化的小窍门是创造多功能区域,让一个房间拥有多种用途。例如,你可以将一个空间组合起来,而不是同时拥有起居室和娱乐室。楼梯下的空间,可以很容易地改造成储藏室或书房。
抬高天花板,加建二层
如果你选择在一个狭窄的地块建造,抬高天花板的高度可以增加光线和空间感,使你的家在视觉上显得更大。通常天花板的标准高度是2.4米。可询问建筑商是否可将天花板的高度抬高到2. 7米至3米。以产生更多空间的错觉。如果你需要更多的房间或空间来充分容纳你的家庭,可以考虑加建第二层。
大量自然光
自然光更能增加空间感和舒适度,它可以为紧凑或狭窄的设计带来不同的效果。起居室加入落地窗和天窗的设计可以很好地达到此效果。
通过采用中性色彩来粉刷墙壁,也会增强小型地块的设计空间。因为光线会很容易反射并在视觉上扩大这个区域。室内配色明亮、通透,可以增加体积感。相反昏暗的颜色会进一步缩小你的生活区域,对比强烈的颜色会使你的生活区域变得混乱。另外使用大镜子可以提升空间感和开放性。使用大面积的玻璃则可以引入户外的空间。这些方法都可以创造空间的错觉。
小地块的优势
除了建造成本更低之外,小型住宅花费更少的时间和金钱清洁和维护。这使得小地块的业主有更多的休闲时间。
协诚新家花了很多年的时间,创造并完善了一系列的窄小地块住宅设计,以适应澳大利亚各地较小和较窄的街区。如果要获取更多小地块建房信息请和我联系。