Everyone has a different taste for building a house. Some people like the luxury of French style, some like the simplicity of modern style, and some like the classic Chinese style. If you happen to hate the blandness of minimalism and find French luxury too overbearing, then you can try the HAMPTONS style that is so popular among Australians.
The Hamptons is a coastal community along the eastern beaches of Long Island, New York, USA, where luxury vacation homes are a summer getaway for the wealthy.
The Hamptons style is an elegant aesthetic that blends old-fashioned refinement with coastal woods and linen sofas. Compare with the US, Australia's coast is no less impressive. Communities built by the seaside have made Hamptons-style increasingly popular in Australia.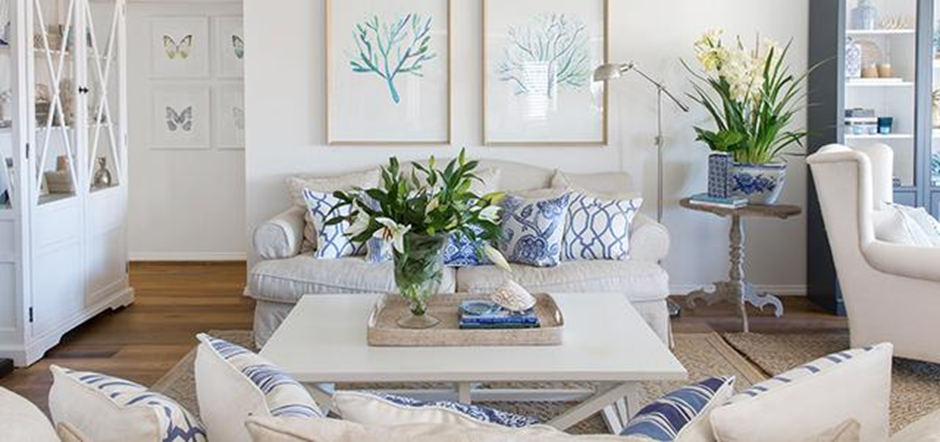 This timeless design is no longer the preserve of wealthy New Yorkers; the Hamptons' relaxed coastal elegance is now synonymous with Australian beach living.
It's no surprise that Australians have embraced the Hamptons style so wholeheartedly, as it is a natural fit for Australian life.
If you want to experience relaxed elegance, then you can create it in the Hamptons style.
Hamptons style has diversity. It can be coastal, traditional, modern, and minimalist.
It is a spacious design with lots of natural sunlight entering the room. It makes you feel light, bright and well ventilated.
It's a comfortable design that allows you to read a good book or enjoy a glass of wine in peace.
Hampton's interior is filled with stylish beach elements: white walls, linen furniture, shades of blue are the main colours, and the interior is decorated with marine elements. And of course, lots of flowers!
What makes the Hamptons style look so beautiful is the blues; the theme is nature and relaxation, and there is a sense of calm in the colour blue.
Think of the blue sky or ocean, which will immediately make you feel calm. The neutral tones of the Hamptons and the ocean-inspired design create a feeling of being cared for, which is what "home" really feels like.
The flooring is best done with warm solid wood floors, keeping the original colour and grain of the wood. Nature is the most beautiful decoration.
If we spend a lot of time relaxing and enjoy outdoor dining, the Hamptons style is perfect for this outdoor living. Using the Hampton style means that the house's decor can flow seamlessly between the living room or kitchen and the outdoor areas.
We have a selection of Hampton's style colour schemes for new homes in Concord, so customers can choose from selecting Hampton's style tiles, flooring, roofing, and brick that our designers have matched without having to use their brains. Make it easy to have the classic Hampton style new home that everyone loves. If you find a floor plan you like and need a custom Hampton style façade, you can also contact us to help you design it.
汉普顿是美国纽约长岛东部海滩沿岸的海边社区,这里的豪华度假别墅被称为富人的夏季圣地。
汉普顿风格将古老的精致工艺与沿海木材和亚麻沙发融合在一起, 是一种优雅的美学风格。这唤起了以其命名的富裕的美国沿海片区的美感。相比美国,澳大利亚的海岸风光丝毫不落下风。依海而建的社区使得汉普顿风格的建筑在澳大利亚越来越受欢迎。这种永恒的设计不再是纽约富人的专利,汉普顿轻松的海岸优雅风如今已成为澳洲海滩生活的代名词。
澳大利亚人如此全心全意地接受汉普顿风格并不奇怪,因为它很自然地适合澳大利亚人的生活。
如果你想体会轻松雅致,那么就可以用汉普顿风格营造。
汉普顿的装饰具有多样性,它可以是沿海,传统,现代,简约。
这是一种宽敞的设计,大量的自然阳光进入房间。让你感觉到轻快、明亮,通风良好。
这是一种舒适的设计,使你可以安静的阅读一本好书或享用一杯红酒。
汉普顿的室内装饰充满着时尚的沙滩元素:白色的墙壁,亚麻家具,深浅不一的蓝色是主色调,室内装饰以海洋元素为主。当然,还有大量的绿色植物和鲜花!
汉普顿风格看起来如此美丽的原因是蓝调,主题是自然和放松,蓝色有一种平静的感觉。
想想蔚蓝的天空或海洋,这会让你立刻感到平静。汉普顿的中性色调,以海洋为灵感的设计,营造出一种被呵护的感觉,这才是"家"的真正的感受。
地面最好使用温暖的实木地板,保持实木的原来颜色和纹理,自然就是最美的装饰。
如果我们花费大量时间放松并喜欢户外用餐,汉普顿风格将非常适合这种室外生活。采用汉普顿风格意味着房屋的装饰可以在客厅或厨房与室外区域之间无缝地流动。
在协诚新家我们有汉普顿风格的配色选择,客户可以无需动脑,选择我们的设计师配好的汉普顿风格瓷砖,地板,屋顶,砖块。。。让你轻松拥有大家都喜欢的经典汉普顿风格的新房。如果你找到喜欢的平面,需要量身定做汉普顿风格的外立面,也可以联系我们帮你设计。