Natural light is the first element that makes people feel comfortable in their homes and is the most critical first impression a home buyer will have when walking into a home. Lots of natural light can make a room feel fresh and bright, and the sunlight is one of the essential natural design elements as an excellent medium to connect indoor and outdoor spaces. Exposure to natural light can improve our health and mood.
Therefore, introducing a lot of natural light to a house can significantly improve the living experience. We can start to bring more nature lights with the following tips:
1. Skylights
Natural light can be introduced through skylights in the home away from exterior walls, such as the centre of a hallway or living room. There are many types of skylight windows, and some are not expensive, so they are worth adding to your selection list.
2. Increase the size of your windows
No matter which way the windows face, enlarging them will maximise the natural light in your home. Using full windows in the living room and large windows in the bedrooms and study can bring more natural light to the house. For private spaces like bathrooms, it is common practice to use high windows, but large frosted windows are a better choice for privacy without dimming the natural light coming through. The front door can also be treated in this way, with frosted glass panels on the door to increase light transmission.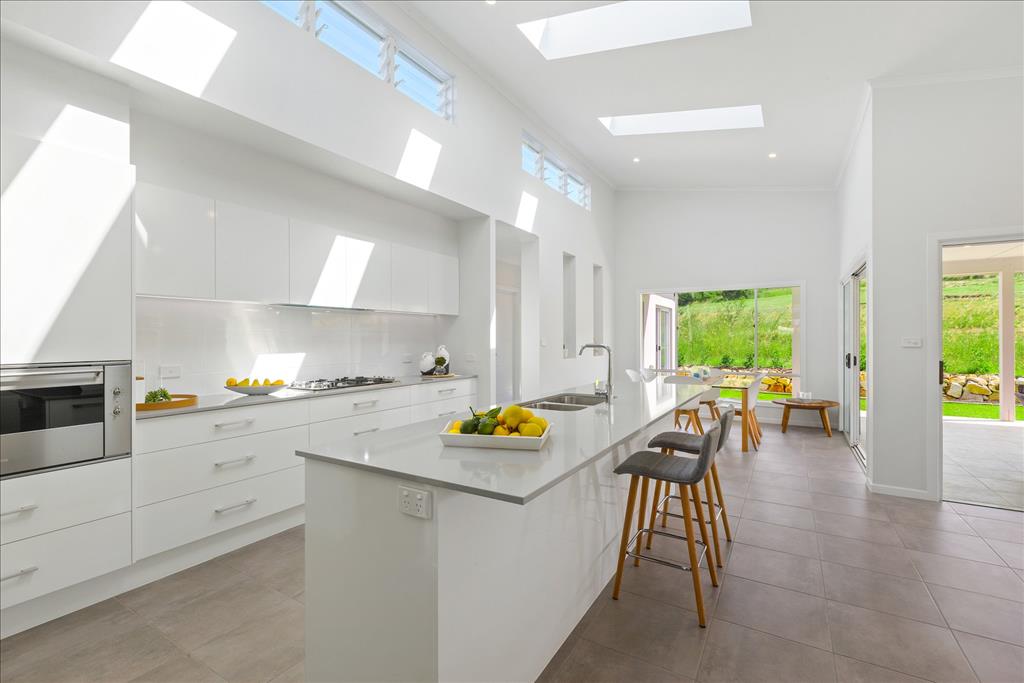 3. Light-coloured walls
When light hits a light-coloured surface, the light will bounce and reflect. The lighter the colour, the higher the reflection coefficient of light. Therefore, choosing lighter tones for interior walls, whether it is a painted wall or a tiled wall, is an easy and reliable way to add brightness. Light-coloured flooring will also reflect more natural light than carpet. If you prefer carpet, try not to choose a dark colour either.
4. Reduce Walls
Reducing unnecessary walls allows for unobstructed light. An open kitchen and dining room, a connected study and a living room are great designs that reduce barriers and bring in natural light—smart use of soft partitions to avoid narrow and dark corridor design.
5. Light-transmitting curtains
In contemporary interior design, natural light plays a highly critical role in both the functional level of space and atmosphere creation. Allowing natural light into your home will immediately improve the vibrancy of your house's interior. Our designers understand this and fully exploit the potential of natural light, using scattering, reflection, colouring and diffusion to enrich the interior space and shape its texture. To learn more about our designs, please feel free to contact me.
自然光是让人们在家中感到舒适的第一要素,也是房屋买家走进房屋时最重要的第一印象。大量的自然光可以使房间感觉新鲜和明亮,阳光作为连通室内外空间的绝佳媒介,是重要的自然设计要素之一。它自身的阴晴变化,会使人感知时间与季节的不同。暴露在自然光下可以改善我们的健康和情绪。
所以,在设计中给房屋引入大量的自然光,可以极大的改善居住体验。我们可以从下面几点入手:
天窗
在家中远离外墙的地方,如走廊或客厅的中心,可以通过天窗引入自然光线。天窗的种类很多,有些并不昂贵,所以绝对值得加入你新家的选择清单中。
加大窗户面积
无论窗户朝向哪一个方向,扩大窗户都能最大限度的增加房屋的自然光线。客厅使用整片的落地窗,卧室和书房使用大窗户,都可以增加屋内的自然光线。像浴室这样的隐私的空间,通常做法是使用高窗,但是磨砂的大窗既可以保护隐私,又不会使透进来的自然光变暗,是更好的选择。前门也可以这么处理,在门上设置磨砂的玻璃面板,增加透光。
浅色墙面
当光线照射到浅色表面时,光线会反弹并被进一步反射。颜色越浅,对光的反射系数就越高,深色会吸收光线。因此,内墙选择浅色调,无论是油漆颜色还是浴室瓷砖颜色,都是增加亮度的一个简单而可靠的方法。浅色的地板也会比地毯反射更多的自然光。如果喜欢地毯的话,也尽量别选深色。
减少墙体
减少不必要的墙体可以使光线不受阻碍。开放式的厨房和餐厅,连通的书房和客厅,都是减少墙体,引入自然光的设计。巧妙利用软隔断作为分区,避免狭窄昏暗的走廊设计。
透光窗帘
和纱窗一样,在有大量阳光直接进入房屋的地方,透光的窗帘可以帮助扩散自然光。薄纱窗帘可以帮助抚平进入室内的刺眼光线,创造出一种可爱的光辉。除了窗帘外,百叶窗也是个不错的选择,它能最大程度的利用窗户的采光功能,提高采光质量和整体氛围,还能进行光线调节。
在当代的室内环境设计中,自然光不论在空间功能层面还是在氛围营造层面,都扮演着极为关键的角色。让自然光进入你的家,将立即改善你的房子内部的活力。我们的设计师深知这一点,充分发掘自然光的潜力,利用散射、反射、着色、扩散等方式丰富室内空间的内涵,塑造其质感。想了解更多我们的设计,欢迎和我联系。