NSW have released the $25k Homebuilder Grant Application form
Here is what you need to know based on the newly released application form
Building contracts must be signed between the 4 June 2020 and 31 December 2020 and start within 3 months of signing and the home must be owner-occupied as the principal place of residence for at least 6 months after completion.

There is some room for additional 3-month extensions for building delays that occur that are outside of the control of the parties to the contract such as delays in obtaining council approvals, natural disasters, health problems relating toa person critical to the commencement of the project.
Worried about missing the deadline? You don't have to be.
Wayne at Integrity will also fast-track your contract to make sure you don't miss out on the $25k grant
A contract for a new build bought as a house and land package. (The value of the house and land combined can not to exceed $750,000)
A contract for a new build on land you already own. (The value of the house and land combined can not exceed $750,000)
A contract to purchase a new home off the plan. (The value of the house and land combined can not exceed $750,000)
A substantial renovation (between $150,000-$750,000), including 'knock-down rebuild'. (The existing property not to exceed $1.5 million)
We Have Experts Who Can Help Guide You With The Application Eligibility
Here at Wayne Frank's Integrity New Homes we have experts you can talk to to help you find out what you are entitled to and help make sure you qualify and don't miss the deadline. We cover all areas of the Coffs Coast from the Clarence Valley all the way down to Kempsey.
If you have been thinking of building, now is absolutely the time to act. With $25,000 cash towards your new build or major renovation on offer, everyone is rushing to take advantage of the new COVID cash grants. The HomeBuilder program offers the cash grants to people who sign contracts to build or substantially renovate their home until the end of the year.
Call Wayne Frank today to chat on 1300 886 793
WHEN CAN YOU APPLY FOR THE HOMEBUILDER GRANT?

Applications can be made after signing the contract
The documents supporting evidence of commencement may be lodged when commencement of construction and the payment eligibility requirements milestones have been met.
EVIDENCE TO SHOW COMMENCEMENT OF THE BUILD
New builds and off the plan purchases:

Commencement of construction is when excavation and site preparation works actually begin.
Evidence of construction commencement (copy of the notice of commencement as required under the Environmental Planning & Assessment Act 1979).

Substantial renovations:

Commencement of construction is when the renovation work the contract is for actually starts.
Evidence of construction commencement, including the first invoice issued for work,.

WHEN WILL THE GRANT BE PAID?

New builds:

The HomeBuilder Grant will be paid after the foundations have been laid and the first progress payment has been made to the builder.

Off the plan purchases:

After the evidence has been submitted to show that the property has been registered in your name on the certificate of title.
The applicant must be registered on the certificate of title as the owner of the property no later than 31 October 2022.

Substantial renovations:

After the construction has commenced and evidence has been submitted showing payments of at least $150,000 of the contract price have been made to the builder.
WHAT ARE THE INCOME CAPS?
The income caps will be judged on ATO evidence submitted for the 2018/2019 or 2019/2020 financial year.
For an individual applicant, reported income must be below $125,000 in one of those financial years.
For a couple, reported income must be below $200,000 in one of those financial years.
With 30 years of experience and happy clients, you are in good hands
Don't worry if you have never built before, as we pride ourselves on our communications system and process to make sure you know what's happening at all times. With 30 years of experience in the building industry, Wayne Frank - owner and builder, is here to guide you through the design and build process every step of the way. We may be new to the Integrity Franchise but we have brought back the Integrity name to Coffs Harbour.

We are very serious about making sure our clients know what the price is upfront and our contracts are signed at a fixed cost so you don't get an unexpected budget blowout halfway through the job.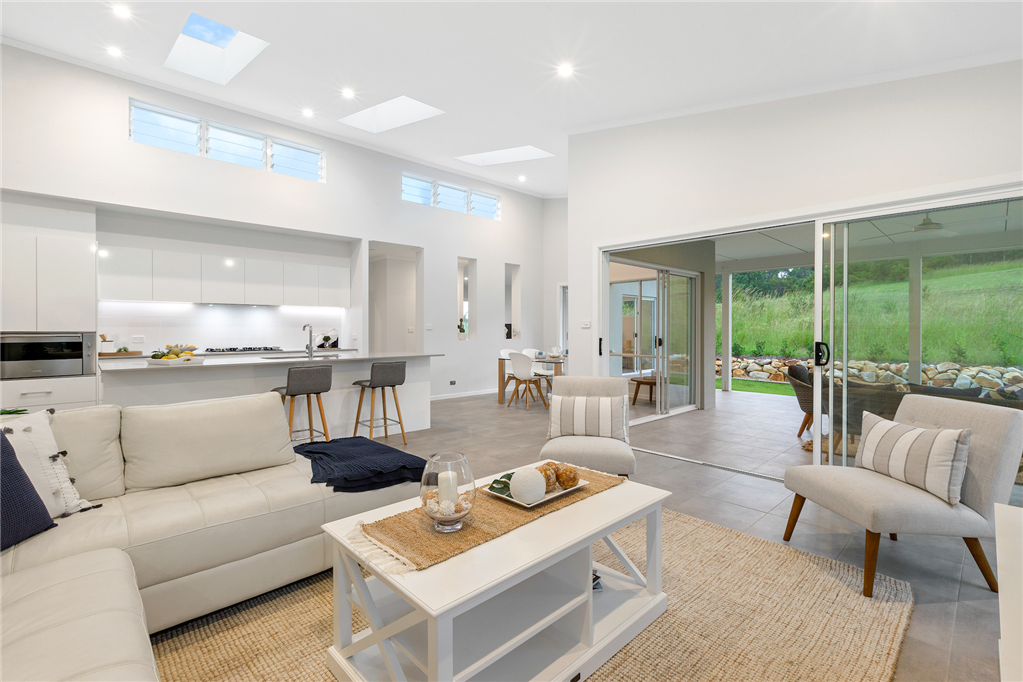 Get the luxury and design flair of an architect to help you build your dream home without the price tag.

Here at Wayne Frank's Integrity New Homes we know how important it is to finish up with a home that you absolutely love. That is where we come in. For us, it's all about putting those personal touches in to make your dream house a home that you want to live in forever.
We specialise in Custom Designed homes to make sure you get exactly what you want and don't have to sacrifice a thing. Our designers can create your new home from scratch or if you prefer, you can choose from our extensive library of existing designs to get a visual and a price guide first and customise from there in the design phase. We are able to guide you through the design and build process every step of the way. and our communications are second to none.
We don't believe in manufacturing an assembly line of project homes. Each home we build is in close collaboration with all our clients and based on their specific needs.
Hear what our clients have to say

"Wayne was just so easy to work with. At first, I thought he couldn't be real. It was like he was on the journey with us. He was really passionate about our project, and that matters. It exceeded my expectations. You expect the building process to be difficult and to be stressful but I didn't find it that at all. No hassles in talking to the builders, they sorted everything out. We would absolutely recommend Wayne and Integrity, he is so focused on delivering and delivering on time and a quality product. If you decide to go with Integrity you will not be sorry. Wayne is on to it, if you have a question or complaint he would be there making sure it's right. He's building your house and he will do it the way you want it. 4 thumbs up" Narellle - Newee Creek
"No other builder in Coffs Harbour could even come close to making our new home in Diggers Beach work within our budget because of the steep site. We are so thankful for all the work Cameron and Wayne put in to make this gorgeous home work even before we signed the contract."
Chris - Diggers Beach
Don't lock in your build before talking to us
We have in place all the systems and processes to deliver fully custom designed homes at a volume builder price and we also have a 100% on-time track record when it comes to handing the keys of your new home to you.
We pride ourselves on our willingness to go out of our way for our clients and happily help you with any challenges that you have. We are solution-oriented and we want you to get the best home possible. It's what our clients rave about most and we pride ourselves on it.