Integrity New Homes Coffs Coast prides itself on being locally owned and operated. We service all areas of the Coffs Coast, Kempsey and Clarence River regions and our focus is on family, the community, and most importantly our clients.
With 30 years of experience in the building industry, Wayne Frank - owner and builder, is here to guide you through each stage of the build. We are serious about making sure our clients know what the price is upfront, and our contracts are signed at a fixed cost, so you don't get an unexpected budget blowout halfway through the job. We also have a 100% on-time record when it comes to handing the keys of your new home to you. The best thing is that here at Integrity New Homes we have in place all the systems, service, and price benefits of a volume builder, providing cost-effective solutions for all homebuyers no matter how custom your design is.
Don't worry if you have never built before, our communications system and processes make sure you know what's always happening. We understand building a home can be daunting, so our enthusiastic team will keep you in the loop and guide you throughout all stages of the build process; from designing to council planning and right through the build until that fabulous moment when we hand over the keys - we are here to help you.
We are the sloping block specialists of the Coffs Coast
Have a challenging steep site? No problem. Our designers love the challenge of steep designs. Other builders may tell you it will cost an arm and a leg to build on your steep site, but we know how to make sure you get a top-quality new home tailored to the slope of your land that won't break the bank. We've done it time and time again and we take pride in being the sloping block specialists

We deliver custom-designed homes to meet your budget

We do not believe in manufacturing an assembly line of project houses. Each home we build is in close collaboration with all our clients and based on their specific needs. Our designers can create your new home from scratch or for those who need a little help getting started, we can fully customise one of our existing designs. We are able to guide you through the design and building process every step of the way. Our dedicated design team thrive on the opportunity to customize our designs, allowing each of our clients to have a home that reflects them and suits the way they live. We provide cost-effective solutions for all homebuyers no matter how custom your design is.
To ensure there is no confusion we will take our clients comprehensively through the design process from the initial sketch to completing a computer-aided plan and then a thorough explanation of our pricing structures. With an extensive range of designer quality inclusions as standard and highly skilled, qualified trades hand-picked for each new build, you will have peace of mind that your dream home will be a reality.
Building as an Investment? As leading Coffs Coast Home Builders, we will ensure that your home will give you the desired lifestyle you want as well as providing a sound investment.
Don't risk a budget blowout
Building your new home should be a dream, not a nightmare. It should be an exciting and fun experience without the stress and disappointment of a budget blowout. We are very serious about making sure our clients know what the price is upfront and our contracts are signed at a fixed cost.

All our site analysis and engineering is done upfront to make sure the fixed price we give you is accurate. We scope out everything in the design phase before giving you the fixed contract price. Unlike other builders in the area, we commission structural, contours and Geotech to fully analyse all aspects of your site before signing, which means you don't get slugged with huge variations after the fact that blow your budget.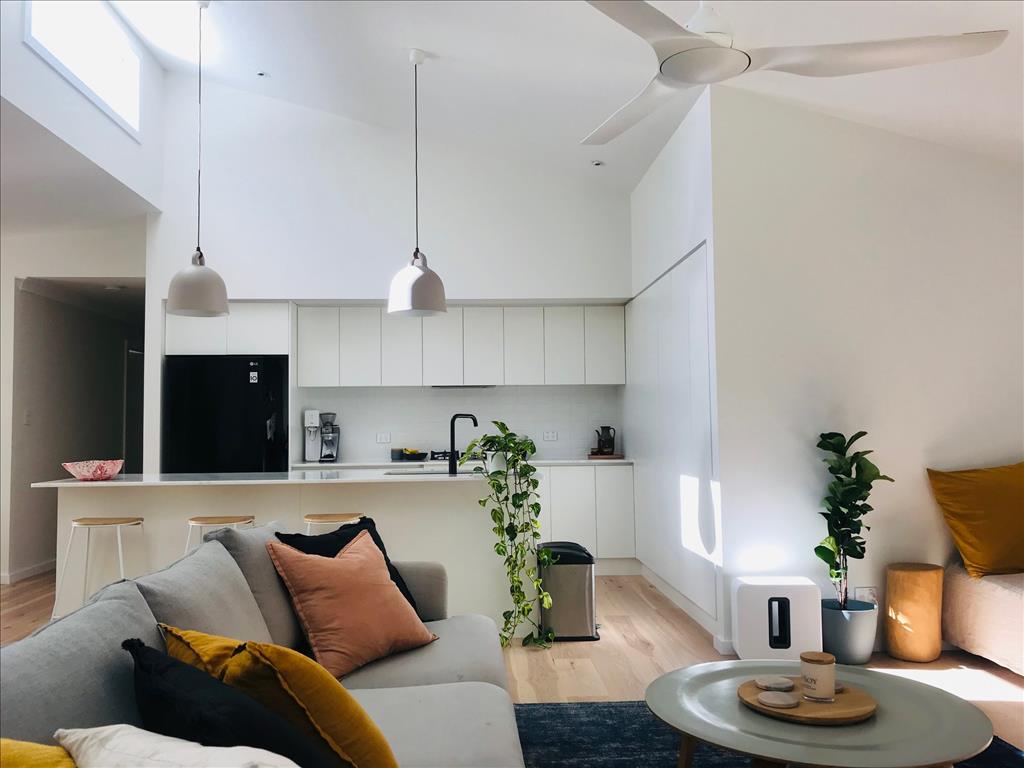 Why we have happy clients
Delivering on expectations and trust is one of the reasons we've had so much success and happy clients since taking over this Integrity Coffs Coast from the former owners. We make sure our clients know what to expect in terms of costs, process, communication and timing right from the start. Our 100% on-time track record also puts a big smile on our client's faces when we hand them the keys to their new home.
"No other builder in Coffs Harbour could even come close to making our new home in Diggers Beach work within our budget because of the steep site.We are so thankful for all the work Wayne and the team put in to make this gorgeous home a reality."

Chris - Diggers Beach

"The costs were really clear from the start, which was great, as we had a really strict budget we needed to stick to. They were so flexible, allowing us to make lots of changes and get all the extra features we wanted. I thought it would be a lot more difficult as we changed so much from the original design, but Wayne and the team were fabulous to deal with, true professionals!"

Georgia - Coffs Harbour

"Thanks Wayne for delivering the house early. We were so happy with our overall service and finish. They customised the house design to suit us and the tradies on-site all seemed to go that extra mile"

Julianne - Valla Beach

So let's start planning your dream home today
Your new home will be unique in character, design and style. We will passionately work with you to help make your vision for your dream home a reality, and one that doesn't break your budget.
So, if you are a first home buyer, needing a new family home, an investor or just looking to build your dream home on the Coffs Coast or Nambucca Valley, contact us today and turn your ideas into reality!