Fresh air… open fields… peace and quiet…

That is what you usually describe as the perfect getaway from the daily grind, but what if instead of being limited to life's simple joys during a short getaway, you could enjoy it daily from the comfort of your own home?

Acreage living may be the lifestyle change you never knew you needed. Enjoy a level of privacy, peace and space that simply can't be replicated in the city. In most cases, excellent schools, shops and cafes are not that far away, so they get the best of both worlds.

The Pros And Cons Of Acreage Living
Still not sure if acreage living is for you? As builders specialising in acreage homes, here, we've listed some of the pros and cons for you to consider, before you take the leap..

Advantages

✓ Fresh air

✓ Peace and quiet

✓ Share fresh, home-grown produce with neighbours

✓ Space for boats, caravans and trailers

✓ Wide open spaces with scenic views

✓ Beautiful flora and fauna

✓ Fall asleep every night to the sounds of nature

✓ Plenty of room to move - you can have as many sheds as you like ( we can supply this too!)

✓ Mornings with nature

✓ Get a spectacular starry show


Disadvantages

✘ Spend too much time on maintenance

✘ Further away from public transport

✘ Might need to purchase more equipment like a ride on lawn-mower for maintenance or a tractor for slashing...etc.

✘ It will cost you more time and money to commute to the city or regional center for work

✘ No convenience stores or take away food deliveries

✘ There is a tendency for the mobile reception to be patchy and the internet might be a little slow

✘ Fast food outlets and restaurants are further away

✘ No city or town amenities such as cafes, cinemas, newspaper deliveries, etc.


Of course, like everything else, there are always advantages and disadvantages for every decision but you have to keep in mind that what matters most is choosing what is best for you. So if you have decided to go with the daily fresh air and peace and quiet, we took the liberty to provide you with some of our very best acreage home designs that will materialize your dream of living everyday like a lovely holiday. Well we all know country living isn't a holiday, but the lifestyle you can have is definitely worth the work! Wouldn't you agree?

Mick Livingston, the Qualified Local builder for the Forbes, Parkes and surrounding regions, also supplies and builds sheds. This business has been running successfully for over 7 years, see his website here
Genesis Series

A hugely popular home while on display in Tamworth, the original Genesis, has been transformed and improved with the release of the new Genesis series of homes. These designs have taken the traditional rural acreage "long home" and dragged it into the 21st century with a raft of appealing design features.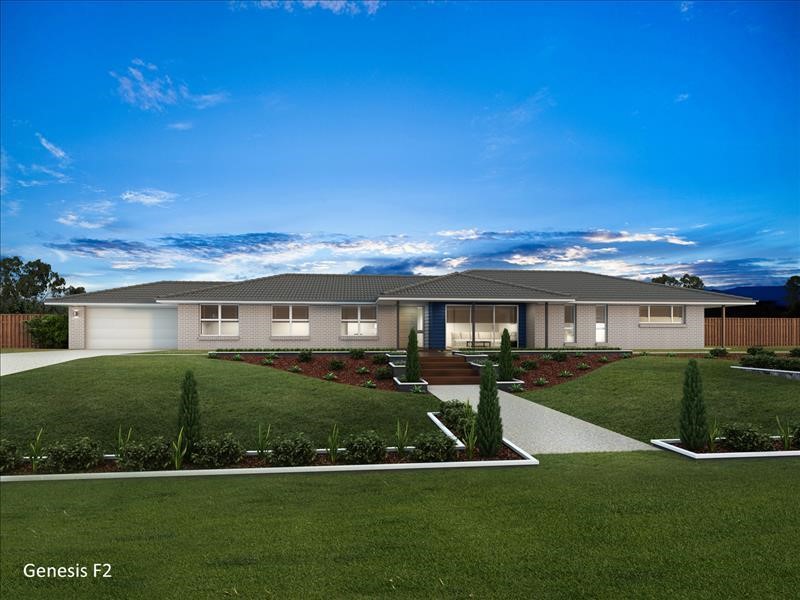 The Integrity New Homes designers have achieved a robust zonal design approach while keeping Hall space to a minimum. This enables Bed 1 to be "removed" from the rest of the home and provide a sanctuary from the day-to-day goings-on while being directly adjacent to
the Kitchen, Lounge and Dining.

All of the Genesis homes have four-Bedrooms, Bathroom and Laundry with Bed 1 featuring an Ensuite, Walk-InRobe (WIR). The Genesis 265 adds a Media with double cavity sliding doors and a more generous covered Porch to the Entry. Moving further up the series to the Genesis 310, there are some additional floor plan features including a Store space (without shelving) to the double Garage, Patio to Bed 1, an even larger covered Porch to the Entry and a Nook for studying beside the Kitchen. The massive Genesis 355 excludes the Store to the Garage (included in the Genesis 310) but adds a Rumpus along with a larger Alfresco to the rear of the home.

All of the Genesis series of homestead homes enjoy sensational views across the back of the house and have a natural flow from the indoors out through to the Alfresco.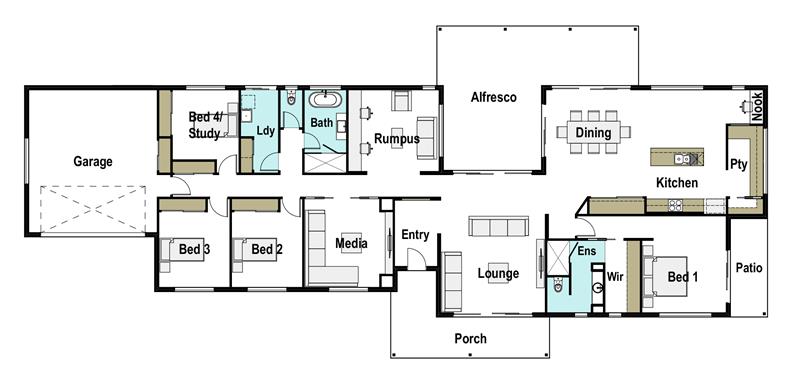 Grand Series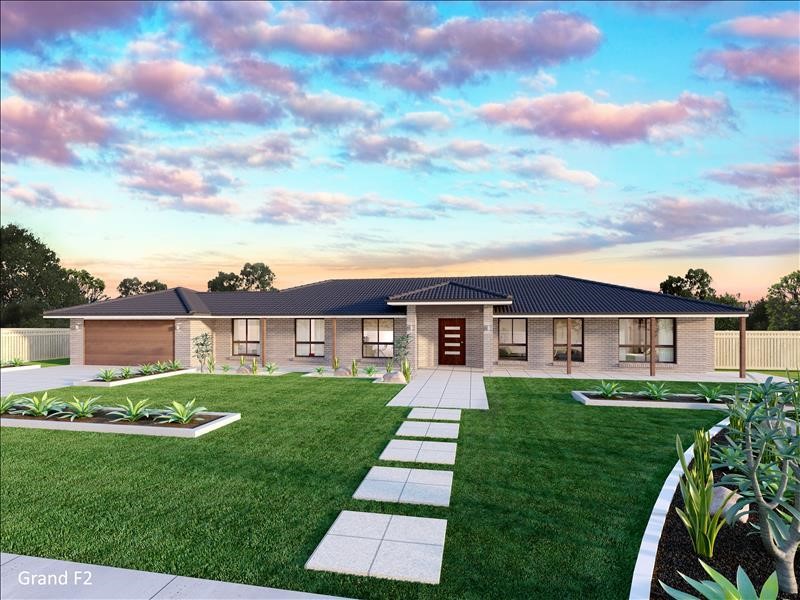 Grand by name and grand by nature. The Grand series is a fine example of rural homestead design providing generous space in communal areas with an abundance of light and views through the thoughtful use and placement of windows and sliding glass doors.

In addition to bringing the outdoors in, the Verandah across the front and the large Alfresco to the rear provides for abundant year-round outdoor living spaces.

These fantastically sized four-Bedroom homes both include Dining, Family and Kitchen which take in surrounding views. There is also Lounge (and Rumpus to the Grand 295) along with the Laundry, Ensuite, Walk-in-Robe (WIR), Bathroom and Powder. We are in love with this design...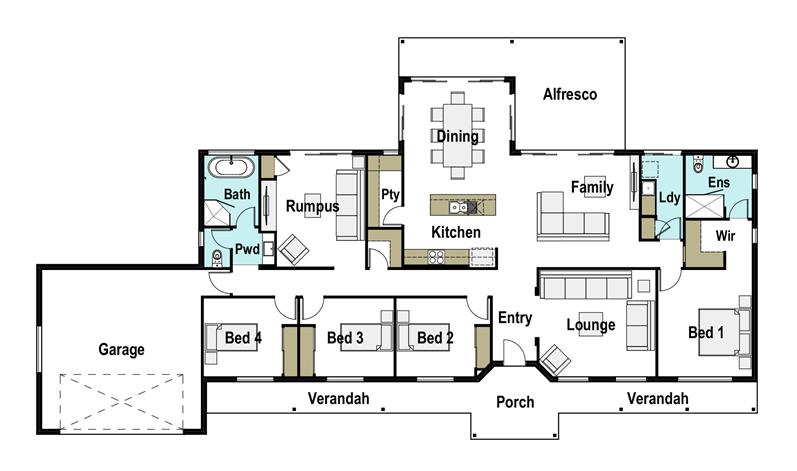 Gunnedah Series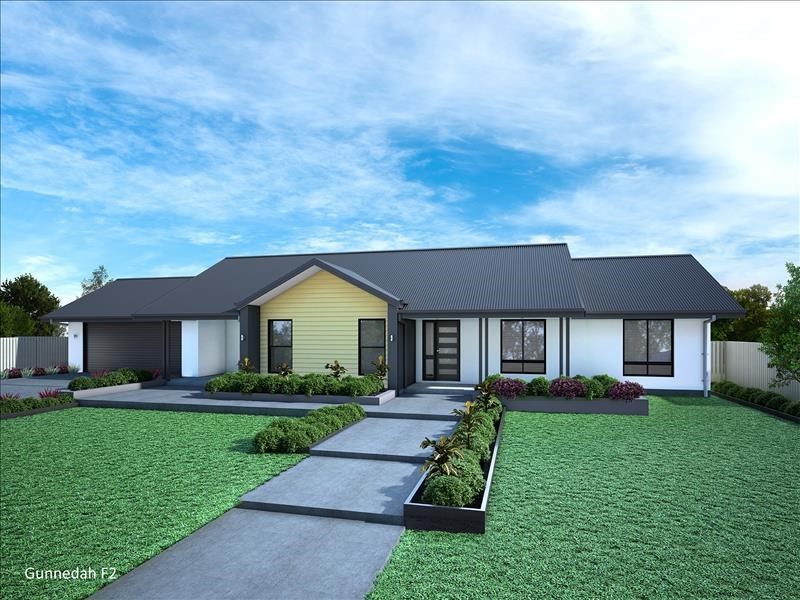 The Gunnedah series of rural homestead type homes are designed to be positioned long across the block and feature four Bedrooms as well as an Ensuite and Bathroom module. The Gunnedah is a no fuss, but classy home that has everything you need within a budget.... it also benefits from a study nook space for those who work from home or the children who use the family computer space for homework.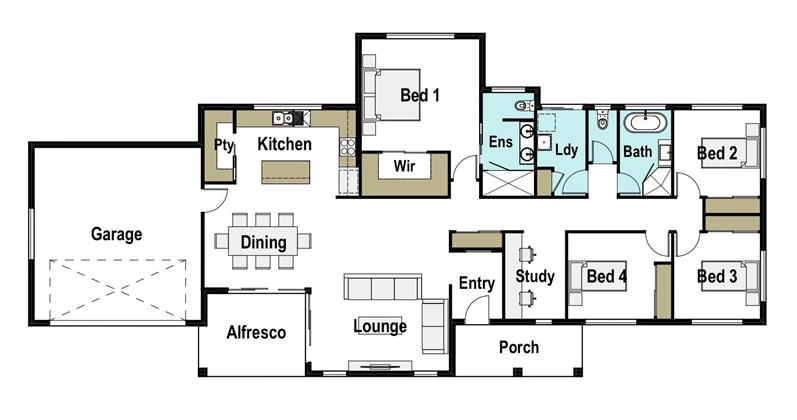 Quirindi Series



The Four-Bedroom Quirindi 200 is a contemporary version of the "longhouse" but in a more user-friendly form for modern living and block styles.

A generous covered Porch creates a great street presence as well as an outdoor living area. Once inside, the Dining, Kitchen and Lounge sit in an "L" shaped form.

The secondary Bedroom module is set off away from the rest of the home and is serviced by a Bathroom and WC. The Laundry can be accessed via the double Garage, which would mean it could also double as a "mudroom" in rural locations.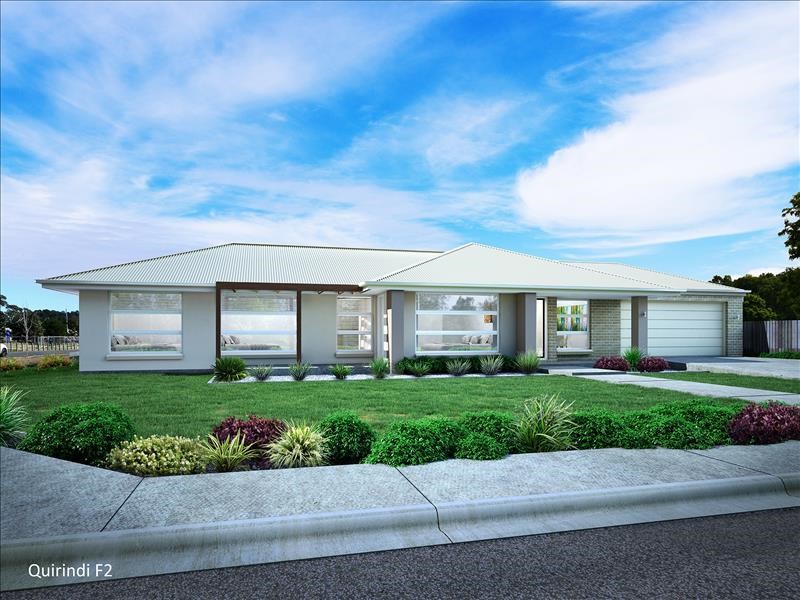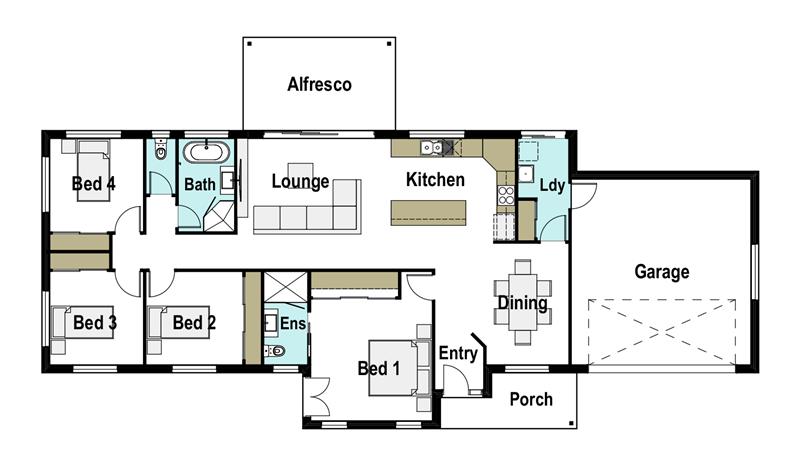 Sonoran Series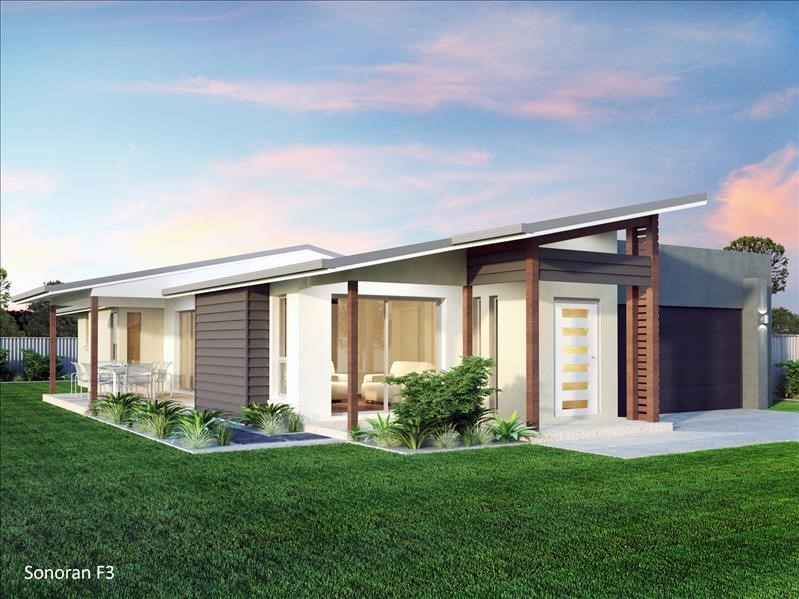 The four-Bedroom Sonoran 215 has been purpose designed as a flexible side living home, which is perfect for corner blocks. A spacious, airy Alfresco sits to the side of the home and abuts the Dining and Kitchen through large bi-parting sliding glass doors.



The Lounge is open to the Meals but is set forward and also features a recessed wall to accommodate an entertainment unit and has views to the front through a large sliding glass door which opens out onto the covered front Porch.

There is almost no "dead space" in this home. Virtually every part of the indoor and outdoor floor area is functional.

One of the home's most popular features is direct access through the double Garage via a roll-a-door into a private yard area; this makes it very easy for a boat or trailer to be stored in the yard out of sight from the street or from the Alfresco.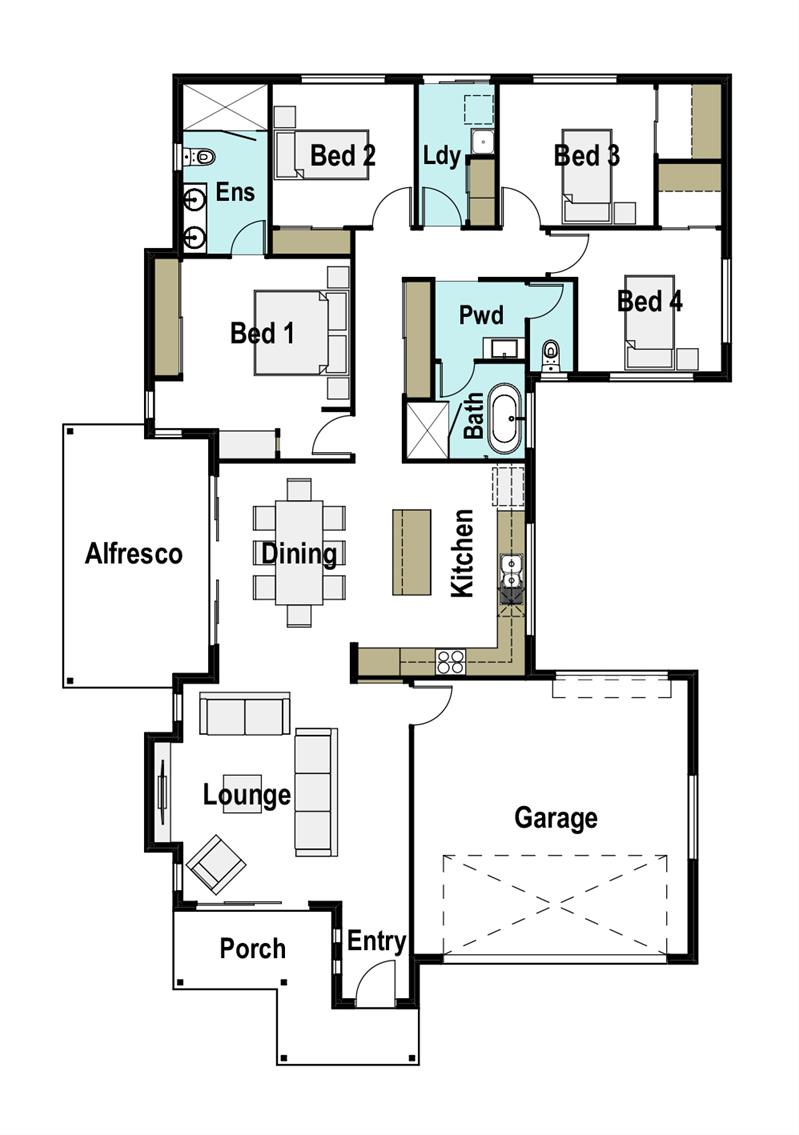 More Designs For You
These are just some of the designs that we have offered, should you wish to see more home designs, don't hesitate to check out our magazine - for FREE!

Grab a copy and know more about our cost effective design and build solutions.
A Home For You
Deciding whether to build a home with an acreage design is only one of the very many questions you will have to decide on once you embark on the journey of home building. More complicated questions like the colour combination that you want in the bedroom or the type of flooring you prefer in the bathroom, more decisions, more things to think about...

But not with us. 😘
Integrity New Homes Central West is a trusted home builder that prioritises the client's satisfaction above all. We are not here just to ask questions, we will give you options, and effective solutions for all the problems that might be encountered. We are not just a hired home builder, we are your partner. Contact our support team today.