Over the last decade, the popularity of new home builds that have a rendered or cladded façade has increased substantially. The appeal has not only been driven by the aesthetic value that these options provide, but also to the innovative building products that are available to us. We become really excited when we come across a product that not only helps to create a beautiful new home, but also provides additional values that can cut down on living costs that in turn is better for the environment. For that reason, Thermal Façade Systems such as Dulux Exsulite® has been this years favourite building product.
Dulux Exsulite® is a fully integrated, lightweight façade system that delivers a weatherproof external building envelope with a self-draining cavity for moisture management and high thermal performance.
What does that mean exactly?
Suitable for 1 to 2 storey houses, this nifty product basically is a cavity wall cladding system. It can also be used as a remedial facade system for renovation projects with the appropriate design. The purpose of this system is to provide a practical and versatile External Insulation and Finishing System. Killing two birds with one stone, you get a strong finished exterior surface that is weatherproof plus insulation and great moisture management simply from this one installation. It is probably relevant to note that it is suitable for residential buildings in BAL29 regions.
What are the components that make Dulux Exsulite®?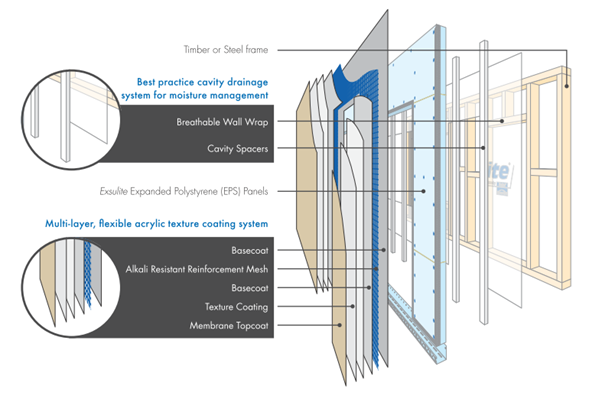 Using Dulux Exsulite® also gives you access to a wide range of Dulux® colours and Dulux AcraTex® Texture Coatings completing the appearance of your project. Integration of system design, components and installation is delivered through a national Dulux AcraTex, Exsulite Trained & Registered Installer like us at Integrity New Homes - Central Coast to ensure the build meets design specification.
How is Dulux Exsulite® installed?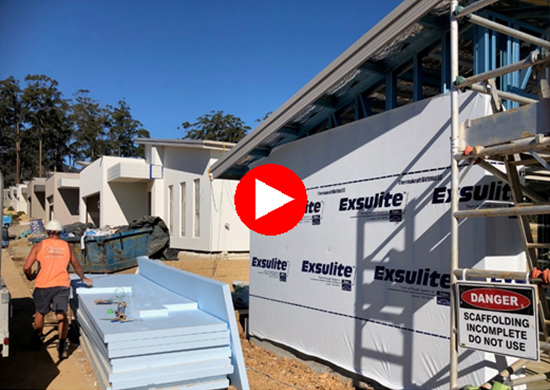 click on the image to view video.
Exsulite® is CodeMark® certified as a fully integrated Building Systems in compliance with the Building Code of Australia (Volume Two, Class 1 and 10 Residential Buildings). An Exsulite® Certificate of Installation from a registered Exsulite® Installer provides peace of mind that the system "as built" meets Design Specification.
Whether you are looking at one of our standard designs or opting for a custom new home build, this wall system may be an excellent option for you. The good part is that its not an expensive upgrade and works with most all designs. With the ability to select any colour you wish plus all the benefits it provides, this certainly is a very practical option to consider. To find out more about this option and how it will work for you, speak to you sales consultant for further advice.