Introducing a functional home design that merges contemporary aesthetics with functional brilliance – the Tweed. This remarkable offering consists of a meticulously crafted set of two units, each boasting three spacious bedrooms, thoughtfully designed rear open-plan living areas, two elegantly appointed bathrooms, and the convenience of a single-car garage.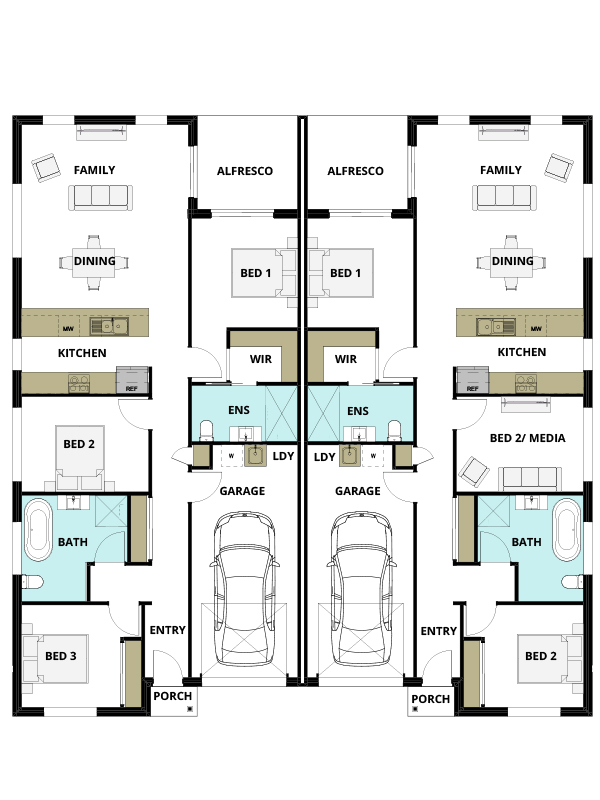 This compact yet spacious design offers 3 bedrooms with the master bedroom including a walk-in robe and ensuite. The Open plan living, dining and kitchen provides a spacious area towards the rear of the home for family to gather and enjoy. The land requirements for this will demand a minimum frontage width of 18.3 meters and is perfect for level grounds with a minimum fall of 1m across the block to have the most cost-effective build.
Duplex designs are a great investment opportunity to capitalise on your land value. Whether you are investing in a home for retirement, pooling together with a friend or family member to create a more affordable project or wanting to get better gains from your land, a duplex design like the Tweed 275 can help you get the most out of your block.
At Integrity New Homes, we offer a Design, Drafting and Building service for investors, homeowners and developers that takes the ease out of the process by having all stages of your project conducted in the one place. With us you can even customise your design layout and facade to suit your style and needs. If you have a sizeable block that you want to considering building a duplex on, call us today and find out how we can help you make this happen.