The beauty of building your new home is being able to get all the details just right. The benefits of doing this are truly evident in the Kitchen. While the kitchen was traditionally the place utilised to store and cook food, it has now become the heart of the home where everything stems from. This has become even more apparent with the endless range of new home designs made incorporating the kitchen into an open plan living space. A well thought out kitchen can make the difference in your day to day lives with its functionality and provide your home with a comforting sanctuary to start your day with and to welcome you home.
Our designs at Integrity New Homes have been created with the goal to make the kitchen as high functioning as possible and still present the area as a focal point in the home. Whether you are choosing a few options in a fast track design or customising your whole kitchen design from start to finish, here are a list of things to consider when designing your new Kitchen.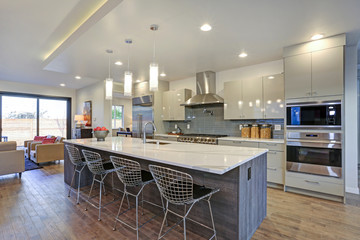 Plan Ahead
There are no set rules that apply to designing the perfect kitchen, each family will have their own preferences of how they use this space so spending time to understand this is extremely valuable. Once you have some idea of what you would desire you are then in a better place to establish a budget that you feel would be reasonable. Make a list of your must have needs and then a list of options that can be assessed alongside budget and design to see what suits best.
Do your research in the latest trends with style, colour, and lighting so you are building a kitchen that will be taking you well into the future. A good way to do this is to scrapbook or file images and ideas that you can then bring together and compare before making any final decisions.
Know what appliances you need. There would be quite a difference with these requirements between a couple of empty nesters and a large family with growing children. It is important to consider what you will be using and how that will impact you design and your budget.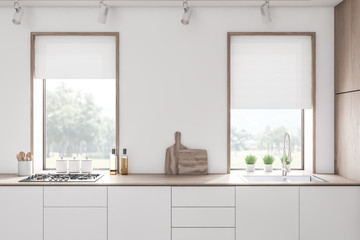 Think about your storage and counter space
Quite often we tend to focus a whole lot more on the aesthetics of the kitchen and not as much time on the functionality of the space. This usually becomes evident when you move in and start filling those cupboards and drawers then realise there is just not enough space. It is well worth it to spend some time taking inventory of what items you require in your kitchen and how you use them. This can then provide you with the groundwork of how you will lay out your storage and counters to make it all practical and easy to manage.
As well as the amount of space there is also the usability of the storage and counters. You would want to plan to store important cooking essentials in the space directly around the oven and stove. Your Dishwasher you would want to have near your sink. Identify where you will have each appliance and then design storage and landing space to accommodate, for example If you have a barista machine on a benchtop you will want to store cups and mugs just above or below that area and have at least 20cm bench space for preparation. Planning these components will help you manage your daily tasks easily and provide you with a pleasant experience using your new kitchen.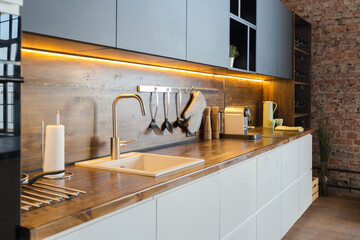 Lighting and Aesthetics
Probably the most exciting part about designing your kitchen is the lighting and aesthetics. Its where you can really get creative and achieve the style and look you really want. Two factors that come into play would be the Lighting and the materials.
With lighting placed correctly you can create a certain style to your kitchen as well as practicality. It is one room that benefits greatly from multi layered lighting that can be influenced by how much natural light comes into the room. You want to have lights that can sit in front of you in those areas where you are working on putting together a delicious meal and then some ambient lighting that can provide a relaxing atmosphere where everyone would gather to pour some drinks and discuss the days events.
Choosing the right flooring, benchtops, cabinetry, fixtures, and splashbacks can make or break a room. When considering your colour scheme, it is always good to go of examples and dedicate yourself to a theme that can flow through but also help to lend to the practicality of the room. In a highly trafficked area, considering the impact that the usage will have, will make a real difference in years to come. You want a kitchen that can last a long time and still hold up and be as beautiful as the day you moved in so selecting good quality hard wearing materials can make a world of difference long term.
Though it can seem like a daunting task, like everything, the result can be amazing with the input of thought and planning. We work with only the best kitchen specialists who can help guide you through the process and provide advice. If there is one room in the home you would want to splurge on and give that little extra to, the Kitchen would be it.
Get in touch with us today to discuss your new home build with the perfect kitchen.