If you have been considering or have decided to purchase and build a new home on a sloped block, then this is the blog for you. At Integrity New Homes – Central Coast you will find that we don't shy away from the unique challenges that these types of blocks present but there are a few things you may want to know before getting started. Building on a sloping site presents some difficult tasks and often very specific challenges. It requires creative and innovative thinking outside the box. In most cases, the nature of a sloped block means that building will be more costly than building on your typical flat site.
There are often many benefits of living on a sloped block that make this a very appealing option to many. Amazing Views is always the first that come to mind, whether you are surrounded by mountains, hilly bushlands or water, your home will likely be enjoying some stunning vistas and blue skies for miles around. A sloped block also allows you to gain some visual appeal with the ability to create unique exterior home and landscaping designs that are set over multiple levels. This can potentially provide multiple options of how you would use each space whether for garden, living or other practical uses. One benefit that is often not so visual, is the ability that your home has to take advantage of nature. Sloped homes that are higher up are prone to providing more breeze and ventilation which can cut on energy costs when a house is designed correctly. The natural draining is also another advantage, and, in many situations, the home is placed in a location that helps provide more natural light, again cutting energy usage.
Types of Sloped Blocks
There are many types of sloped blocks and each will present with different values and challenges.
Sloping Upward - These are the blocks where the low point is on the roadside. Sloping up blocks often showcase views at the front of the home and create an opportunity to have quite a grand and impressive elevation. When building on a block that slopes upwards, often it makes sense to cut into the earth and create a lower-level garage thus creating the appearance of a three-storey home from the front reducing to two storeys at the back, or two storeys at the front reducing to single storey at the back that then flows out onto your back yard. It becomes practical to have living areas situated towards the front of the home that can flow out onto large verandas where one can leisurely sit and enjoy the view.
Sloping Downward - These blocks have the highest point being on the roadside where essentially you would try to achieve at least the garage to be built on a slab close to the road level so to avoid the need for a steep long driveway. This would usually offer rear views and the opportunity to create some amazing outdoor living areas. Compared to a block sloping upwards, a downward sloping block will usually present with more challenges, for example height compliance when overlooking neighbours, draining possibly requiring easement etc.
Cross fall - These are blocks that slope left to right or right to left. When a home is designed correctly, it will minimise the impact of the slope with your day to day living. The design options for these blocks will be strongly influence by the severity of the slope on the site. In some situations where the slope is not as severe, a split-level design will be required. In other situations, the land may work better with a multi-level design.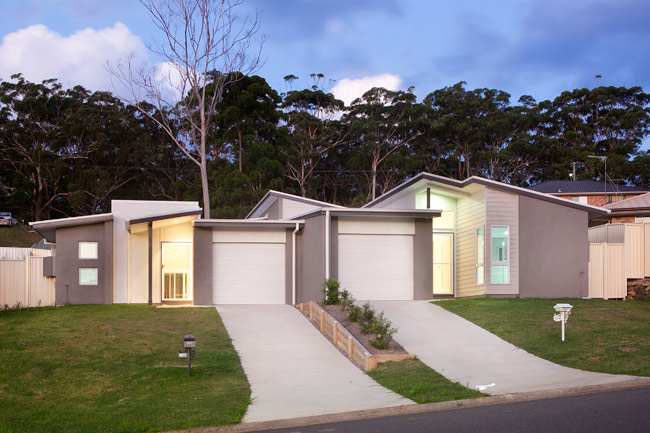 In some instances, you may find that your land may be a combination of the above in which case there will be more complexity in the design of the home.
Things you will need to take into Consideration
Severity of the slope - Understanding the severity of your slope will provide you the ability to understand what requirements you will have with your design, essentially any home with a fall in the land may require some type of retaining wall with a split-level design. With sloped sites, it is important to understand the topography of the land and how your structure will work with the natural contours of the land. A Contour survey provides all the details required to understand the appropriate grade for the driveway and the requirements for retaining walls when needed.
Accessibility - Something that needs to be considered greatly with the build process as well as the design is the accessibility to the property. It is vital to ensure that there is safe access for vehicles and pedestrians during the building process on and around the property as well as accessibility to the property once the home is complete. It is vital that the design of the home ensures that the accessibility is most practical and safe. The accessibility will also determine how materials can be delivered and stored which has the potential present more costs during the build.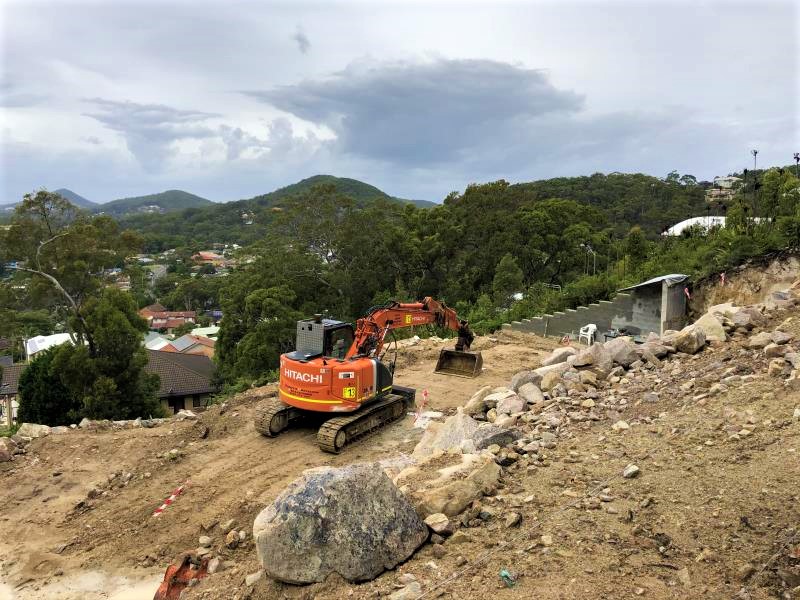 Ground Conditions - Several factors become relevant in this component and can dramatically affect the cost of your build. In any instance, a geotechnical report will be performed, in some cases, an extensive report may be required with even more holes bored for testing. It is important to understand that even with this testing there can still present some unexpected expenses if excavation is required. Excavations will inevitably increase your costs, but it will also increase risk of erosion by changing the stability of soil and have a significant impact on biodiversity by removing topsoil and vegetation. There is often a balancing act between getting the design you desire and maintaining the natural lay of the land.
The geotechnical report will also provide details on the properties of the soil. Concerns such as tree roots, moisture, sand, clay and rock will have a big impact on what you can and can't do with your design and the costs of excavation where needed.
Environmental Factors - The climate, wind impact and direction, sunlight, drainage, flood risks or bush fire risks can all impact not only the design, but the materials used in the building of your new home. Whilst a designer will always endeavour to take advantage of the wonderful views that most sloped blocks offer, there is always the environment that we can work with or against. Naturally, working with the environmental factors ensures that you will have a home that is not only cost effective but has a lower risk of requiring costly repairs or maintenance.
Simple factors like identifying the correct positioning for windows to encourage ventilation and light but reducing heat absorption is one. Understanding where vegetation will promote better flow of rainwater and where positioning of trees will not obstruct view but provide shade also has great benefits.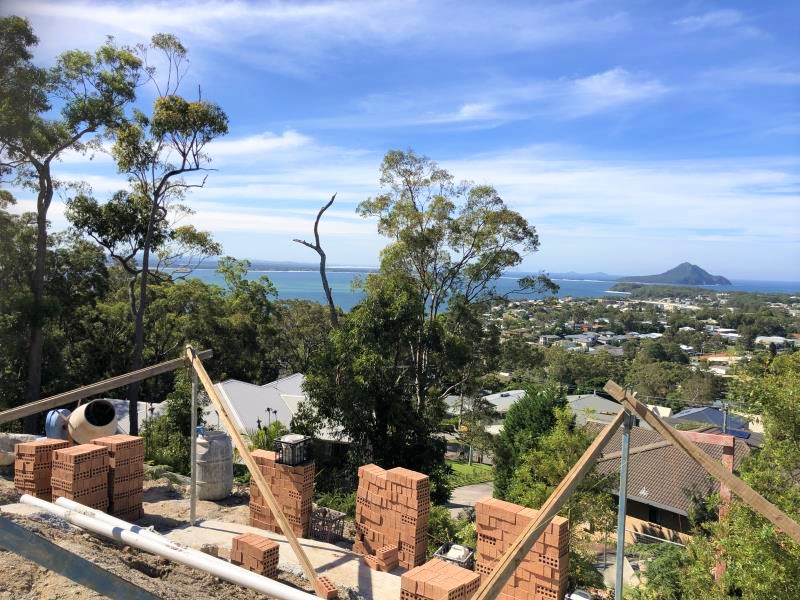 It can be very difficult to estimate the exact cost of building on a sloping site, as it is extremely dependent on the site and a great number of variables will impact the cost. As a rule, the steeper the site, the more expensive the project will be. Building the home of your dreams on a sloping site has its pros and cons as you can see but working with your slope and allowing for creativity can make the process very rewarding.
Sloping blocks will almost certainly require a unique custom designed home be created. At Integrity New Homes we have our design team specialising in steep sites at the ready to help you on your way to creating the perfect home for you on your unique block. Get in touch with us today to get started on your dream home.