As a child, do you remember how you would draw a bunch of triangles and squares to be able to create a house? The straighter the triangles and the more even the squares, the better. Then what's left is to add a few flowers and trees to achieve the perfect landscape.

Oh, how we wish it could remain that simple. Alas, these days you will hardly find the usual house drawings and will likely come across a range of different options for floor plans.

What a lot of people fail to realize is that a floor plan is more than just a drawing of the overhead view of the house, it also shows the highlights and the relationships between the different rooms and spaces.

Before you jump ahead to browse different design catalogues, it is best to remember the characteristics of a good floor plan that is an invaluable tool in building your future home.
What Makes A Good Floor Plan?
A good floor plan is the foundation for a well-designed home that is a joy to live in. It must have an efficient flow as well as appropriate room sizes and proportions, adequate storage space, and provide universal accessibility. A good floor plan also means there will be great solar gain, good flow between spaces, noise management, and is likely to increase your home's resale value.
Have a highly-considered room layout - The rooms in your house must work together to create optimal flow and enjoyment. For instance, there should be a sizable distance between the bedrooms and the entertainment spaces, bathrooms should also not face common areas such as a dining room and kitchens should open out to a dining or living room.
Be versatile and flexible - Most people often overlook what versatility can do in planning your dream home. However, choosing a floor plan with adaptable spaces means that an office space could easily be converted into a bedroom or vice versa. This is particularly important if you are planning on selling in the future or if you change your mind on the layout of your home.
Evaluate the size - Another thing that many people fail to consider is to carefully plan every area in the house so that there is enough room to move around and complete desired activities. This is one of the benefits of choosing a home from a proven catalogue of home designs—your rooms will be just the right size for your needs, and therefore highly functional.Integrity New Homes North West, headed by Craig Martin, aims to always communicate openly with customers, and homeowners to ensure that everything is running smoothly, and they are happy with the process and the progress.Craig and the team are proud to share some of only the best floor plans that are featured in our magazine that you can also check out for free.
Gunnedah Range

Because all blocks of land are not the same, the Gunnedah 205 and Gunnedah 225 take in views to the front of the home.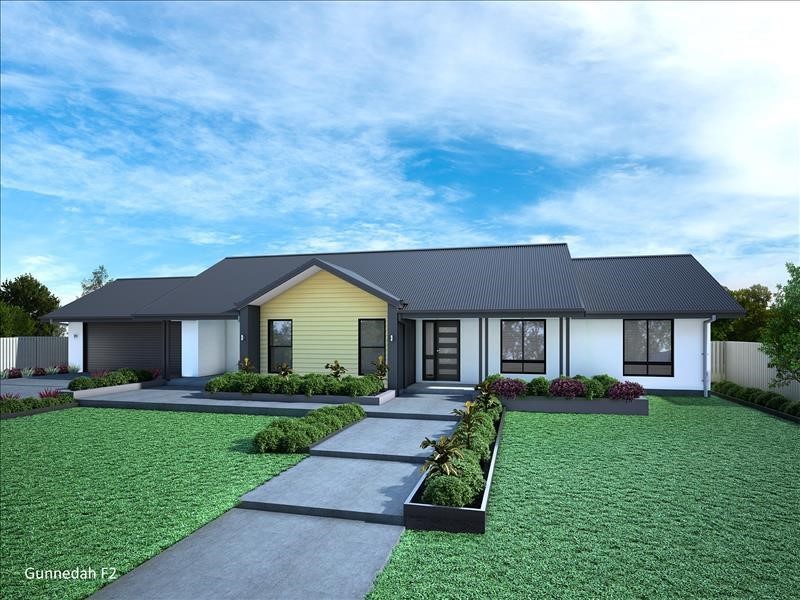 The Lounge and Dining both have views to the front through large glass windows while an Alfresco and Patio also sit to the front.

There are four-Bedrooms plus Study to the Gunnedah 225 and three-Bedrooms to the Gunnedah 205. Both homes include an Entry, Ensuite, Bathroom, WC, separate Laundry and double Garage.

Internal access from the garage opens directly into the Kitchen, making the transfer of groceries from the car into the homes a breeze.

Our Gunnedah Range with its country-style designs can bring everyone together for fun and entertaining activities with its acreage spacious floor plans, giving you creative freedom to build out your yard just the way you want it.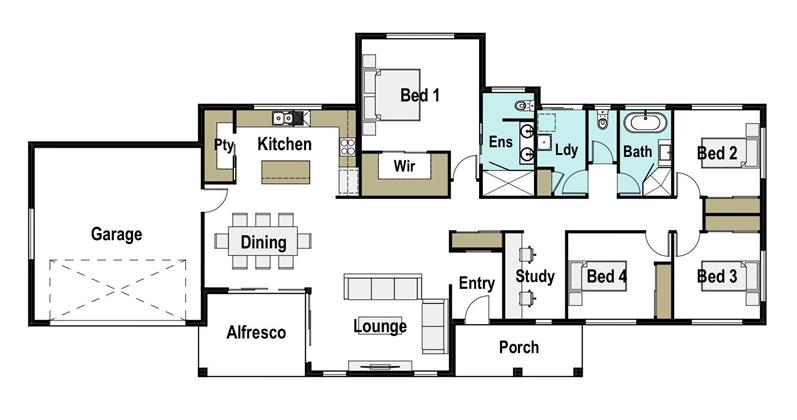 Kings Landing Series

The Kings Landing 565 is, without a doubt one of the largest homes dreamt up by the Integrity
New Homes design team. The rural acreage inspired five-Bedroom home delivers an eye catching façade and everything you could want or need internally for your forever home.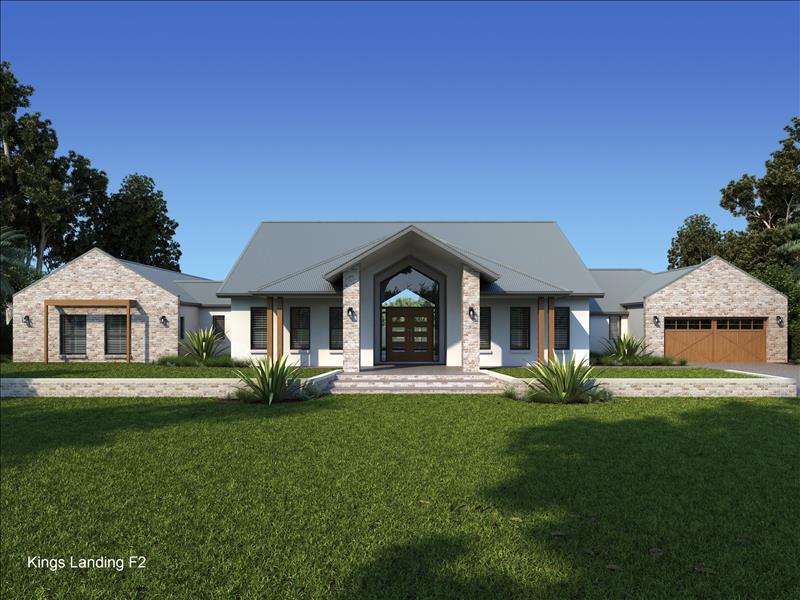 The Kings Landing 565 provides a real sense of occasion on arrival, and this is achieved through stunning face brick piers, hardwood timber posts and extensive glazing.


The covered Verandah features full glass double-doors with sidelights that lead into the grand Foyer with deep square set opening onto the Dining and out into the covered Alfresco. Adjacent to the Dining is the walk-through Kitchen and Breakfast Bar, which is accompanied by a separate mammoth-sized Butler's Pantry with additional sink and refrigerator space. The Mudroom with cabinet-made bench takes care of outdoor footwear and clothing as you exit the four vehicle Garage.

The built-in feature fireplace to the Lounge is framed by cabinet-made window bench seats
on both sides, and over the way, a spacious Rumpus with corner barn doors provides an ideal
location for a billiards table with large bi-parting sliding glass doors leading out to the uncovered side of the Alfresco.

Bed 1 enjoys absolute privacy with it's a private Balcony, and oversized "L" shaped Walk-In-Robe (WIR), Ensuite with separate enclosed WC, luxurious freestanding bath, double bowl cabinet-made vanity and twin overhead showers. Bed 2, Bed 3 and Bed 4 also enjoy their own Walk-In-Robes (WIR), while the Guest features a standard built-in Robe. The Kings Landing 565 also includes the following other equally as impressive spaces: Theatre with raised floor; Office; Walk-In-Linen (WIL); Powder 1, Powder 2, enclosed WC; Bathroom with double bowl cabinet-made vanity, large shower and freestanding bath; and Laundry with cabinet-made bench and Store.

This homestead home brings the "wow-factor" in every way, build with caution though as your
lucky family and guests may find themselves lost within!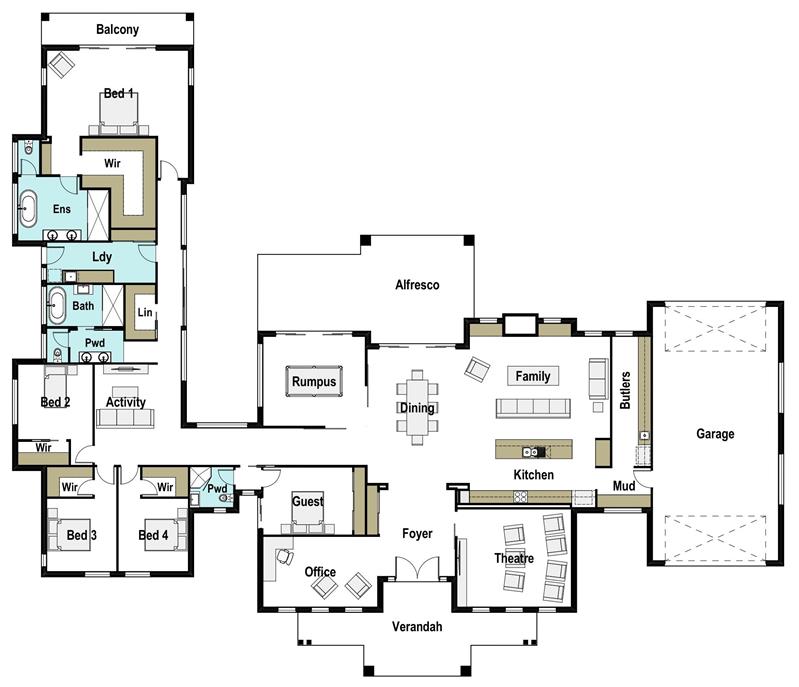 Charlton Range

The Charlton 350 is a reinterpretation of the classic rural homestead but designed to be suitable for either flat or steep and challenging sites.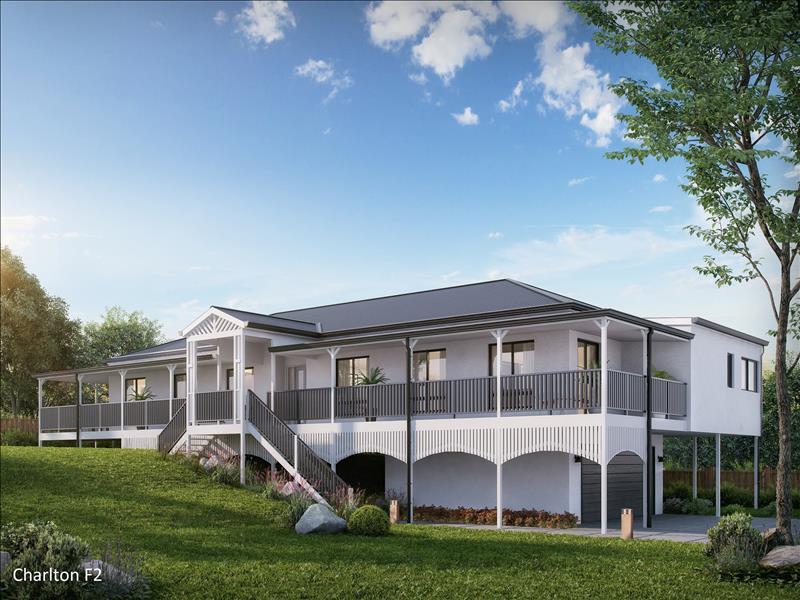 When building on steep and challenging blocks, the double Garage is placed underneath the upper floor and is intended to be side loading, and when building on flat blocks, the double Garage can be detached from the home and made freestanding or removed and replaced with a separate shed elsewhere on the block.

An enormous Verandah sits across the entire frontage of the home and partly returns down both sides, while at the back a unique hexagonal Alfresco provides outdoor living off the Dining, Family and Kitchen. The Sitting and Lounge lead off the Entry and adjoin Bed 1, which includes an Ensuite and Walk-In-Robe (WIR).

The other three-Bedrooms, Study, Laundry, Bathroom and WC are part of a separate module accessed through a closeable door.

The use of multiple roof lines and timber trims to the Subfloor, and Porch gives the home a very polished acreage style appearance.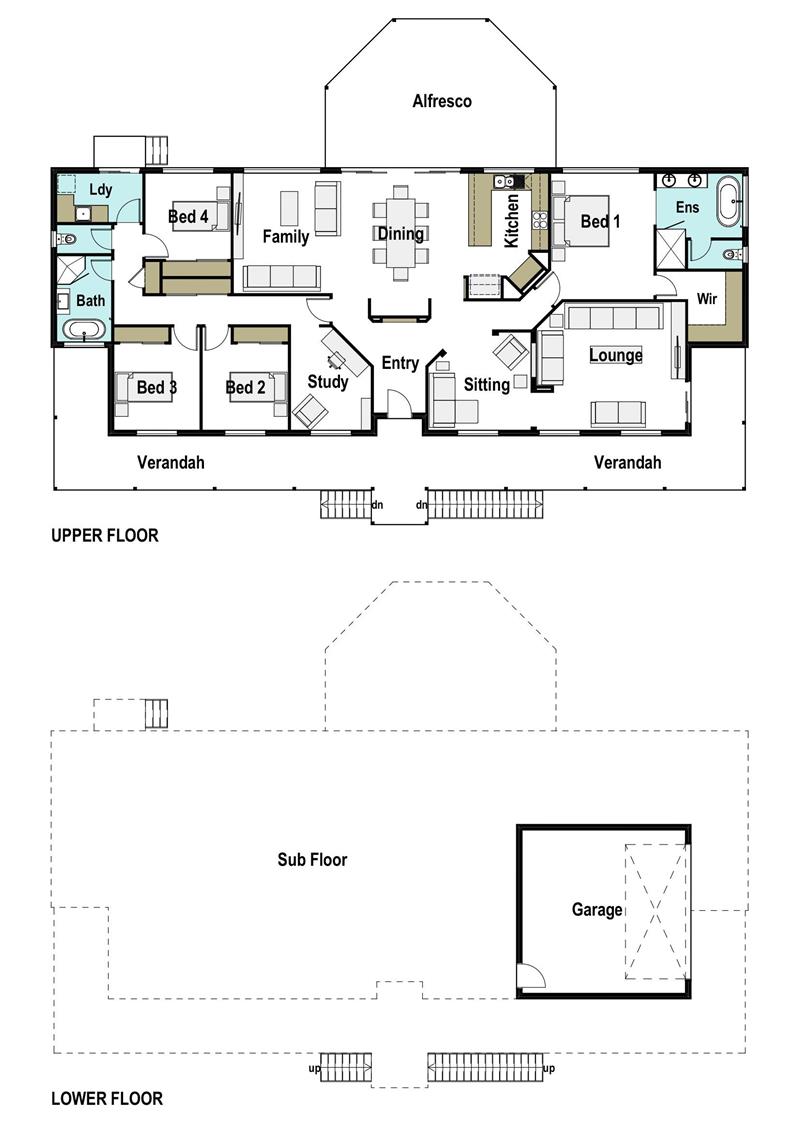 Chelsea Range

Punching above its weight, the Chelsea 205 combines front and side living advantages into a tiny footprint four-Bedroom home.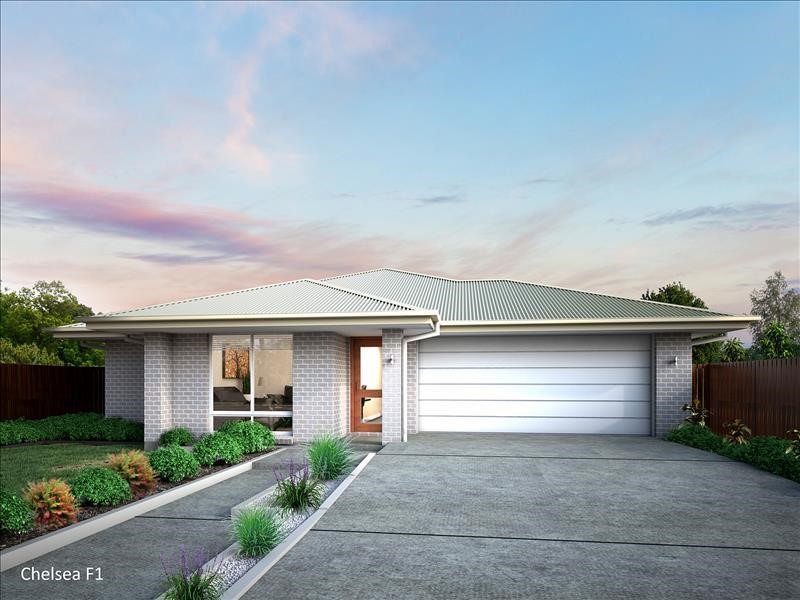 The Lounge which can also act as a Study and sits immediately off the Entry is purposely located in front of Bed 1 to provide a sound buffer to the outdoors. Bed 1 also includes a private Ensuite and Walk-In-Robe (WIR) and is available immediately off the Entry Hall.

The Family, Dining and Kitchen are centrally located and flow into the rear and side facing covered Alfresco. The Kitchen features two Pantries with a Walk-In-Pantry (WIP) off the Hall. Bed 2, Bed 3, Bed 4, Bathroom and Laundry are part of a "wing" which leads off the central living areas via a separate Hall which helps to define the Family living space.

There is a second Ensuite to Bed 4 which provides a private location for an elderly family member and also a double Garage with a hinged door to the side yard for ease of mowing the lawn.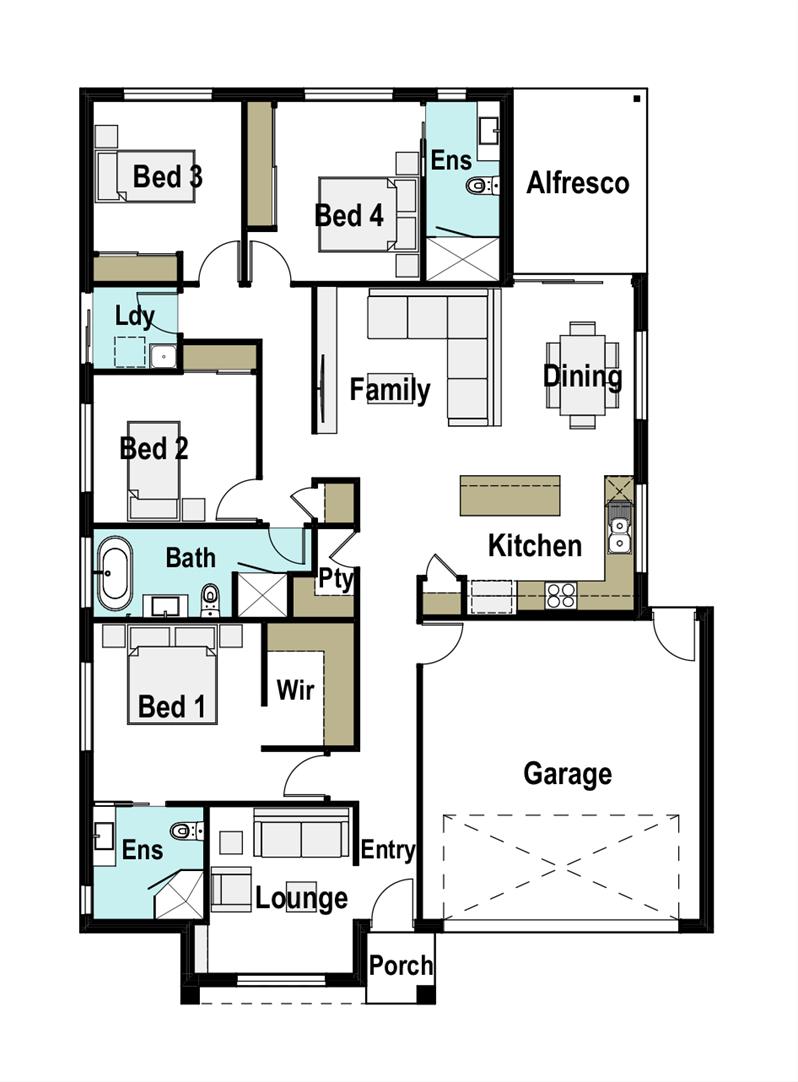 It's More Than Triangles and Squares With Us
At Integrity New Homes North West, we will help you create the perfect home for you and your family. It is our mission to not only provide you with a timeless and high quality home but at the same time create a working environment with a genuine air of excitement as we plan, design, and begin the building process. Let us change your world today, contact our support team.