Integrity New Homes Ballarat would like to introduce our new Granny flat range, which is now available on our website. Each Granny Flat brings its own unique classic façade, ranging from one through to three bedrooms, each set up for a high functionality floor plan. With 5 different facades and floor plans to choose from, our NEW! Granny flat design range can be set to tailor for anyone!
The Amaroo 75 is a two-bedroom granny flat/second dwelling that aims to create apartment-style living whilst keeping costs to a minimum. The Amaroo comes with a combined bathroom and laundry and further space for designated dining and lounge spaces. The Amaroo also comes with a generous Alfresco space for occupants to further enjoy their space, whilst creating more revenue through your property.
The Cellito 105 looks to expand on the Amaroo by providing more space and upgraded kitchen space. The Cellito comprises two bedrooms, a separate toilet and a combined bathroom and laundry. The highlight is the larger Lounge / Dining and Kitchen areas. The Kitchen features an island bench for higher functionality. The Cellito aims to provide a quality living experience for occupants whilst generating value for investment to the property owner.
The Cumberland 25 is a functional studio space perfect for a home office or individual living space. This granny flat is perfect for an external office to the home or for housing a singular person looking to live on a budget. This home is a great value for money opportunity. What it may lack in size it makes up for with functional space and style.
The Mullaway 50 expands on the Cumberland with size and functionality. The Mullaway includes an increased living space, whilst maintaining its studio style. It also includes a larger kitchen and laundry space. This studio layout granny flat is perfect for generating more revenue from your property.
The Oasis 125 is a second dwelling design for the property owner that has the land to utilise by creating a stunning three-bedroom home. This Oasis hosts a separate toilet, bathroom and laundry, perfect for multiple occupants or a small family. It hosts a beautiful front porch and secondary entry through to the laundry allowing for ease of access and functionality. The Oasis' right wing is an open plan living dining, lounge and kitchen area which creates a large feeling space whilst minimizing land usage. This facade presents the Oasis with weatherboard, yet the Oasis could be brick or rendered depending on your style options and budget. This simple layout doesn't take away from creating another beautiful dwelling on your property and ensures that maximum value can be attained without reducing the look and feel of the home.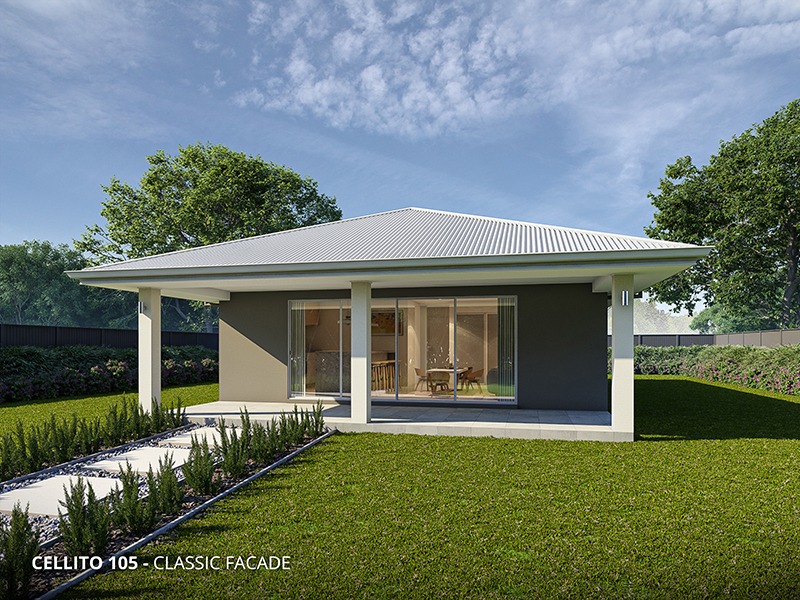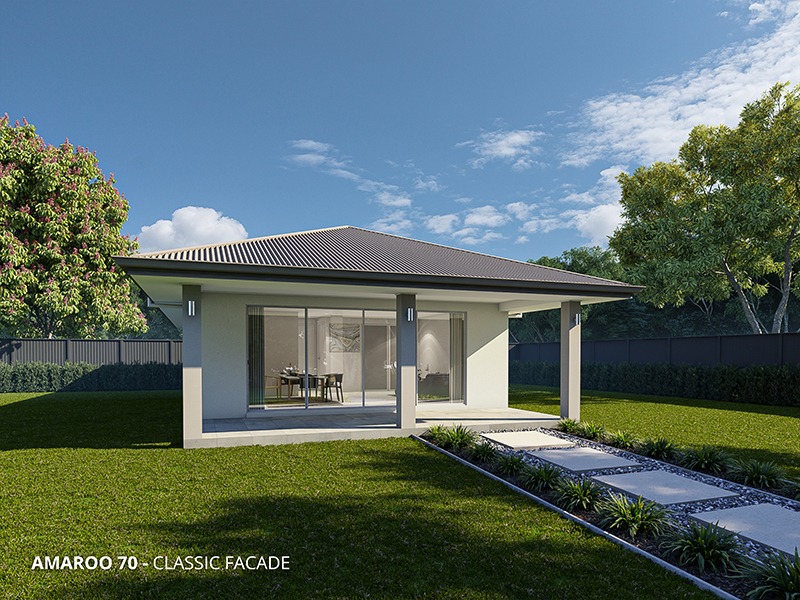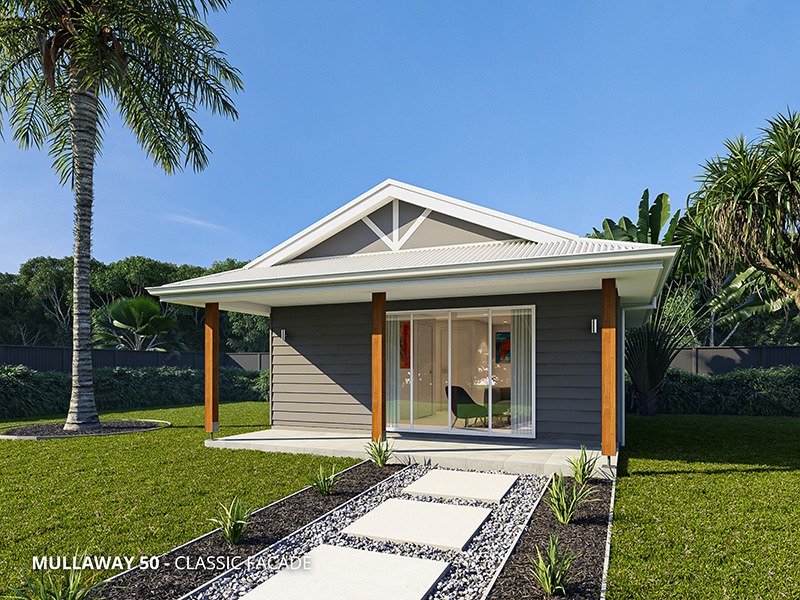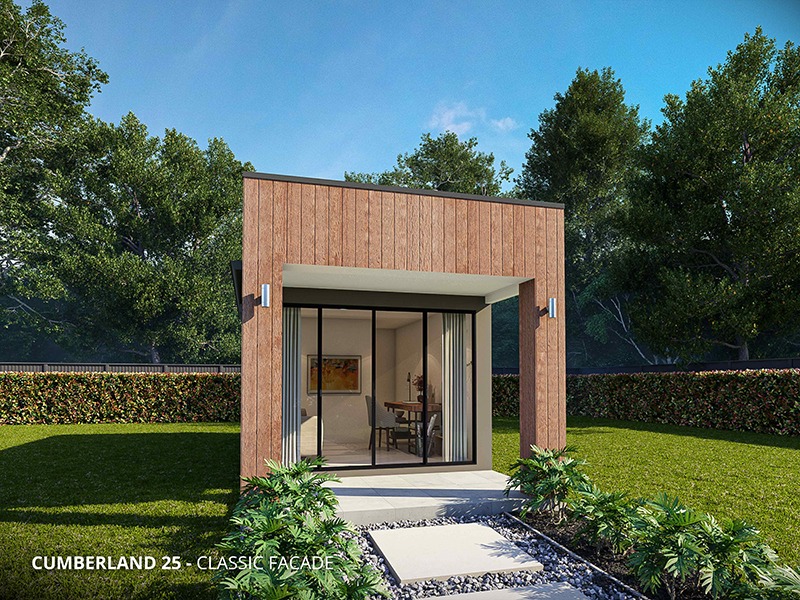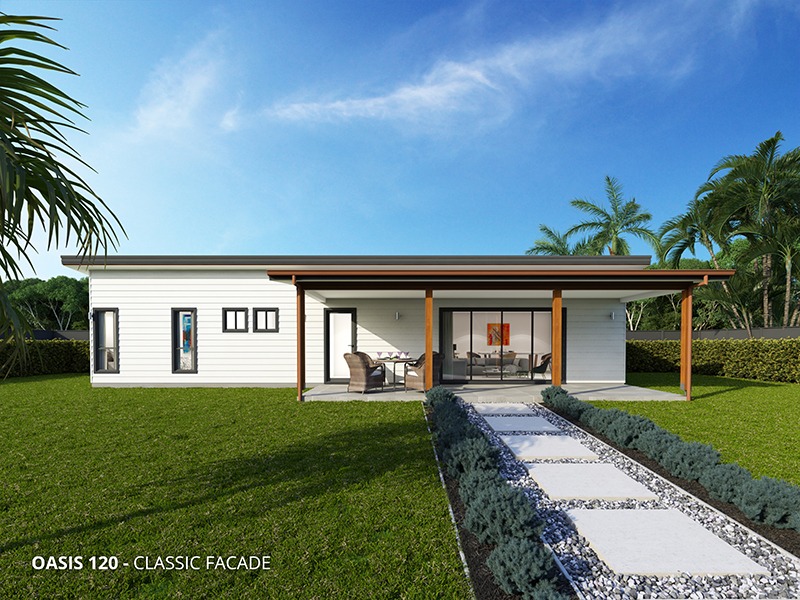 *Ensure you check with your local council about zoning and planning regulations. There may be restrictions on how big or tall your secondary dwelling can be, or what materials you can use. Make sure you're aware of these restrictions before you start planning and designing your new space.