Do you remember the first time you lost a tooth?

The first time you got a pet?

How about the first time you went out of the country with your family?

Your possibly awkward, possibly romantic first kiss?

Firsts are the memories we hold so close to our hearts. Remembering your first love, your first pet, your first friend awakens your sense of child-like wonder and happiness. That is why finding the right home design for your very first home is such an important decision. Aside from the fact that it is your first, it will also become your constant, a structure that is more than just a building where you get away from all of the pressure and stress from work, making lifelong memories with your family.

When the time comes to start thinking about building your forever home, one of the first and most important decisions you have to make is whether to purchase an existing home or build your own custom home from the ground up. We have nothing against an existing home but since we are talking about firsts that revolves around everything that triggers happiness, here are the reasons why we think custom home design is perfect for you:

You are in control - You will have the freedom to select the elements that you want to be included in your home. You have control over the appliances, wall and floor coverings, trim, custom cabinetry and amenities and every other detail that goes into creating your new home.

Functionality - Your home will have the flexibility and function to eliminate unused space and adapt to your needs and lifestyle. Most importantly, if you are living with family, it will not only accommodate your own lifestyle but at the same time cater for your family's.

Suited to your lifestyle - Your home is a great reflection of who you are as an individual so the elements, from colour combinations to furniture and fixtures can showcase your style, taste, and personality without compromising functionality and comfortability.

Material Quality - Unlike an existing home, you will have control over what materials go into your house. You will be able to properly outsource materials to be utilised to ensure that it is constructed only with the best products, materials, and brands.

Budget Flexibility - Building a custom home allows you to set your own budget. It will allow you to incorporate how your home is built within your budget. Special features, materials, and everything else that goes into building your home has a variety of price points, all of which you have total control over.

If you are now convinced 😉 and are considering building a custom home, another important question that needs to be answered is what would you like your home to look like? We don't know about you but for us, when we get asked that question, it's like a million house designs would flash right before our eyes. I know...!!! But it is actually true!! Indeed, the sky's the limit when deciding on what home design you would settle on so even before you begin to overthink, we would like to share a few of the designs that you might want to consider.

If you would like to see all of our other designs, do not hesitate to check out our magazine - for FREE!

Barrington Series

The Barrington series consists of wide-sprawling rural homestead homes that maximise views to the rear through the extensive use of glass and are designed to be positioned long across the block and feature either four-Bedrooms (Barrington 240) or five-Bedrooms (Barrington 280) as well as an Ensuite and Bathroom module. The Barrington 280 also benefits from a purpose-designed Media space with double cavity sliding doors and square-set columns.



Both designs have a covered Alfresco which is centrally located and bridges the Lounge and Dining. There is a massive amount of bench space in the Kitchen (including a Breakfast Bar) which is bathed in natural light and draws in beautiful views from a fixed glass window over the hotplate and a large sliding glass window over the sink.

The Barrington 240 features a Computer Nook in the Hall (adjacent to the Dining and Kitchen) while it is the Barrington 280's Media (accessed off the Entry) with a raised theatre-style floor which has drawn positive comments from people seeking a rural acreage design with city comforts.


Here is the 240 Floor Plan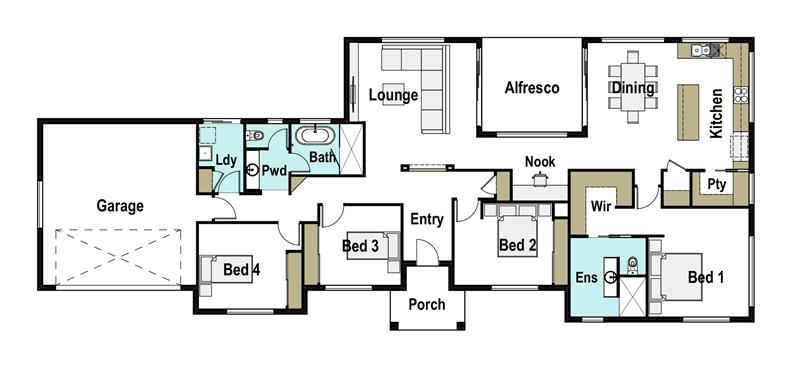 Grand Series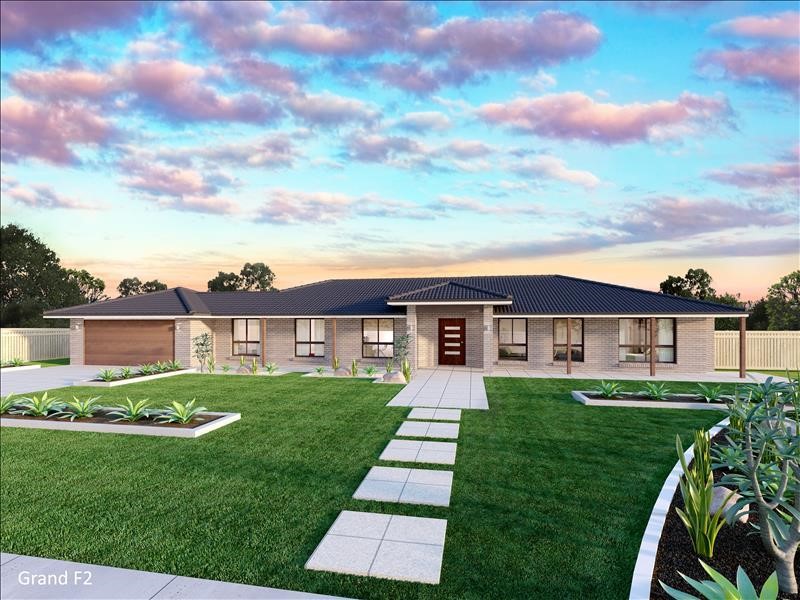 Grand by name and grand by nature. The Grand series is a fine example of rural homestead design providing generous space in communal areas with an abundance of light and views through the thoughtful use and placement of windows and sliding glass doors.


In addition to bringing the outdoors in, the Verandah across the front and the large Alfresco to the rear provides for abundant year-round outdoor living spaces.

These "ponderosa" sized four-Bedroom homes both include Dining, Family and Kitchen which take in surrounding views. There is also Lounge (and Rumpus to the Grand 295) along with the Laundry, Ensuite, Walk-in-Robe (WIR), Bathroom and Powder.

Here is the Grand 295 Floor Plan :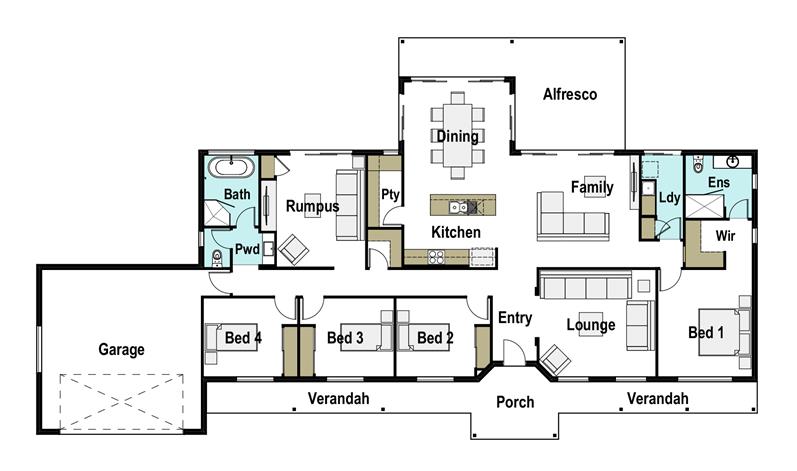 Lennox Series
Inspired by lazy days at the beach, the Lennox 260, works well on steep blocks and maximises views from the front on both the lower floor and upper floor. And boasts a large upper deck to enjoy the after noon breezes, or family time outdoors.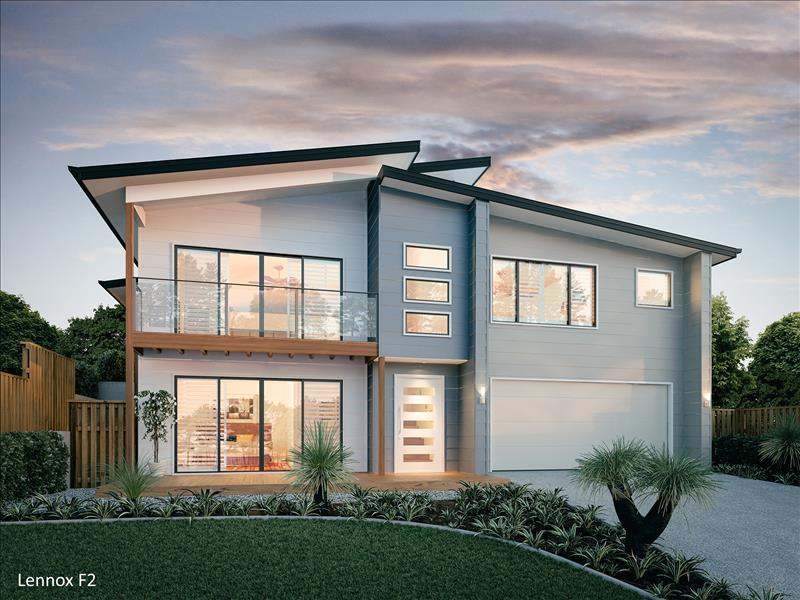 The lower floor combines a private Guest and Ensuite with access to the upper floor via an internal staircase. The upper floor comprises three-Bedrooms with another Ensuite and a Bathroom.

There is a wonderful open sense of space with the Family, Dining and Kitchen flowing seamlessly out onto Alfresco. There is also a private Media with a cavity sliding door to the rear.

This two-storey split level design packs a real punch.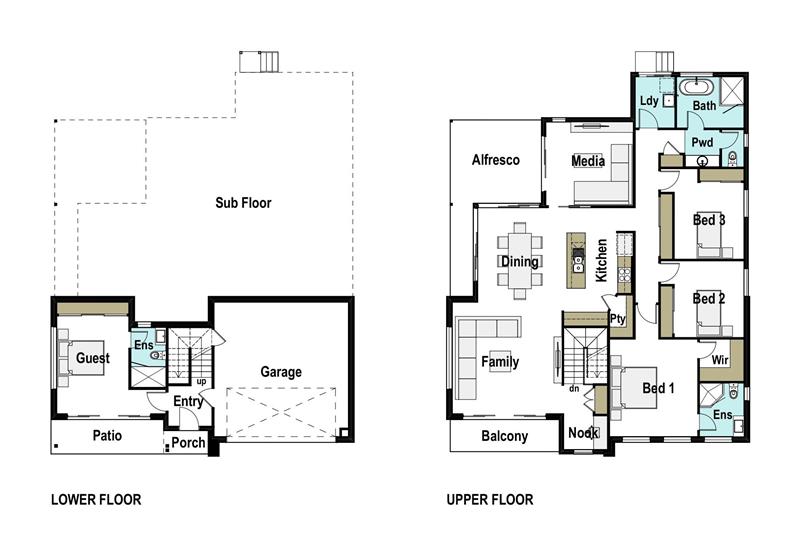 Build With A Friend
The memories of building your first home should be one you always have positive memories about so the process that you will have to go through should be less stressful and problematic than it usually is. That is the reason why it is important to choose your partner home builder wisely. Go back to the list that we gave you in the first part of this article and ask yourself, can this home builder ensure that I will be able to enjoy these advantages in my very first custom home?

At Integrity New Homes Armidale, yes we can! It is our goal to provide you with only the highest quality homes that will bring utmost comfort, safety and security to you and your family. We will actively help you through a smooth building process while you hold the reins.
Build your first home with us, contact us today!