The countryside regions such as Armidale and the Northern Tablelands of NSW is the great escape from the hustle and bustle of city life. It is to break free from the constraints of our condominium units or subdued homes. YES!! Who actually does that......?

Country homes always give off certain feelings of tranquillity. With its large windows and high ceiling, it never fails to complete a much needed holiday. Although we feel just as you do for rural escapades, you no longer have to drive for kilometres on end for the experience.

The country-style homes you often find on acreage spacious floor plans, large windows to take advantage of the ample natural light in rural areas, and a stunning design to blend in with the rural landscape can now be built even in the bustling metropolis.

We have compiled a few reasons why we believe an acreage home will be perfect for you:

Amazing Appraisal
Property value refers to the worth of a piece of real estate based on the price that a buyer and seller agree upon. Almost everyone knows about how valuable real estate is as an asset and a resource. For acreage homes, it is no different, not only can you enjoy the extra land space while living in your acreage home, you can love knowing that you own a valuable resource and asset.


Space Saver
The extra land space at your acreage home provides you the opportunity for high capacity storage without getting into trouble with your HOAs.


Safe and Serene
Even though technically, you are still in the city, the open plan structure of your home provides you with an almost rural-like ambiance. You can enjoy the gentle glimmer of the sun and the soft chirping of the birds from your large set windows or your spacious private backyard.

Gardener's Club

We can think of no better way than starting your day being immersed in the constraints of your private garden that you can have in an acreage home. Enjoy a cup of coffee or tea as you gaze at the blossoming flowers and delicate butterflies. All of the space on your acre home site can also allow you to plant your own fruits and vegetables that can provide sustainable food for you and your family.


More Room For Fun
Acreage homes can bring everyone together by providing more space for fun and entertaining activities. You will have the room and creative freedom to build out your backyard just the way you want it. Whether it be a pool, jacuzzi, fire pit, or a mini playground, it will surely entertain the family and guests with the never ending activities.


If you think you still need a little push, you may want to choose the right partner to help you with which direction to take, you may want to visit trusted home builders that specialise in constructing acreage homes that are of highest quality.

We at Integrity New Homes Armidale, headed by our local builder, the dynamic Ralph and Lynelle Westley, offer you a strong experienced team of trade contractors who are able to service new homes plus renovation and addition projects through the region. We commit to closely communicate with you and ensure that your property will be well taken care of in the duration of the partnership.

We offer a wide range of acreage home designs that are not only aesthetically pleasing but at the same time practical, functional and safe.

If you are still unsure whether to commit in this type of home plan, we have a few designs that might just encourage you:

Genesis 355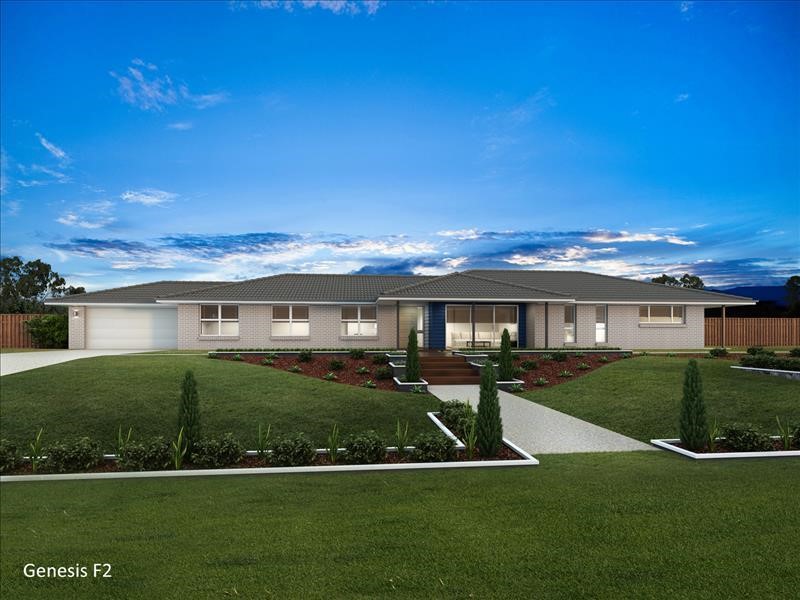 A hugely popular home while on display in Tamworth, the original Genesis, has been transformed and improved with the release of the new Genesis series of homes.



These designs have taken the traditional rural acreage "long home" and dragged it into the 21st century with a raft of appealing design features. The Integrity New Homes designers have achieved a robust zonal design approach while keeping Hall space to a minimum. This enables Bed 1 to be "removed" from the rest of the home and provide a sanctuary from the day-to-day goings-on while being directly adjacent to the Kitchen, Lounge and Dining.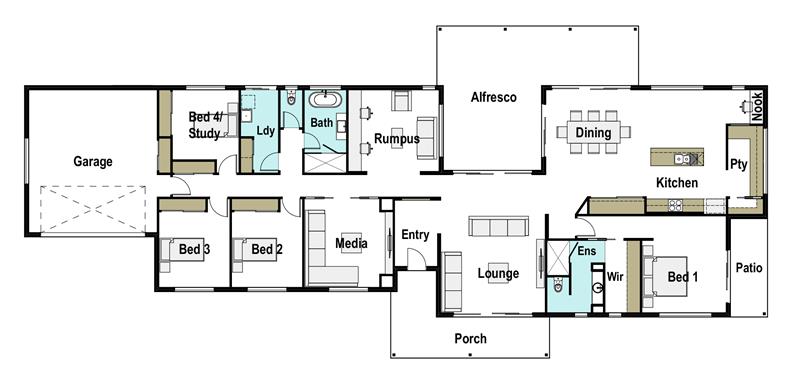 It is a 4 Bedroom, double Bath, double Garage plan. The Genesis 265 adds a Media with double cavity sliding doors and a more generous covered Porch to the Entry. Moving further up the series to the Genesis 310, there are some additional floor plan features including a Store space (without shelving) to the double Garage, Patio to Bed 1, an even larger covered Porch to the Entry and a Nook for studying beside the Kitchen. The massive Genesis 355 excludes the Store to the Garage (included in the Genesis 310) but adds a Rumpus along with a larger Alfresco to the rear of the home.

All of the Genesis series of homestead homes enjoy sensational views across the back of the house and have a natural flow from the indoors out through to the Alfresco.


Barrington 240

The Barrington 240 features a Computer Nook in the Hall (adjacent to the Dining and Kitchen) while it is the Barrington 280's Media (accessed off the Entry) with a raised theatre-style floor which has drawn positive comments from people seeking a rural acreage design with city comforts.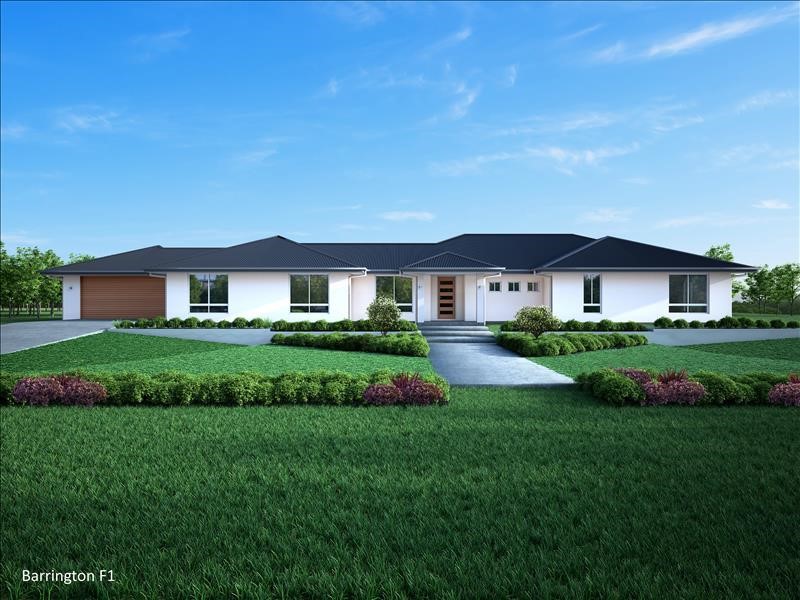 It is a 4 bedroom, 2 bathroom, double garage plan. This design boasts its natural lighting that draws in fantastic views from the outside.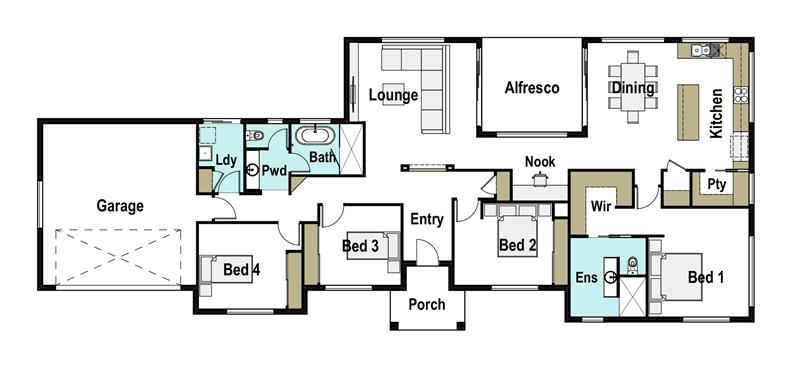 These Barrington series of wide-sprawling rural homestead homes maximise views to the rear through the extensive use of glass and are designed to be positioned long across the block and feature either four-Bedrooms (Barrington 240) or five-Bedrooms (Barrington 280) as well as an Ensuite and Bathroom module. The Barrington 280 also benefits from a purpose-designed Media space with double cavity sliding doors and square-set columns. Both designs have a covered Alfresco which is centrally located and bridges the Lounge and Dining. There is a massive amount of bench space in the Kitchen (including a Breakfast Bar) which is bathed in natural light and draws in beautiful views from a fixed glass window over the hotplate and a large sliding glass window over the sink.

Additionally, this standard design can be customised to tailor your needs and provide more comfortability and functionality.

Grand 295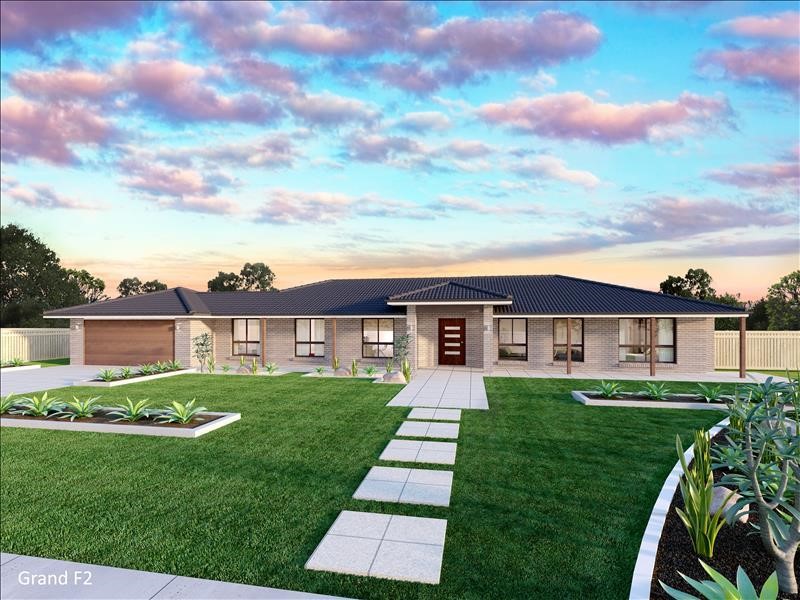 Grand by name and grand by nature. The Grand series is a fine example of rural homestead design providing generous space in communal areas with an abundance of light and views through the thoughtful use and placement of windows and sliding glass doors.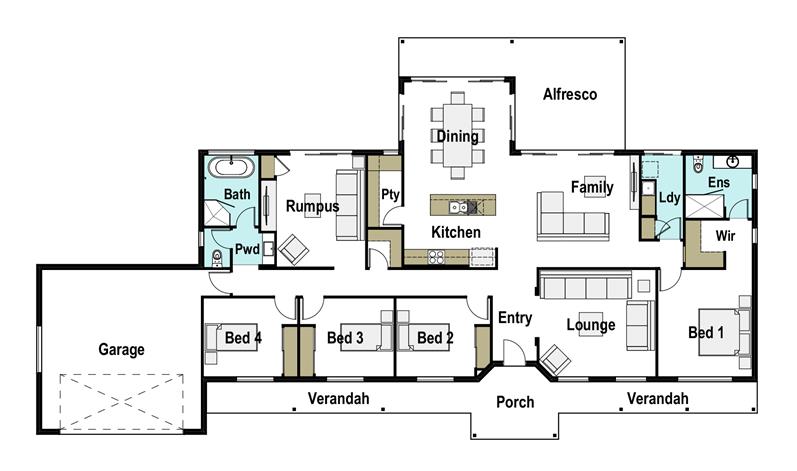 It is a 4 bedroom, 2 bathroom, double garage plan. This timeless design gives you the feel of bringing the outside in.



In addition to bringing the outdoors in, the Verandah across the front and the large Alfresco to the rear provides for abundant year-round outdoor living spaces.
These "ponderosa" sized four-Bedroom homes both include Dining, Family and Kitchen which take in surrounding views. There is also Lounge (and Rumpus to the Grand 295) along with the Laundry, Ensuite, Walk-in-Robe (WIR), Bathroom and Powder.


Partner With Us

Our team is not only well versed in acreage home designs, we have dynamic professionals that are capable of producing different types of home designs that will suit your lifestyle. Talk with one of our highly qualified and experienced sales consultants and let Integrity New Homes Armidale change your world today!