Do you ever miss traveling?
Do you miss unearthing your passport from your dusty drawers so that you can enjoy the landscape that other countries have to boast about? The thrill of going to new places and seeing new things, smelling new and familiar scents....
Are you looking forward to just simply hooking up your boat to go fishing on our beautiful Pacific Ocean, or heading to one of our many rivers and estuaries to get some chill time?
Would you be stoked to bond over a campfire, having a cuppa or a few beers, and roasting marshmallows, with your mates in the bush after a hard day of motor bike riding or exploring in your off road Landcruiser?
Sounds like the life doesn't it!?
We're not sure if you might have heard but living everyday like it's a holiday is not as impossible as they make it out to be.😉
If you have your mind set, and your resources ready, you can always start planning your move to the sort after new home subdivisions on the Gold Coast, just west of the beach.
Of course it is already a given that a house along the sloped hillside makes for a picturesque setting for your dream home, but not to burst your bubble, what most people don't know is how complicated the process is in completing the whole thing.
Sloped sites require a more extensive preparation and work than a level lot. However people are still driven to construct their dream homes in a sloped site because of its own set of advantages like naturally occurring drainage and a more sustainable way of living but you also have to remember that if the structure is not done well, it will cost you more money and time than you have prepared for without having to compromise.
Like Butter on Toast
That is why if you ask anyone with knowledge and experience in steep site construction, they will always say that it is the best choice to have a custom home design. Building a home with a custom design gives you the power of customising every aspect of your floor plan to be able to maximise every inch of usable space.
Standard Quality
When building a custom home, you can rest assured that only the best brands, products, and materials are being used, giving you peace of mind that you are investing your money wisely and will end up with a quality finish.
Budget-Friendly
Since you were able to personally decide the elements that will be included in your home, it is to be expected that your budget will stay within limit. Many people think that having a custom home design is much more expensive but what they don't realize is that you have control of the price point of everything that goes into your new home.
Premium Service
It is already hard to think of what you want your house to look like on a flat ground so imagine how much more complicated it is to envision on a steep site. Aside from the basic living spaces. You also have to take into consideration the multiple levels that will come about when you choose a sloping site. But you don't have to plan all of this alone, we are here to help. 👍
Integrity New Homes Gold Coast have been in the industry for over 12 years. We specialise in the construction of designing your dream home on complicated sloping sites. We provide our clients with affordable, live-able premium solutions throughout the Gold Coast region. Areas we build include Coolangatta, Kirra, Currumbin Valley, Burleigh Heads, Robina, Helensvale, Coomera, and all areas surrounding this.
We are dedicated to providing our clients with quality homes that not only reflect their lifestyle but also provide a comfortable and secure space for their family. We offer a huge range of new home designs representing the very latest in design, style and value from one of Australia's leading home builders. But since we are talking about custom home designs, we also make sure that the building process is an enjoyable and exciting experience for you.

Charlton 350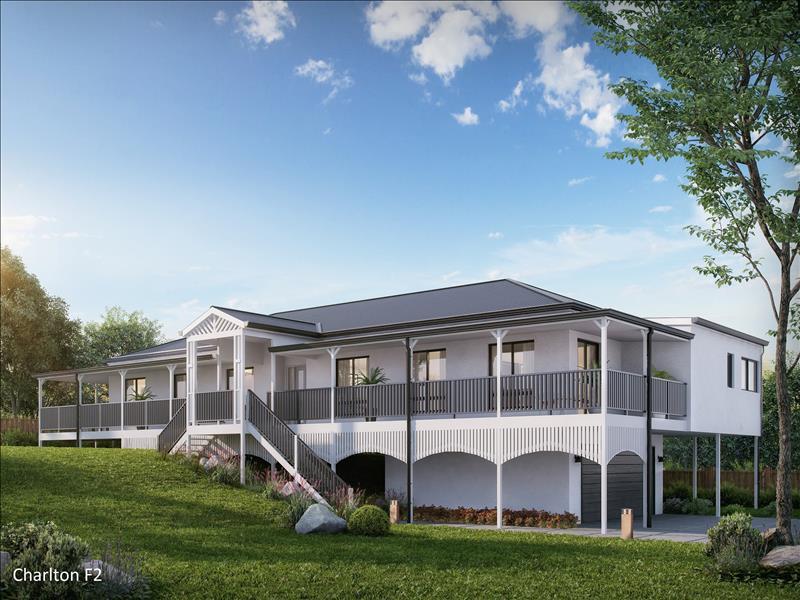 One of the designs we are most proud of is the Charlton 350. This floor plan offers a broad range of possible housing solutions for steep sites. The use of multiple roof lines and timber trims to the Subfloor, and Porch gives the home a very polished acreage style appearance.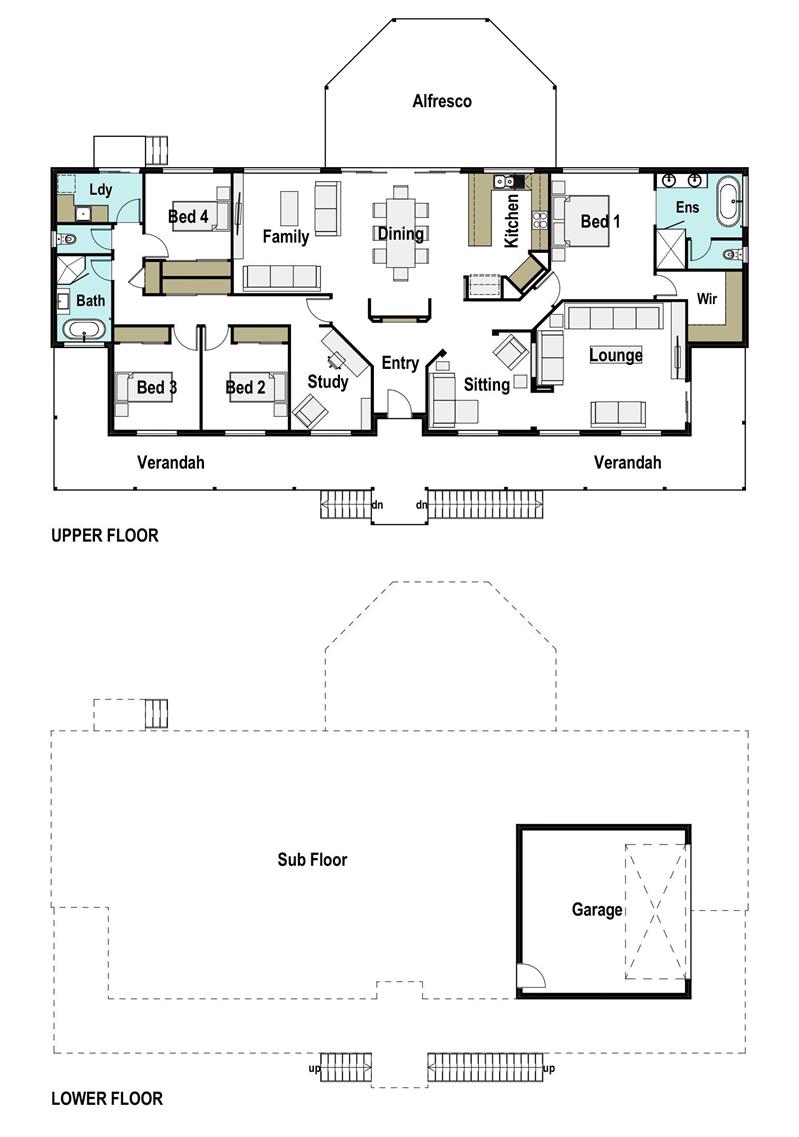 It is a 4-bedroom, double bath, and double garage plan. This design is an interpretation of the classical rural homestead that is ideally suited for either flat or steep and challenging sites.
The double garage is placed underneath the upper floor and is intended to be side loading, and when building on flat blocks, the double garage can be detached from the home and made freestanding or removed and replaced with a separate shed elsewhere on the block. There is also a verandah that sits across the entire frontage of the home and partly returns down both sides, while at the back a unique hexagonal Alfresco provides outdoor living off the dining, family and kitchen. The sitting and lounge lead off the entry and adjoin bed 1, which includes an ensuite and Walk-In-Robe (WIR).
You can access the three other bedrooms, study, bathroom, and water closet that are a part of a separate module through a closable door.

Sierra 365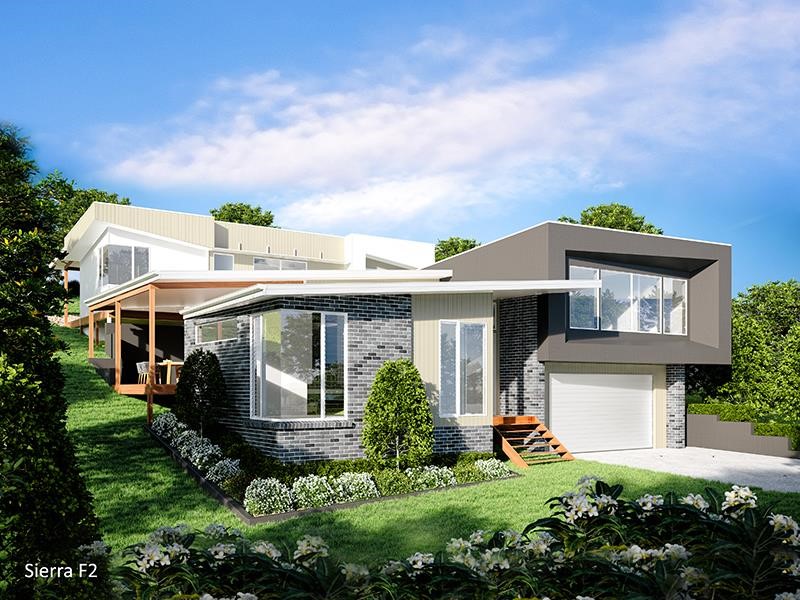 This is a series of multi-level designs which make outstanding use of blocks which are high at the back, allowing the home to step down from an elevated position at the rear of the site down onto street level. As a result of planning this dynamic design will enjoy cooling breezes and breathtaking views and a very commanding street presence.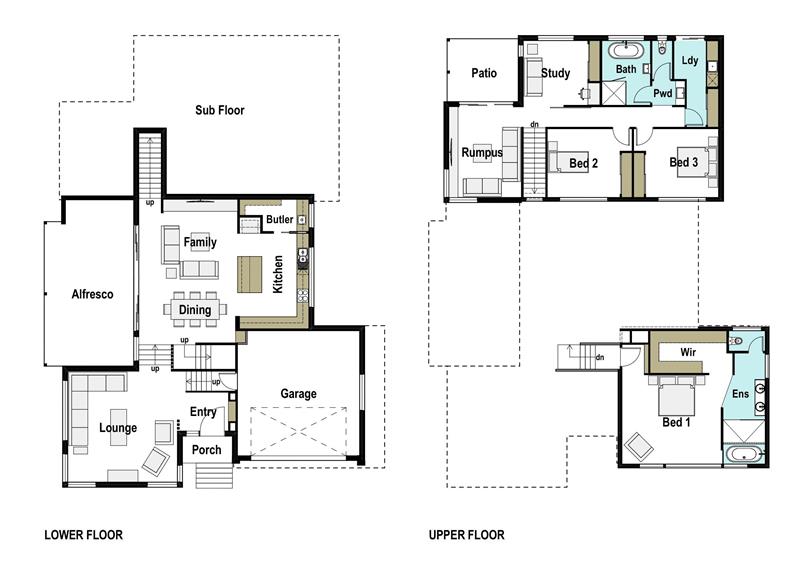 It is a 4-bedroom, double bathroom, and double garage plan. The double garage is set back from the front of each Sierra design but sits at a lower level with internal access via a set of internal stairs. Connecting the double garage is a set of stairs gaining access to the covered porch. The porch leads into a spacious lounge which features a clever corner window arrangement.
Further stairs lead up to an expansive set of living spaces, including the kitchen, family and dining, all of which access the massive Alfresco through a large set of glass doors. A private hidden staircase off the lounge and entry provides access to bed 1 with Walk-In-Robe (WIR) and ensuite enjoying a haven away from the rest of the home set on its own sitting above the garage enjoying views through large sliding windows.
The final "module" is a wing of bedrooms and living spaces which varies across the design range but additional bedrooms, study (Sierra 365), rumpus, bathroom and laundry to the very back of the block. There is also a rear patio providing yet another covered outdoor living space in the Sierra 310 and Sierra 365.

Work With Us
These are just a few of the designs that we have to offer. However, if you feel like you want something changed or added to fulfil your ideal vision, we will not hesitate to work it out with you every step of the way. Change your world with our help, contact us now.