In life, we make decisions every day. Some decisions need to be pondered upon for quite some time since it will affect every aspect of our life while others we can make in a literal snap.

Tea or Coffee?

Chocolate or Vanilla?

Cake or cupcake?

We will always arrive at the choice that we prefer and will make us feel every positive emotion we can think of. But unlike a quick afternoon snack, having to decide whether to buy an already built house or build a house with a custom design is not as easy. Unlike an afternoon snack, you cannot simply go back in the store to buy another if you feel like you have made a mistake. Coming up with a decision in terms of building your dream home takes a careful amount of planning in order to materialise this vision.

We are not here to tell you which one is better because the best choice is the one that is well suited for you. However, we laid out some things that we hope you can seriously consider before making a choice:


Custom Homes

A custom home is one you design from the ground up. Typically, you have an input in every detail in the whole planning process. Your preferences are seriously considered for the general layout of the home, the site, and the materials used to build it.

Ideally, this option is for those who have a specific vision or set of needs for their home. It allows you to customise the most essential parts of your home, so it meets your expectations.

The Pros:
✓ You are able to choose the location you want your house to be built in.

✓ You are in control and can be on top of the planning process.

✓ You can fully customise your home according to your preferences.

✓ The quality and functionality of the home will meet all your requirements and standards.


The Cons:
✘ It typically requires a bigger budget.

✘ Procuring supplies in bulk is near impossible, making the materials for the home more expensive.

✘ It usually takes longer time to complete the construction.

✘ It has a faster depreciation rate than a production home.

Pre-Built House
Pre-built homes are a lot less complicated, but still offer discerning homeowners a wide range of possibilities. This option is usually offered to those who do not have specific vision in mind.

A selection of designs from a specific collection is usually presented by the builders who can bring it to life. There is no need for you to worry about the floor plan or the concept, you simply have to turn the page and pick what works for you. This process is a lot less complicated and overwhelming for people who want to be involved in the process without the burden of planning it.

The Pros:
✓ You have a wide range of options in terms of price points.

✓ The land comes with the price of the home.

✓ It offers more floor plans to choose from.

✓ There are fewer decisions to make which leads to less stress and less hassle.

✓ It can be built much faster than a custom home.

✓ You only have to make the best selections for your new home to personalise it to fit your needs.

✓ It is priced to meet comparable appraisal values enabling homebuyers to borrow the entire amount of the cost of the home depending on the type of loan chosen.


The Cons:
✘ You won't be able to design every aspect of your new home.

✘ You won't have as much input in how the home is constructed.

✘ You won't have unlimited land options from which to choose.

The Right Choice
When considering the advantages and disadvantages of building a custom home or an already built house, it is important to note that the decision should be personal. You should take as much time as you need to analyse your options to make the decision that is right for you and your family.

If you still find yourself torn about which direction to take, you may want to visit trusted home builders that specialise in constructing homes that stand the test of time and provide a noticeable point of difference from most current homes.

We at Integrity New Homes Cairns, headed by our local builder, TJ Singh, offer you the quality finishes and the craftsmanship that separates us from our competitors. We commit to closely communicate with you through the tedious building process of your home. It is the mission of our tradespeople to provide you with a service that is not only efficient but as well as sincere.

We offer a wide range of home designs that are not only visually appealing but at the same time practical and functional, a wise choice indeed. The image attached to this blog is our Kings Landing design... just beautiful in size, style and function. But let us tell you about a few of our classic designs....

Quirindi 200

One of the designs that our tradespeople are very proud to offer is the Quirindi 200. This visualises how different facade options will drastically change the look and street appeal of your home.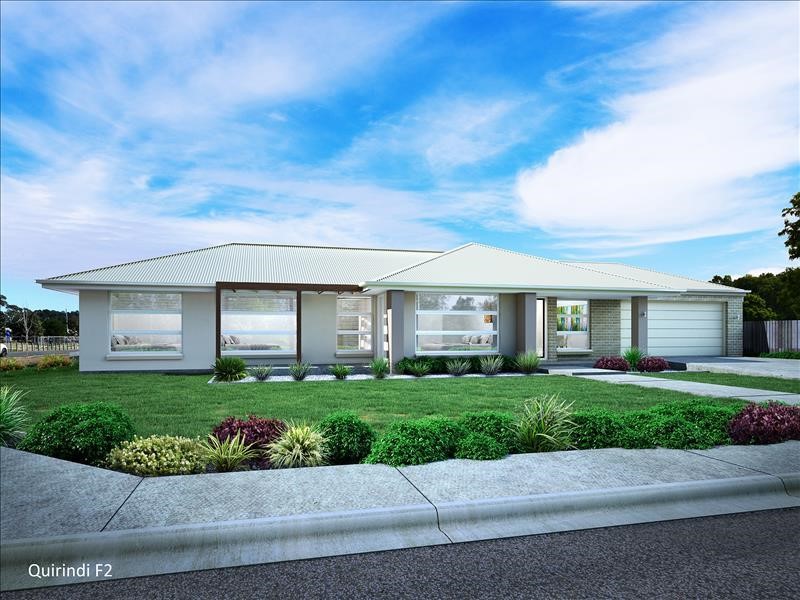 It is a 4 bedroom, 2 bathroom, double garage plan. This design is a contemporary version of the "longhouse" but in a more user-friendly form for modern living and block styles.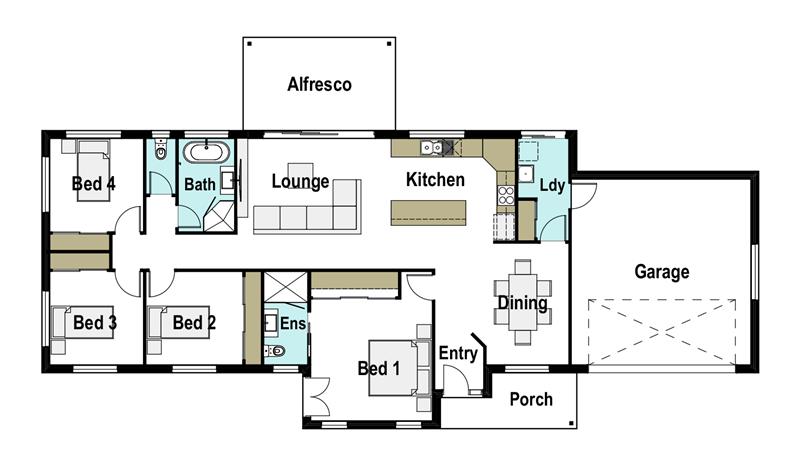 A generous covered Porch creates an excellent street presence as well as an outdoor living area. Once inside, the Dining, Kitchen and Lounge sit in an "L" shaped form.
The secondary Bedroom module is set off away from the rest of the home and is serviced by a Bathroom and WC. The Laundry is accessible via the double Garage, which would mean it could also double as a "mudroom" in rural locations.

This standard design can be customised to tailor your needs and provide more comfortability and functionality.


Saltwater 190

Any of the Saltwater designs look particularly cutting edge in the optional skillion facade finish, but as with any Integrity design, it is possible to customise this home to suit personal taste, lifestyle and circumstances.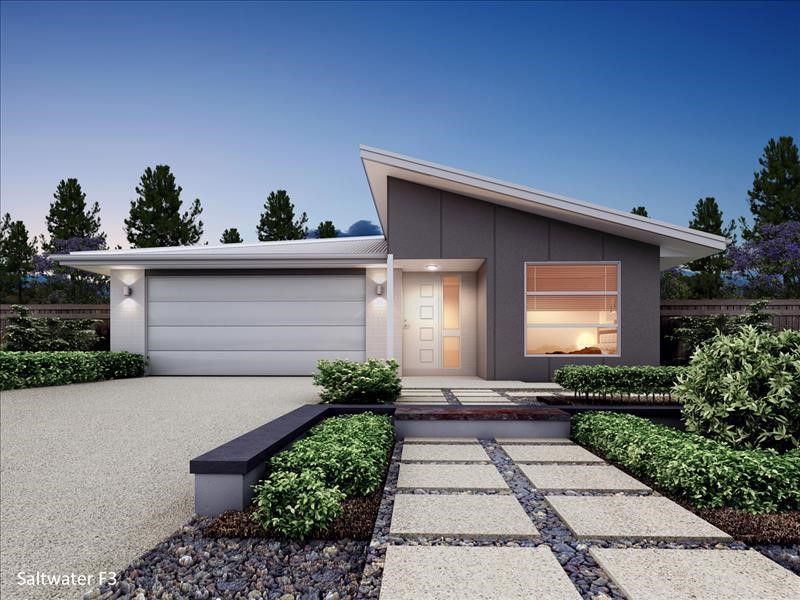 Whether building on a flat block or a challenging site, the sales and design teams genuinely try to put forward design solutions which overcome problems, are functional and in tune with client requirements.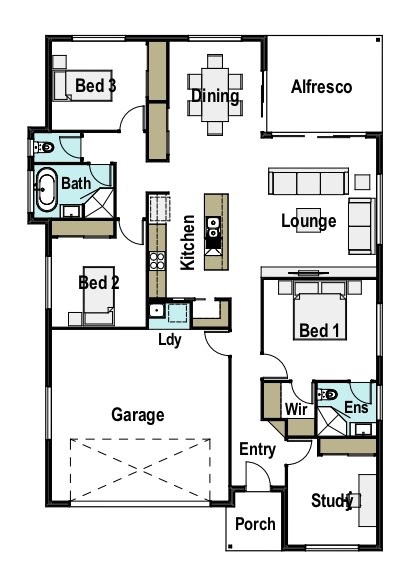 It is a 3 bedroom, 1 Study, 2 Bathroom, double Garage plan. It has an open plan Kitchen, Dining and Lounge with Walk-In-Pantry (WIP), separate WC and Bathroom, as well as an Ensuite and Walk-In-Robe (WIR) to Bed 1. The Saltwater 200, Saltwater 235 and Saltwater 265 all have a Rumpus and very similar layouts but providing greater floor space as you move up the series – all designed to suit the needs of new home-owners and people with differing lifestyles.

The Laundry is located within the double Garage of the Saltwater 190 but has a dedicated space within the home in the rest of the Saltwater designs. All the series feature an Alfresco (of varying sizes) covered by the main roofline which creates a wonderful relaxing outdoor area to the rear/side of the home. It is a perfect shaded location for summer barbeques or enjoying a spring meal outdoors.

Presence 315

The Presence series is chasing the Mackay series for the top spot as the most popular series of homes offered by Integrity New Homes.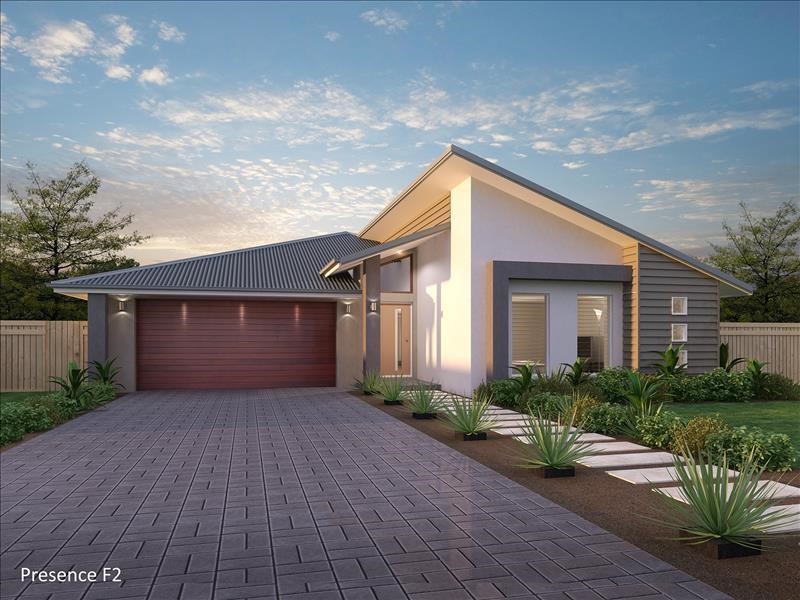 The popularity of the Presence has been founded on a combination of thoughtful features, packaged into an attractive resort-style four-Bedroom format.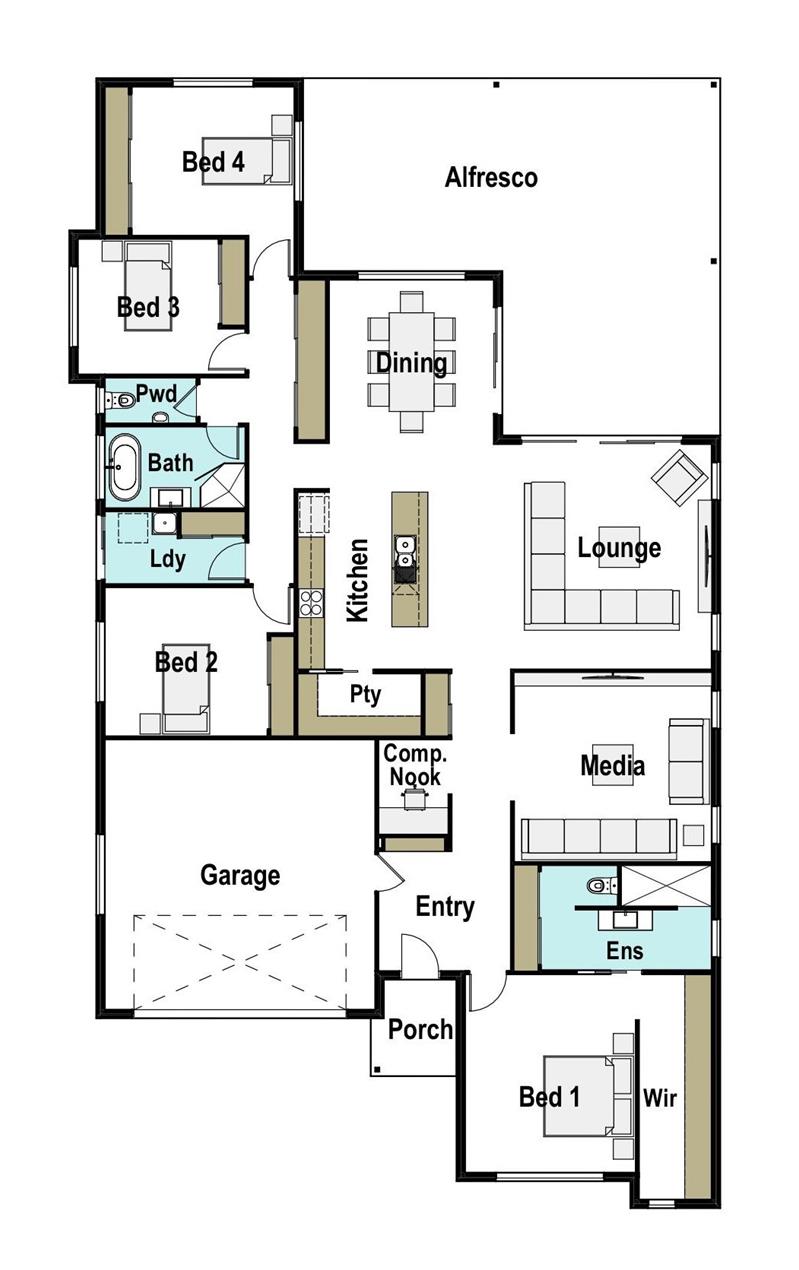 It is a 4 bedroom, 2 Bathroom, double Garage plan. All designs have Bed 1 with Walk-In-Robe (WIR) and Ensuite leading off from the Entry. In the larger Presence homes, there is a cleverly concealed WIR which is hidden behind an internal wall.

In the Presence 175 and Presence 190, Bed 2 adjoins Bed 1, but in the larger homes Bed 2 is located in a wing of secondary Bedrooms. The space created by relocating Bed 2 is taken up by the Media found in the Presence 220, Presence 290 and Presence 315.
The back half of the Presence design combines the Kitchen, Lounge and Dining, all of which access the covered Alfresco to the back. A Bathroom with standalone WC creates a dedicated area for the secondary Bedrooms. Other features which are design specific include a Computer Nook, Walk-In Pantry (WIP) to the Kitchen and Store to the Garage.

There can be few better places to relax after a hard day's work than in the comfortable and expansive living rooms of one of the Presence designs. Views to the rear of the property are drawn in through a large sliding glass door, while the Kitchen, complete with island bench and Breakfast Bar, is a stone's throw away. A cost-effective design approach delivers a "stepped-in" footprint to the rear which opens up views to the rear. Consequently, any investment in landscaping to the backyard delivers more by allowing the views of gardens and plantings to be drawn back into the home.

Externally all homes have a covered Porch to the Entry door and an Alfresco to the rear. The size of the Alfresco varies across the series but provides an all-year-round outdoor living option.


Talk To Us

This is not even a tiny smidgen of what we have to offer. 😉 Our Integrity New Homes Cairns design library boasts timeless and elegant designs that can withstand the test of time. We will guide you in making the right decisions to turn your dreams into reality.
Let us change your world today