They say, dream homes are good for the soul but not for the wallet… but we beg to disagree. 😉

When describing your dream home, automatically a million words surge through your mind trying to decide which one would be the perfect match. However, we believe that the first word you should not associate it with is luxury because that is not what encapsulates a home, rather it is love, comfort, peace, safety, and security that should surround the idea of a dream home.

But then again, a lot of people think that building a "dream home" and not including most of what they have "always wanted" would not create the outcome that they have always had in mind. 🤔

Having more money allotted for your budget is indeed the best option so that you may be able to create a home that is straight out of your wildest imaginations. However, realistically speaking, being able to materialise your vision does not require you to put in your entire life savings and we have just the thing to prove that:

Genesis Range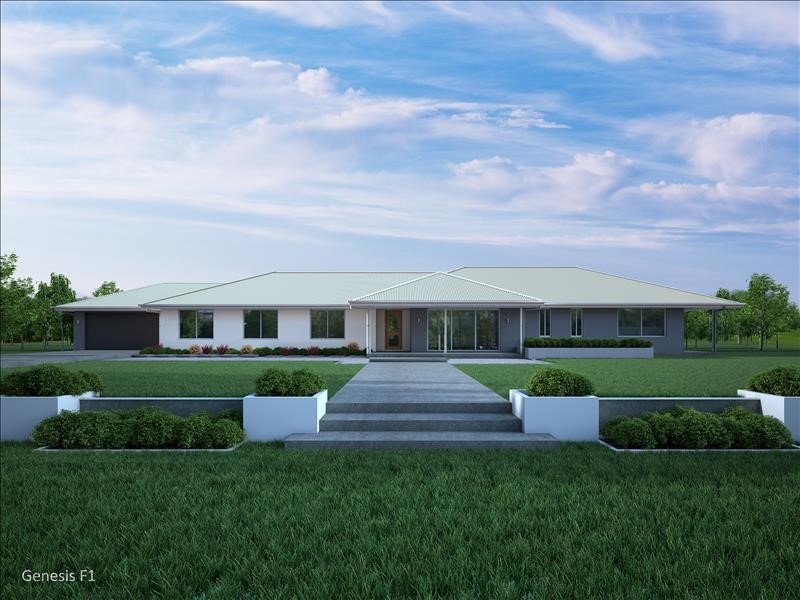 The Genesis Range is an acreage home design that specialises in maximising the functionality in a home. This particular design was hugely popular while on display in Tamworth. The original Genesis design has since been transformed with unique and functional improvements that are essential in a 21st century home.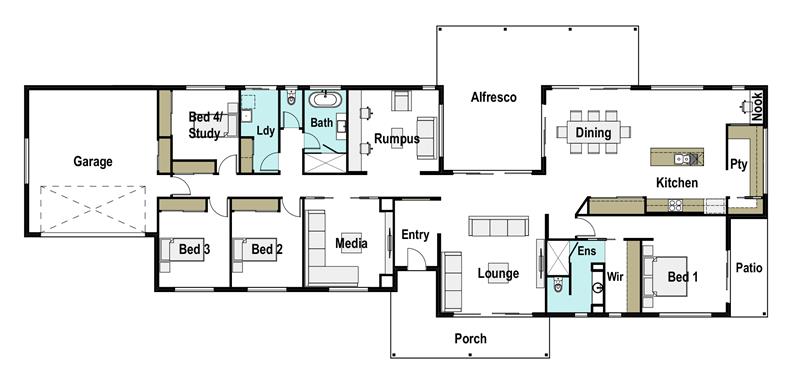 The Genesis Series typically has a 4 Bedroom, double Bathroom and double Garage, Laundry with Bed 1 featuring an Ensuite and Walk-In-Robe (WIR) layout but the rest varies depending on the floor plan you select. The Genesis 265 adds a Media with double cavity sliding doors and a more generous covered Porch to the Entry. The Genesis 310 on the other hand, has some additional floor plan features including a Store space (without shelving) to the double Garage, Patio to Bed 1, an even larger covered Porch to the Entry and a Nook for studying beside the Kitchen. If you are planning to go for a bigger layout from this range then the Genesis 355 would be perfect for you. This design excludes the Store to the Garage (included in the Genesis 310) but adds a Rumpus along with a larger Alfresco to the rear of the home.

While there may be a few differences in the different layouts of this range, one thing that a Genesis Series design would not miss are the sensational views across the back of the house and have a natural flow from the indoors out through to the Alfresco.
Avalon Series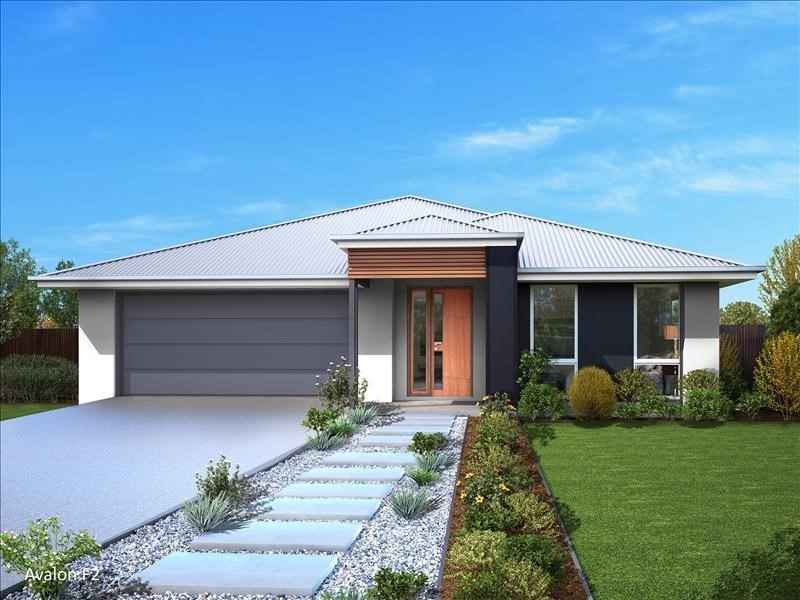 The Avalon Series is a single-storey home design that features three floor plans each with an open Kitchen, Lounge and Dining configuration as a central focus. This design will drastically change the appeal of your home with its simple yet timeless and impressionable look.




Each layout in the Avalon Series features 4 bedrooms with Bed 1, Ensuite, Walk-In-Robe (WIR) located at the front of the home and well away from the secondary bedrooms or children's wing. This is actually helpful when it comes to home security and is ideally suitable for those who work night shifts.

With the intention of maximising internal and external floor space to create an easy flow throughout the house, the everyday indoor and outdoor living areas, including an Alfresco, provide a separation zone between the Bed 1, Ensuite, Walk-In-Robe (WIR) wing and secondary bedrooms.

In keeping with larger homes, the bigger Avalon 230 and Avalon 260 homes also feature a central Rumpus and Lounge (hidden behind a separating wall which is
open at both ends and includes a cut-out to the ceiling) with a dedicated Laundry. All the homes include a Nook in the Kitchen.

Although a single-storey house and at first glance may seem like a rather limited space, the Avalon series is actually known to have a very strong use of living spaces. This design offers you a well spaced home that promotes productivity among its occupants.
Seascape Series



The Seascape Series was designed with modern living in mind and was originally designed to suit a rather unusual wedge-shaped block. Straightforward, appealing and cleverly positioned to take advantage of the cooling breezes, this home is definitely one that you will want to own. This is one of our personal favourites! The home feels large, because of the angles and spaces that are off to the side and not on top of each other.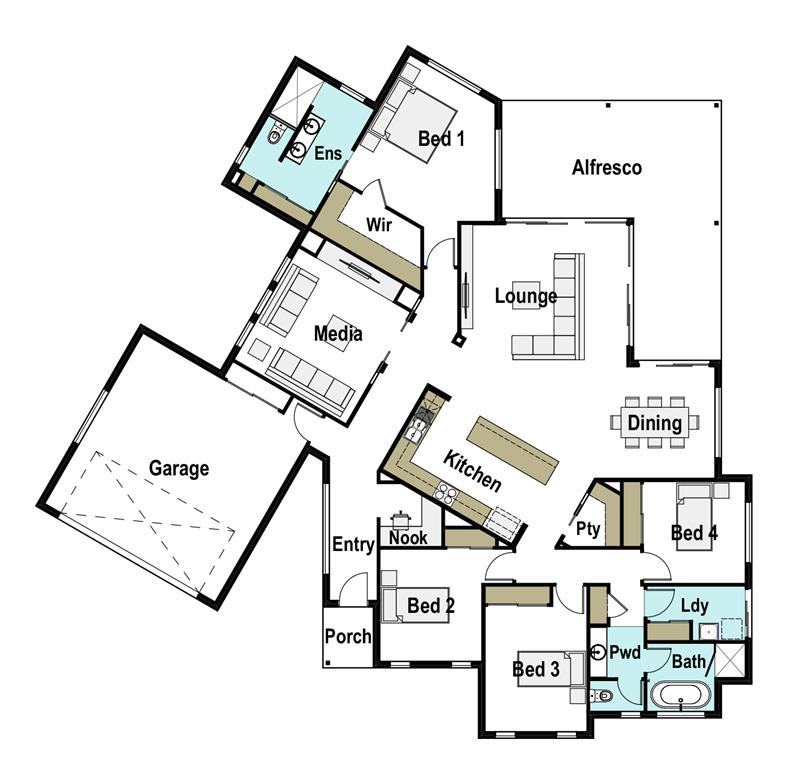 The Seascape Series boasts a 4 Bedroom, double Bathroom, and double Garage feature. With the beautifully covered Porch and deep front windows that capture the natural light, the beauty of the house is guaranteed from the exterior to the interior.

If you seek to utilise the outdoor space of your home for mini adventures for your family like mini barbeques or big garden parties, the impressive Alfresco space is perfect to set up an entertainment area in. The external living areas are easily accessed by sliding doors from the Lounge and Dining as well as Bed 1. For indoor pursuits, the Media and Nook provide private, quiet spaces for watching movies and playing computer games.

So, if you are looking for a family home that combines quality, great looks and flawless design, you can't go past this stunning contemporary designed home for the ultimate lifestyle.


Coogee Series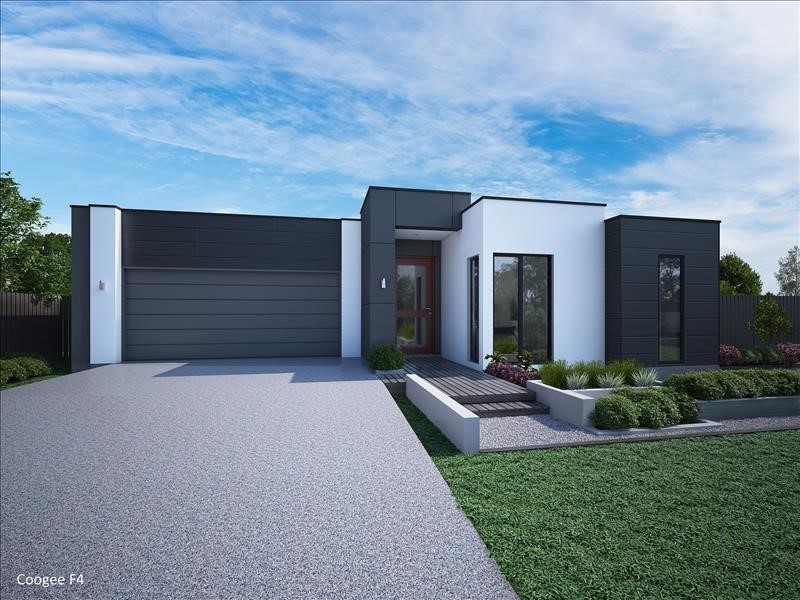 The Coogee Series is a single-storey house range that is well known for its centrally located covered Alfresco to the side of the home which is accessed through large sliding glass doors, enabling external views to be drawn indoors. This design provides a perfect private entertaining space for those who like to host people whether for quiet dinners or slightly loud big group gatherings.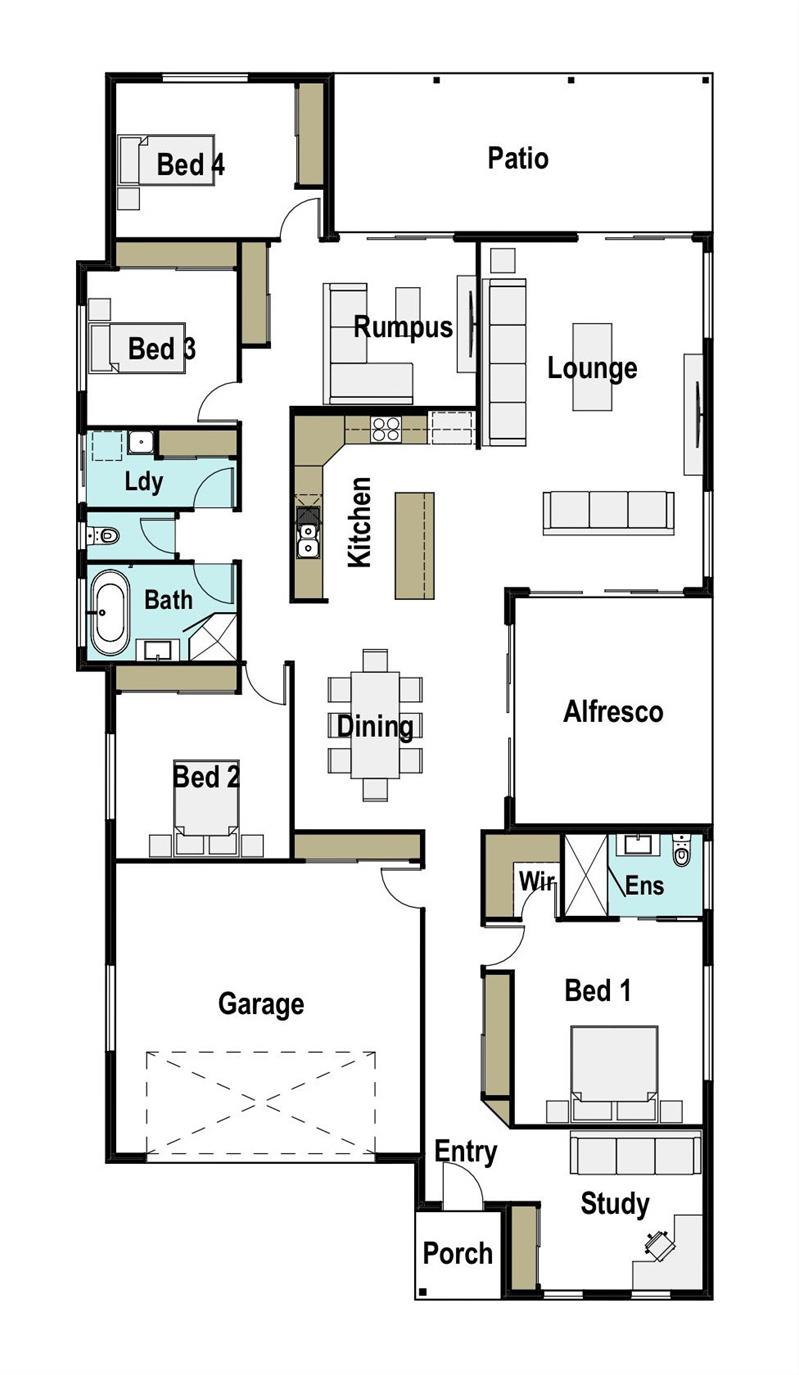 This design range features 4 Bedrooms, 2 Bathrooms, and a double Garage in all the layouts available. The double Garage to all the Coogee designs has internal access to the adjoining Dining and Kitchen with the Coogee 250 and Coogee 305 featuring a builtin enclosed Store. The Kitchen, Dining and Lounge in the magnificent Coogee 305 create a very airy spacious feeling. These central living areas flow into the centrally located Alfresco and the Patio, which sits to the rear. The three secondary Bedrooms are removed from the rest of the home with Bed 1 and the Study strategically located to the front.

The Coogee Series is an epitome of privacy with great outdoor entertainment. It allows you to maintain the exclusivity of the indoor area of your house and at the same time lets you, your family, and your occasional guests enjoy the cool breeze of the outdoors with its famous centrally located Alfresco and Patio.

Coolum Series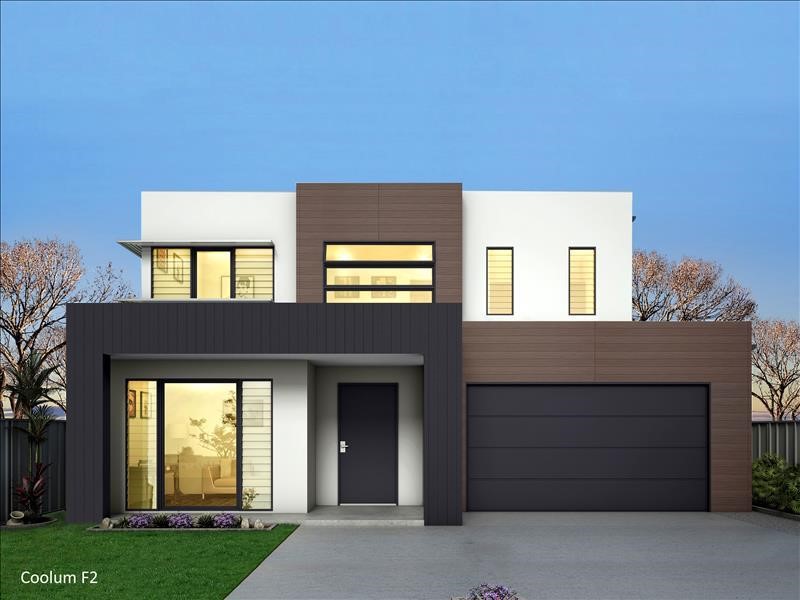 In any neighbourhood that it is located, the Coolum 435 is likely considered one of the biggest houses there is. However, the Coolum Series is not just about its size, this design is also jam-packed with features and has a surprise around every corner.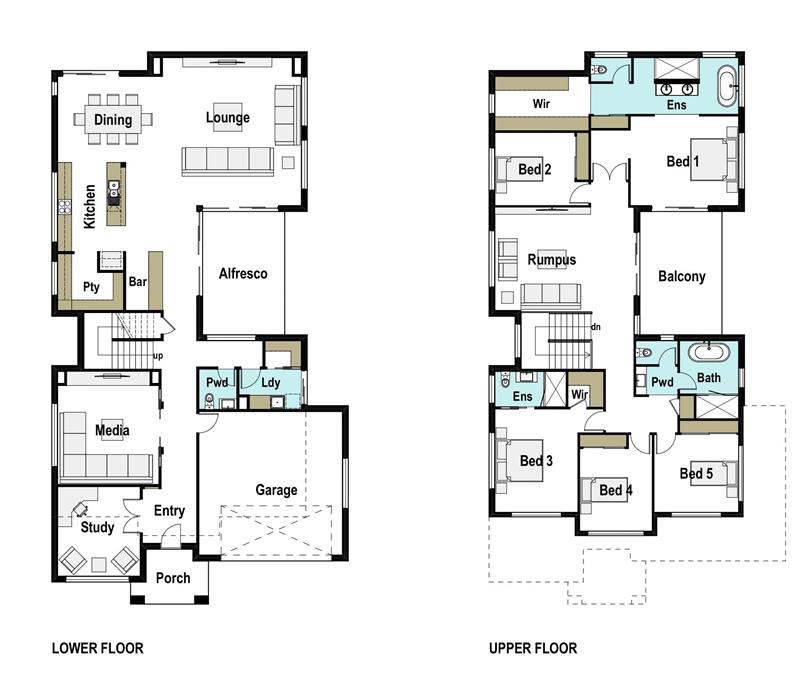 The Coolum Series is a 6 Bedroom, 3 Bathroom, and a double Garage design, living up to its massive size.The covered lower floor front Porch provides all weather access and leads into the Study and Media before transitioning past the Bar and Alfresco into the extremely generous Kitchen, Dining and Lounge. The spacious Pantry sits at the back of the Kitchen and provides additional bench space and storage. There is also a Powder and Laundry to the lower floor.

Moving on to the upper floor, there are five-Bedrooms as well as a Rumpus and covered Balcony providing a wonderful range of informal living areas. Bed 1 has a large Ensuite and Walk-In-Robe (WIR) while there is also a Powder, Bathroom and second Ensuite (to Bed 3).

The Coolum Series is perfect for big families. This design is guaranteed to give you and your family members your own personal space (How can it not? It's huge?) but can still manage to bring you closer together with all of its elements that all of you can gather and enjoy. The Coolum Series is evidence that even with a huge and spacious floor plan in mind, you will still be able to execute it without breaking the bank.
Heights Range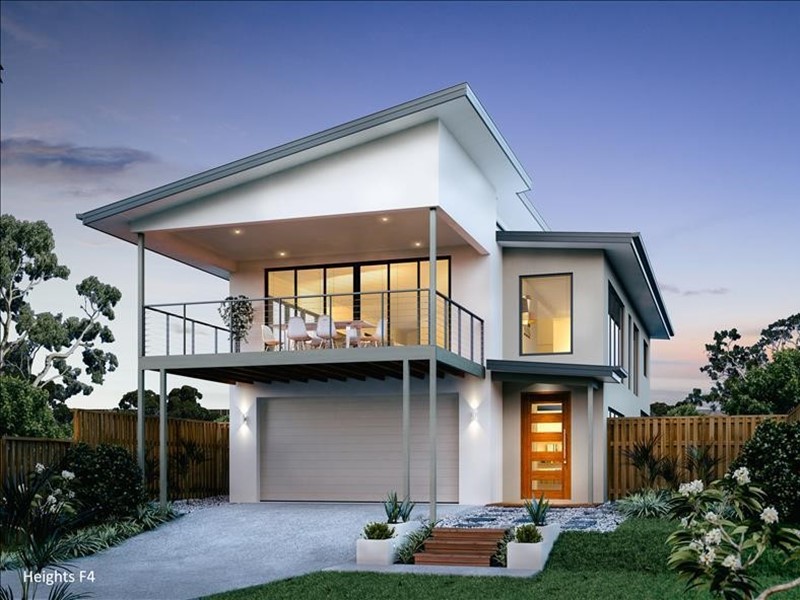 Another highset home design, the Heights Series provides a contemporary take on the traditional two-storey design by combining Bed 1 and a Study to the upper floor along with the Kitchen, Dining and Lounge with a large Alfresco. This unconventional style is known as "reverse-living" and is ideally suited to those with views only achieved from being elevated. A Void over the internal staircase creating a massive feeling of volume to the lower floor Entry.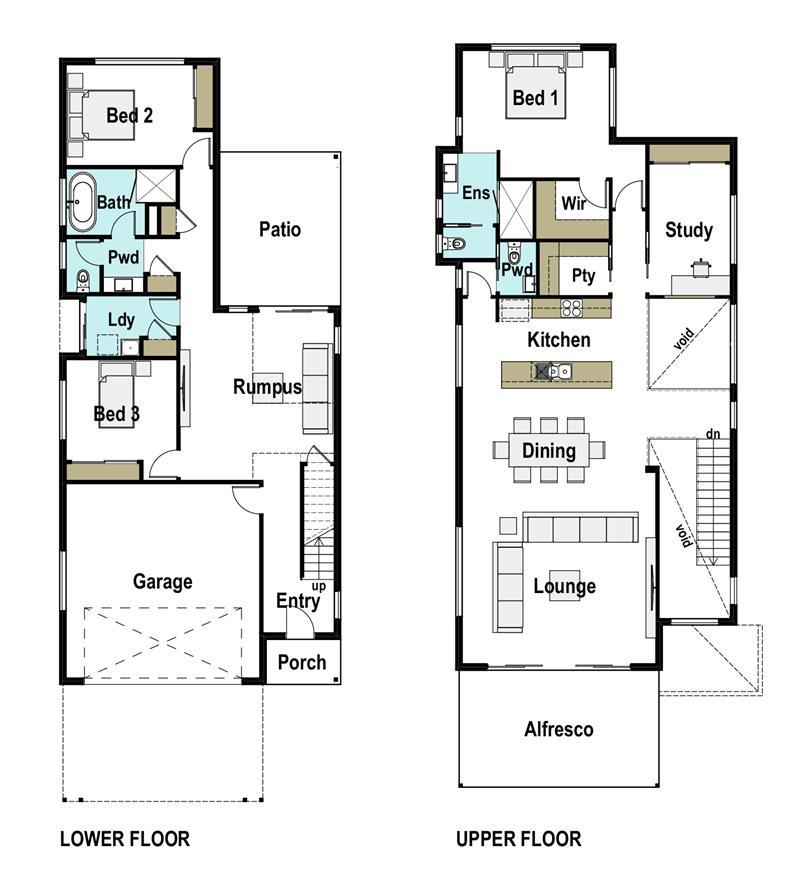 It is a 4 Bedroom, 2 Bathroom, and double Garage design. The lower floor includes a generous Rumpus (which is larger in the Heights 295), Bathroom, Powder, WC, Laundry and double Garage.The spacious Patio leads off the Rumpus via sliding glass doors and provides a secondary outdoor space for entertaining or supervising the children within the rear yard.

The Heights Series offer the chance for families to have an "adult" area on the upper floor while the children have free reign on the lower floor. This design is perfect for families with children who prefer to have their own areas when they gather. This provides a perfect opportunity for the adults to be able to relax and for children to have their own wide space to play around. Isn't it ironic that such a huge space can actually bring the family closer together?


The Dream Team

All the good things in life don't come from money alone, with some careful planning, creativity, and hardwork, the best things in life would be within your reach.

At Integrity New New Homes Cairns, it is our goal to provide you with premium service that is reliable, honest, and secure. Our master builders are highly experienced in providing clients with affordable, liveable housing solutions. Our main focus is on our customer's needs, catering to their ideas first and doing what we can to make their dream home a reality without the stress of breaking the bank or anything going wrong. With our affordable and customisable home designs, budget wouldn't be much of an issue at all.
Here at Integrity New New Homes Cairns, it is our paramount priority to provide you with the best quality homes regardless of location or site.
Fulfill one of your dreams, change your world with us.