"Home is where the heart is." powerful words by the famous Roman philosopher, Pliny the Elder. These simple words gave rise to many different meanings from different people across the world. But to put it simply, it means that a house, filled with love, comfort, and security will always have the deepest affection and emotional pull in your life.

That also explains why it takes for most people years and years of planning and decision-making before they finally decide to have their own homes erected. Coming up with a budget and floor plan is fairly easy especially if you have the right people to help you, however, coming up with aspects such as comfort, safety, functionality, and individuality takes much more time of careful planning to be effectively pulled off, which is why people who want these elements secured in their house, prefer to have custom homes built.


The Benefits Of Having A Custom Built Home


Total Customisation - It is completely customisable which means that every aspect of your home, from flooring to countertops, will be built according to the level of comfort, safety, and security you wish to enjoy.

Personal Style - Homes are an extension of who you are as an individual and custom homes will enable you to express yourself more freely through personal elements that you will place in your house. A custom home will give you the opportunity to create a space that perfectly represents your tastes, personality, and individual style.

Functional Floor Plans - Nowadays, it is hard to find a floor plan that is functional at the same time will suit your family's ever growing needs which is why the odds of finding the perfect home is rough. However, custom homes allow you to create the floor plan that makes the most sense for you and your family, maximising functionality in every inch of your future living space to create the most enjoyable living experience.

Controlled Budgeting - Most people believe that having a custom home built is much more expensive than buying an existing home but this is not always the case. When building a custom home, you have more control over your budget since you get to decide which materials will be used and the features that will be included.

Preferred Site - It allows you more freedom in selecting the location for your home while an existing home limits your possibilities in terms of finding a house that's structurally sound while also located in an ideal neighbourhood.

Barrington Series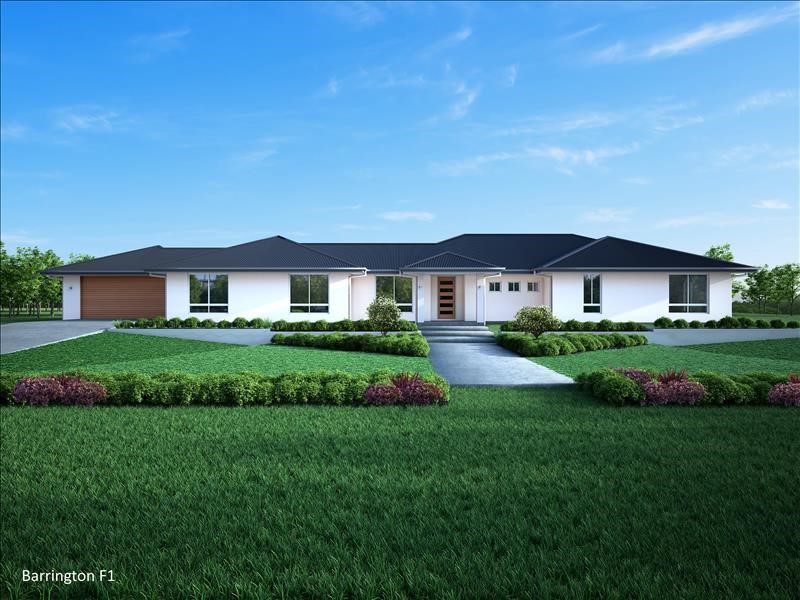 The Barrington Series is an acreage home design dedicated to maximising functionality in a home. It has either 4 (for Barrington 240) or 5-bedroom (for Barrington 280) generous sized bedrooms as well as an Ensuite and Bathroom module. The Barrington 280 also benefits from a purpose-designed Media space with double cavity sliding doors and square-set columns.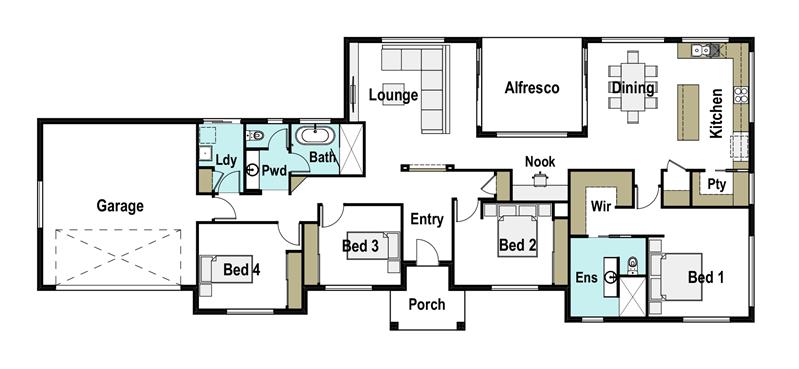 Aside from the difference in the number of bedrooms, both the 240 and 280 designs have a covered Alfresco that is centrally located and bridges the Lounge and Dining which is perfect for those that prefer their meals eaten in the open air. There is also a massive amount of bench space in the Kitchen, including a Breakfast Bar, that is bathed in natural light and draws in beautiful views from a fixed glass window over the hotplate and a large sliding glass window over the sink.

The Barrington 240 features a Computer Nook in the Hall (adjacent to the Dining and Kitchen) while it is the Barrington 280's Media (accessed off the Entry) with a raised theatre-style floor which has drawn positive comments from people seeking a rural acreage design with city comforts.

Both the 240 and 280 designs are completely customisable so it promotes practicality and functionality for your home.



Grand Series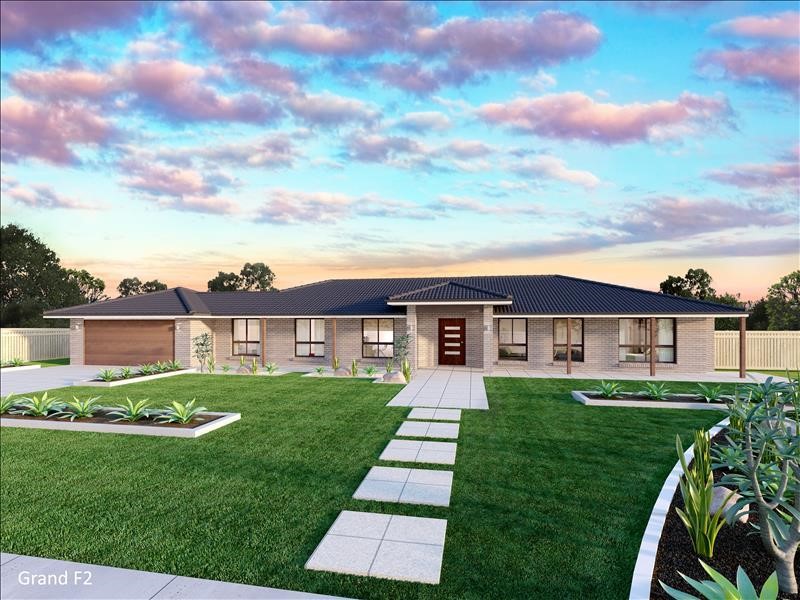 True to its name, the Grand Series is a fine example of a rural homestead that provides a generous space in communal areas of the house. This design boasts abundance in natural light and views through its strategic placement of windows and sliding glass doors.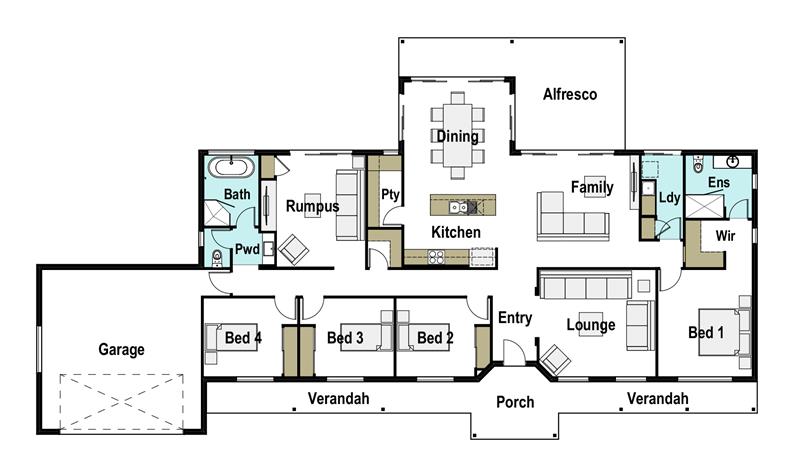 This design includes "ponderosa" sized 4-bedrooms as well as Dining, Family and Kitchen which take in surrounding views. The design also features Lounge (and Rumpus to the Grand 295) along with the Laundry, Ensuite, Walk-in-Robe (WIR), Bathroom and Powder.

If this is not even grand enough, the design also allows you to bring the outdoors in through the Verandah across the front and large Alfresco that will provide you with abundant year-round living spaces.

The Grand Series is not only grand in its name but also in nature. This design offers you a well spaced home that also extends to the outside, giving you and your family a more efficient flow in your home. More importantly, this home is completely customisable so any plans on adding or altering will be welcome.



Quirindi Series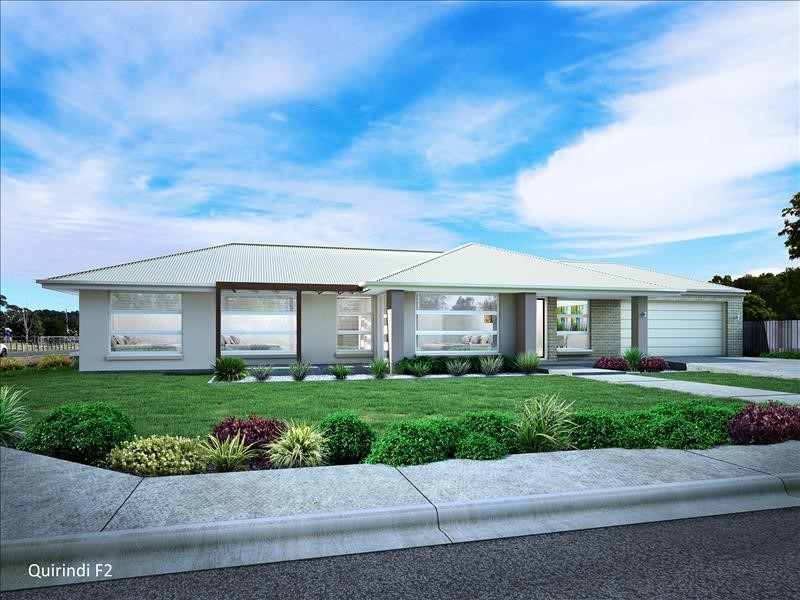 The Quirindi Series is a home design we consider a contemporary version of the "longhouse" but in a more user-friendly form for modern living and block styles.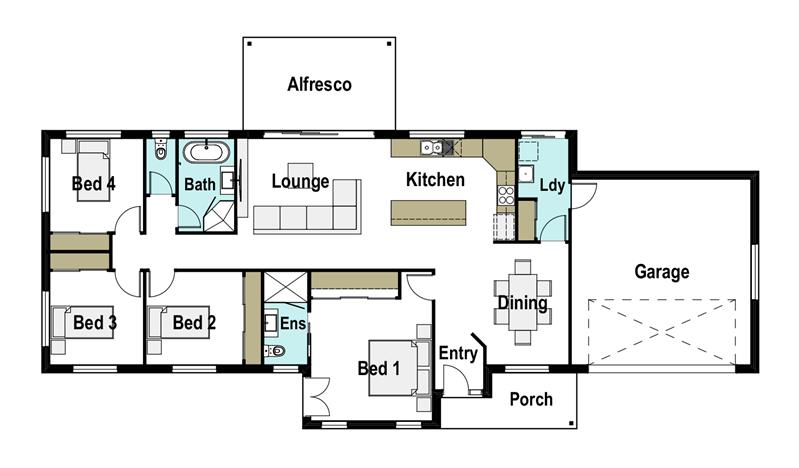 It is a design that features 4 Bedrooms, 2 Baths, and a double Garage. The secondary Bedroom module is set off away from the rest of the home and is serviced by a Bathroom and WC. The Laundry can be accessed via the double Garage, which would mean it could also double as a "mudroom" in rural locations.

A generous covered Porch creates a great street presence as well as an outdoor living area. Once inside, the Dining, Kitchen and Lounge sit in an "L" shaped form.

The Quirindi Series is perfect for people that not only prioritise the beauty in the interior of their homes but also wish to display the charm of the outdoors as well, effectively giving your neighbours a glimpse of your personality. This design is also completely customisable which will give you control on every aspect of your home.


Building Your Home By Heart
When looking for a love match, you definitely have qualities that you want your future partner to possess, and since we are on the topic of hearts and homes, you should also definitely make sure that you are with the right partner in your home building journey.

☐ Seamless Design
☐ Smooth Build Process
☐ Effective Collaborators

If you want all of the boxes to be ticked, Craig Martin and his team can help you with that.

With Integrity New Homes Northwest, there is always a genuine air of excitement when we are part of the planning, designing and of course, the building of either a Custom Designed home or a home straight off our website, which could be slightly modified to suit each individual home buyer.

Our team will ensure to carefully consider the modifications and personalisation that you want to be included in your home. We will also ensure that your budget will align with the ideas that you have in mind, allowing you to spill all of your thoughts with no limitations but staying well within target cost.

Your heart will never be broken and your home will be beautifully built with us. Change your world, today!